The People's Budget: Mayor Brandon Johnson Unveils His Budget for Chicago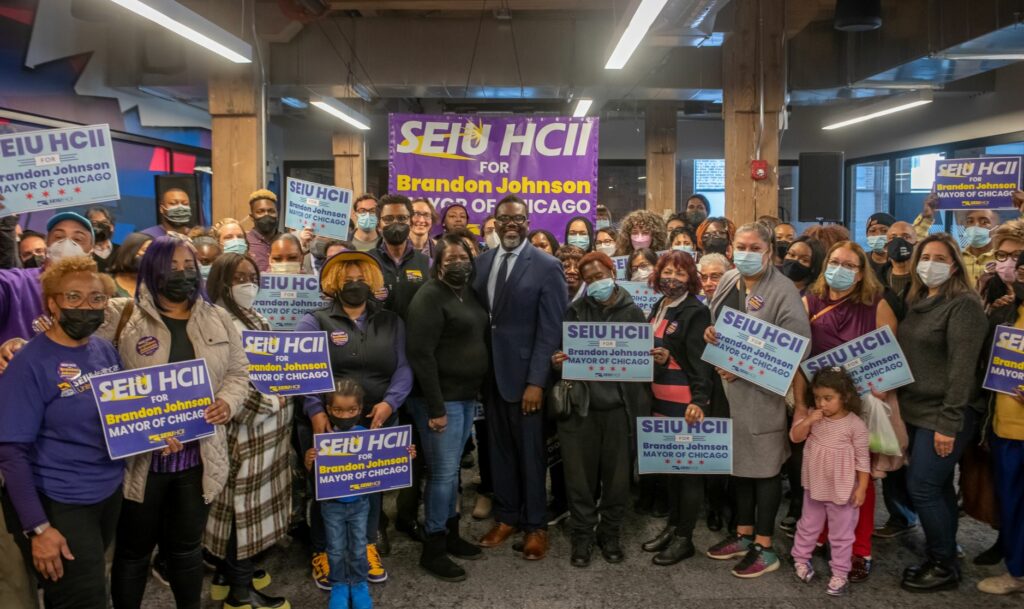 Yesterday, Mayor Brandon Johnson unveiled his budget for the city of Chicago, and it truly is the People's Budget.
This is a balanced budget that does not raise property taxes, while making investments that reflect our values as a city. It demonstrates that we can invest in safety, infrastructure, our environment, and our economy without putting the burden on working families.
Mayor Johnson made his priorities clear, and as a union we share these priorities and are inspired to see a budget proposal that focuses on:
Community safety
Infrastructure and affordable housing
Reducing homelessness with a $250 million investment in supports
Human services
Investing in our youth and providing job opportunities
Ensuring economic strength and stability for years to come
No matter our age, race, or zip code, this is an investment in OUR future for a better, stronger, and safer Chicago.
Mayor Johnson understands what Chicagoans need and want at this moment and is delivering real results with help from stakeholders across the city, including SEIU Healthcare Illinois members.
From his recent victory of passing the One Fair Wage Ordinance, keeping his promise to reopen mental health clinics, and his commitment to Treatment Not Trauma and Bring Chicago Home, we are moving closer to achieving our vision for a city where we all can thrive.
Mayor Johnson shouted out our city's child care providers too, highlighting his $53 million Lead Service Line Replacement program that will focus on the south and west sides of Chicago. His budget also includes doubling the resources available to low-income homeowners for home improvements.
We've never seen a budget like this in Chicago. This budget invests in the everyday Chicagoans who keep our communities going from Englewood to Rogers Park and will help to build up our city for years to come. This is the start of a generational investment in our communities.
We stand ready to put in the work to make this budget a reality, along with the promise of Treatment Not Trauma and Bring Chicago Home. These two campaigns are essential steps in addressing homelessness and public safety.
Stay tuned for ways to get involved and take action to build the Chicago we all deserve.
---
Ayer, el alcalde Brandon Johnson dio a conocer su presupuesto para la ciudad de Chicago, y realmente es el Presupuesto del Pueblo.
Este es un presupuesto equilibrado que no aumenta los impuestos a la propiedad, al mismo tiempo que realiza inversiones que reflejan nuestros valores como ciudad. Demuestra que podemos invertir en seguridad, infraestructura, nuestro medio ambiente y nuestra economía sin imponer una carga a las familias trabajadoras.
El alcalde Johnson dejó claras sus prioridades y, como sindicato, compartimos estas prioridades y nos inspira ver una propuesta de presupuesto que se centra en:
Seguridad comunitaria 
Infraestructura y vivienda asequible 
Reducir la falta de vivienda con una inversión de $250 millones en apoyos 
Servicios Humanos 
Invertir en nuestra juventud y brindar oportunidades laborales 
Garantizar la solidez y la estabilidad económicas en los años venideros 
No importa nuestra edad, raza o código postal, esta es una inversión en NUESTRO futuro para un Chicago mejor, más fuerte y más seguro.
El alcalde Johnson comprende lo que los habitantes de Chicago necesitan y quieren en este momento y está brindando resultados reales con la ayuda de las partes interesadas de toda la ciudad, incluidos los miembros de SEIU Healthcare Illinois.
Desde su reciente victoria al aprobar la Ordenanza de Salario Justo, cumpliendo su promesa de reabrir clínicas de salud mental y su compromiso con Treatment Not Trauma y Bring Chicago Home, nos estamos acercando a lograr nuestra visión de una ciudad donde todos podamos prosperar.
El alcalde Johnson también destacó a las proveedoras de cuidado infantil de nuestra ciudad, destacando su programa de reemplazo de líneas de servicio con plomo de $53 millones que se concentrará en los lados sur y oeste de Chicago. Su presupuesto también incluye duplicar los recursos disponibles para los propietarios de viviendas de bajos ingresos para mejoras en el hogar.
Nunca hemos visto un presupuesto como este en Chicago. Este presupuesto invierte en los habitantes de Chicago que mantienen vivas nuestras comunidades desde Englewood hasta Rogers Park y ayudará a construir nuestra ciudad en los años venideros. Este es el comienzo de una inversión generacional en nuestras comunidades.
Estamos listos para trabajar para hacer realidad este presupuesto, junto con la promesa de Treatment Not Trauma y Bring Chicago Home. Estas dos campañas son pasos esenciales para abordar la falta de vivienda y la seguridad pública.
Estén atentos a las formas de involucrarse y tomar medidas para construir el Chicago que todos merecemos.