Have you heard? We have a new state rep. in Illinois! | ¿Has escuchado? Tenemos una representate estatal nueva en Illinois!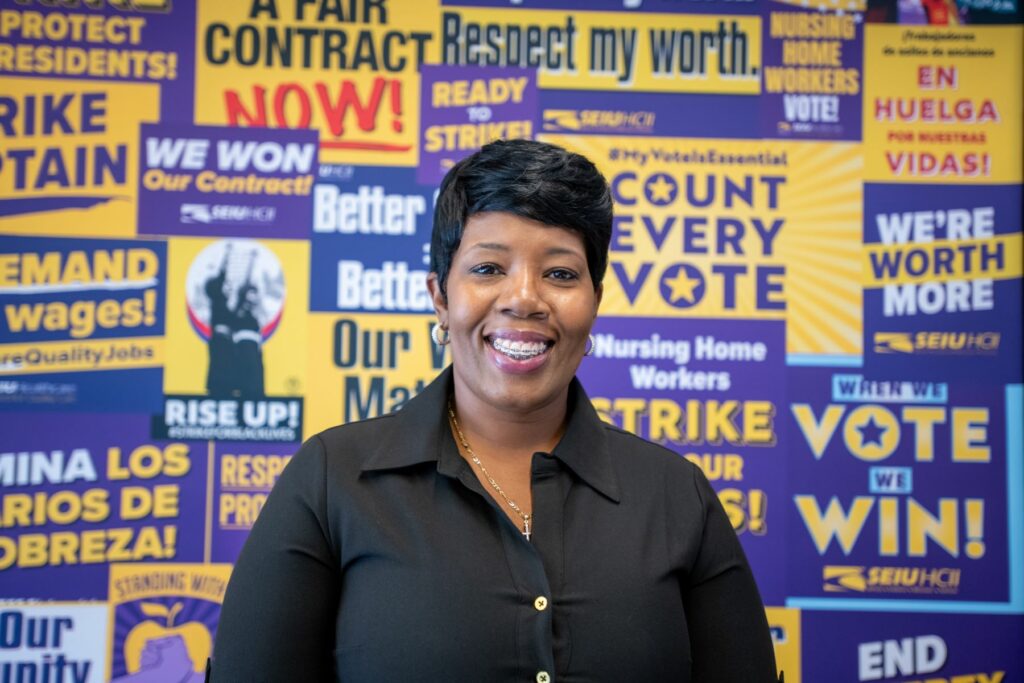 It is with great pride and excitement that I share our very own Yolonda Morris, former SEIU nursing home worker leader and now organizer, was officially appointed to serve as Illinois State Representative in House District 9!
This seat was left vacant after former State Representative Lakesia Collins, another SEIU nursing home worker leader and organizer, was appointed to serve as State Senator for the 5th Senate District in Illinois.
State Representative Morris will bring her lived experience to Springfield as both a nursing home CNA and union organizer who has spent years advocating for the wages, respect, and safe staffing that residents and workers on the frontlines need.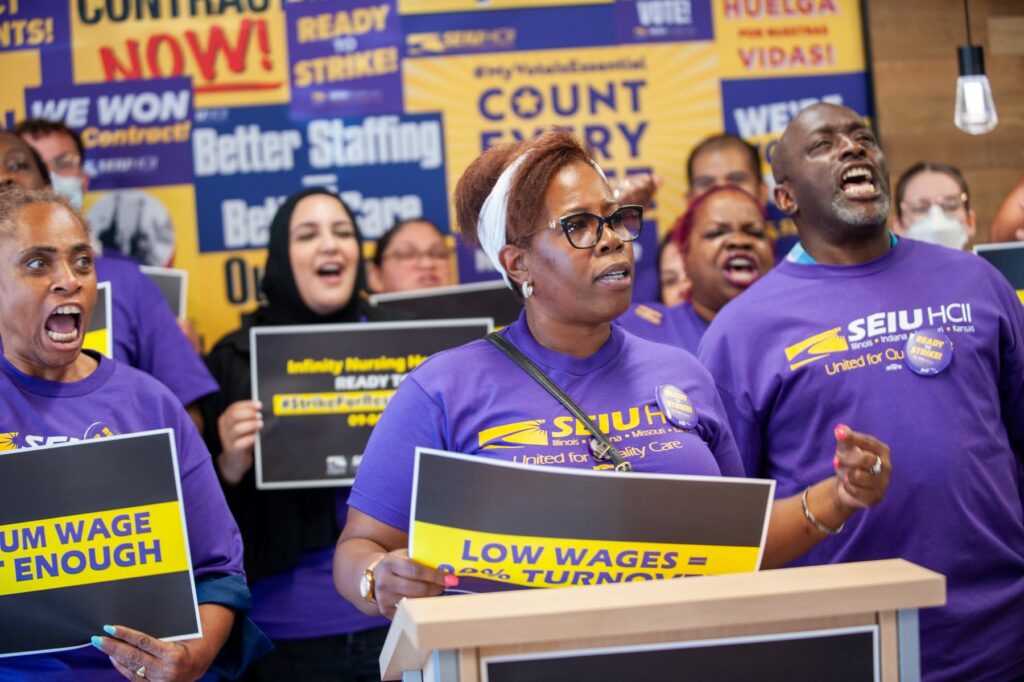 She will also bring her deep commitment to the reforms our communities deserve, like living wages, strong home care and child care programs, and racial and economic justice for all.
We know State Representative Morris will join State Senator Collins in lifting up the needs and voices of working families and we look forward to working with them in their new roles on the west side of Chicago and in Springfield.
As a union, we are building a movement that can transform our jobs, our communities, and our families' futures. Working together to elect our own leaders who share our values and vision for a society where we all can thrive is a step forward in building the power it will take to achieve that vision.
Congratulations to State Representative Yolonda Morris! We're ready to get to work!
In solidarity,
Erica Bland-Durosinmi
Executive Vice-President, SEIU HCIIMK
---
¡Es con gran orgullo y emoción que comparto que nuestra propia Yolonda Morris, ex líder de los trabajadores de hogares de ancianos SEIU y ahora organizadora, fue nombrada oficialmente para servir como Representante del Estado de Illinois en el Distrito 9 de la Cámara!
Este puesto quedó vacante después de que la ex representante estatal Lakesia Collins, otra líder y organizadora de los trabajadores de hogares de ancianos del SEIU, fuera nombrada senadora estatal por el quinto distrito senatorial de Illinois.
La representante estatal Morris aportará a Springfield su experiencia como auxiliar de enfermería y organizadora de la union que ha pasado años defendiendo los salarios, el respeto y la seguridad del personal que necesitan los residentes y los trabajadores en primera línea.
Ella también traerá su profundo compromiso con las reformas que nuestras comunidades merecen, como salarios dignos, fuertes programas de atención domiciliaria y cuidado de niños, y justicia racial y económica para todos.
Sabemos que la Representante Estatal Morris se unirá a la Senadora Estatal Collins para elevar las necesidades y las voces de las familias trabajadoras y esperamos trabajar con ellas en sus nuevas funciones en el lado oeste de Chicago y en Springfield.
Como una union, estamos construyendo un movimiento que puede transformar nuestros empleos, nuestras comunidades y el futuro de nuestras familias. Trabajar juntos para elegir a nuestros propios líderes que compartan nuestros valores y visión de una sociedad en la que todos podamos prosperar es un paso adelante en la construcción del poder que se necesitará para lograr esa visión.
¡Felicitaciones a la Representante Estatal Yolonda Morris! ¡Estamos listos para ponernos a trabajar!
En solidaridad,
Erica Bland-Durosinmi
Vicepresidenta ejecutiva, SEIU HCIIMK