DORS Personal Assistants Rally Statewide to Build Power to Win Top Contract Priorities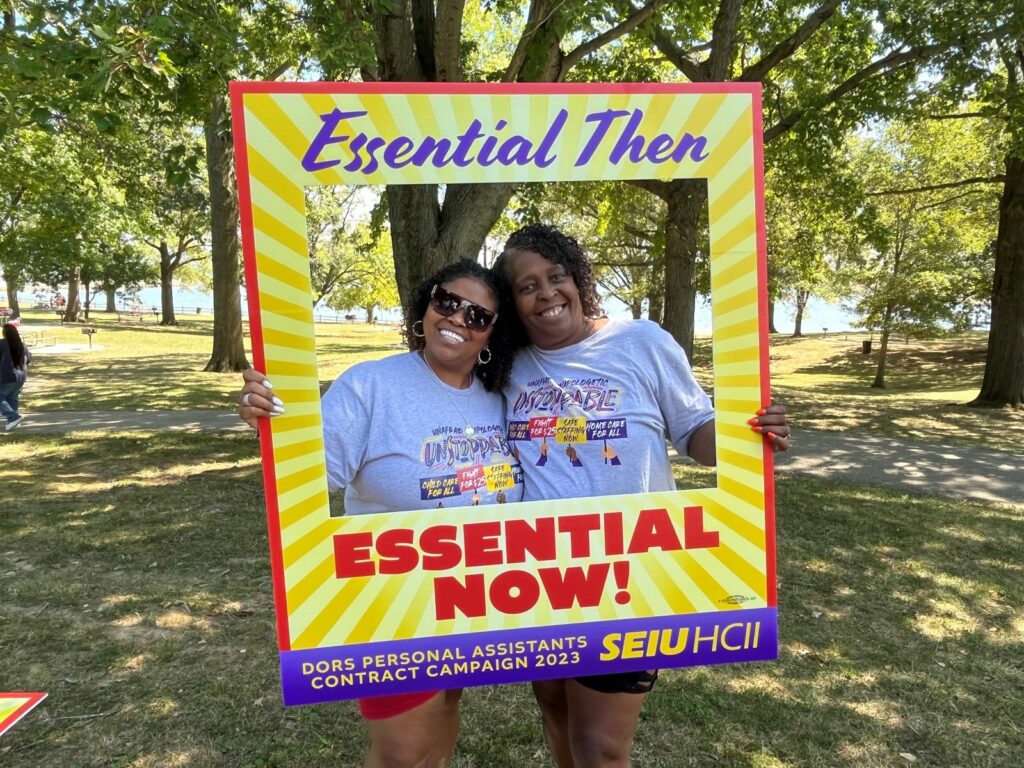 On Saturday, September 9, hundreds of DORS Personal Assistants traveled from across Illinois to rally in Chicago and Carlyle. We were joined by consumers and allies like Access Living in support of our top contract priorities that we're building power to win at the negotiating table.
Those priorities include:
Living wages for Personal Assistants with a pathway to $25/hour,
Expanded benefits and a pathway to retirement,
Strengthened training and supports for Personal Assistants, and
Improved Services for consumers by making the program more accessible.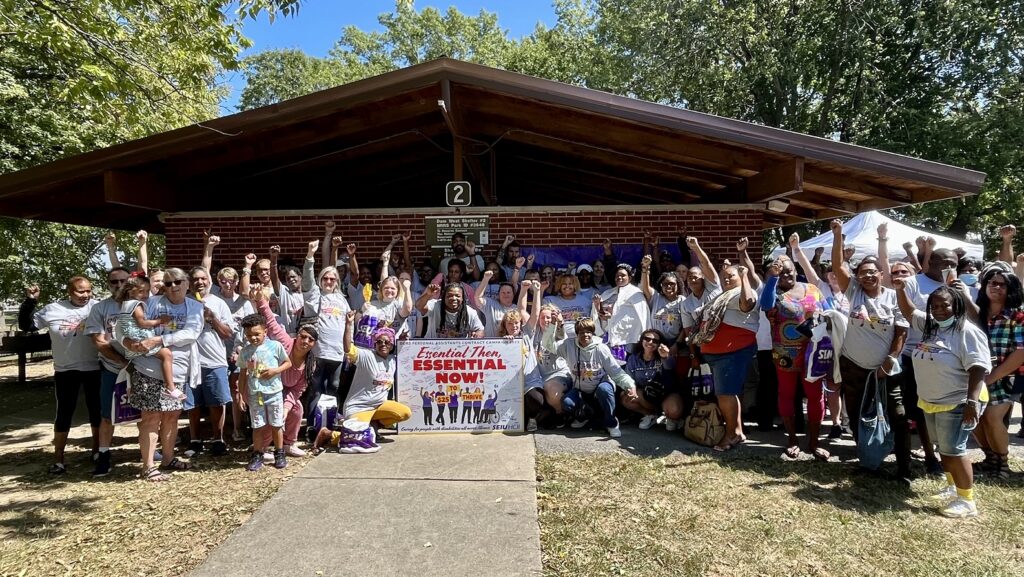 Our union represents 30,000 DORS workers and we are negotiating our fifth contract right now. Negotiations started in June and now we are entering a crucial phase of our campaign when our bargaining team will introduce our economic proposals.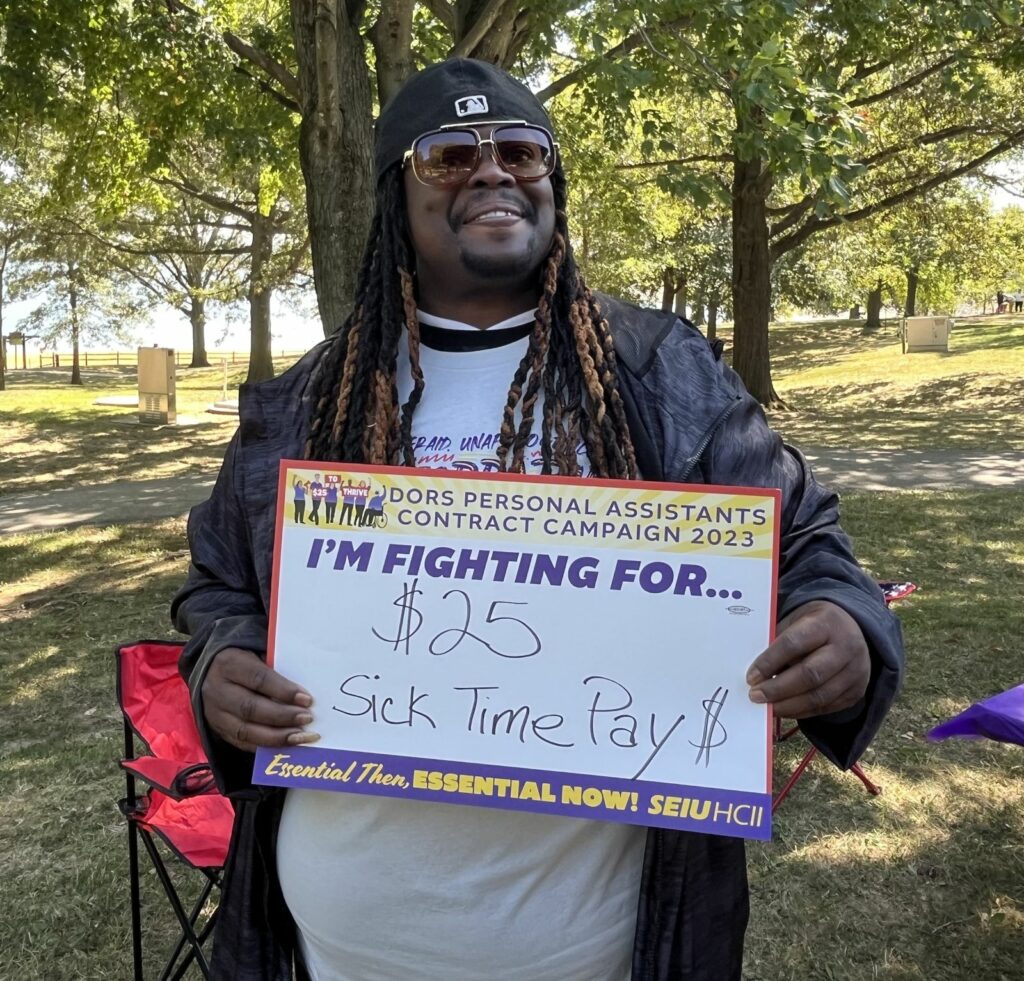 In addition to sharing food, music, and solidarity, we heard powerful testimony during the rallies too.
Michelle Garcia, a community organizer with Access Living, spoke powerfully about the obstacles undocumented immigrants with disabilities face in accessing the types of services they need to be able to participate in daily activities. She assured us that we are not alone in this fight and that as caretakers, we deserve to be cared for as well.
We also heard remarks from our leaders on the bargaining committee that spoke to the need to raise wages, secure a retirement benefit, and increase access to essential services by addressing the workforce shortage. Judy Hunter, a DORS PA from Chicago and a member of the bargaining committee, had this to say about our fight for a path to retirement:
"For far too long, we have sacrificed our own well-being to care for others. We've missed family gatherings, birthdays, and holidays to ensure that our clients receive the care they need. And as much as we love what we do, we deserve the chance to retire with dignity and security. We can't continue to ignore the fact that many of us have little to no retirement savings, no pension plans, and no clear path to retire comfortably. It's time for change. It's time for us to secure our future."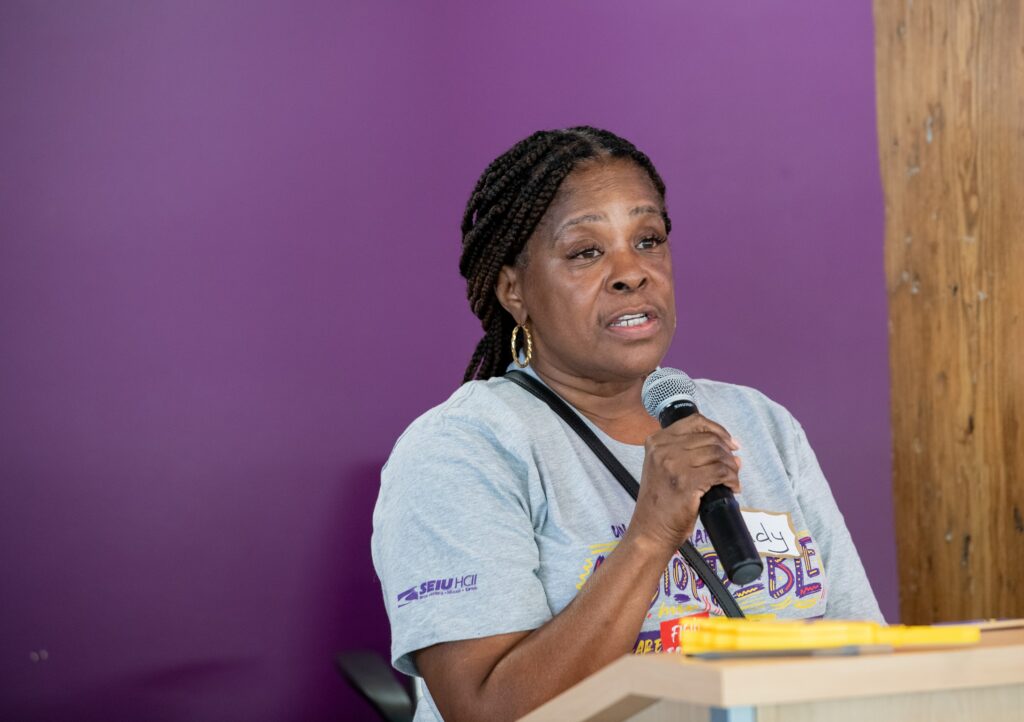 In Carlyle, DORS PA and Bargaining Team member Jenny Smith joined from Champaign and reminded us that, "PAs started organizing nearly 40 years ago and the progress we have made is truly inspiring. Not a single thing we have won was ever handed to us though – it took PAs being courageous, speaking out with our demands, and taking action."
This contract fight is no different. We have big, bold priorities that we want to win. In order to make our jobs real careers that we can thrive in, we've all got to do our part!
We're recruiting members to join our Contract Action Team to keep PAs in their communities up to date and engaged throughout this process. Members of the CAT are responsible for providing assistance with the planning and execution of future actions. Apply to be a member of the Contract Action Team here.
Click here to see more photos from our Carlyle rally.
Click here to see more photos from our rally in Chicago.
Stay tuned for more information about upcoming membership meetings in your community, teletown halls, and other opportunities to become involved! Remember, when we fight, we win!