Victory for Loretto Hospital Workers! | ¡Victoria para los trabajadores del Hospital Loretto!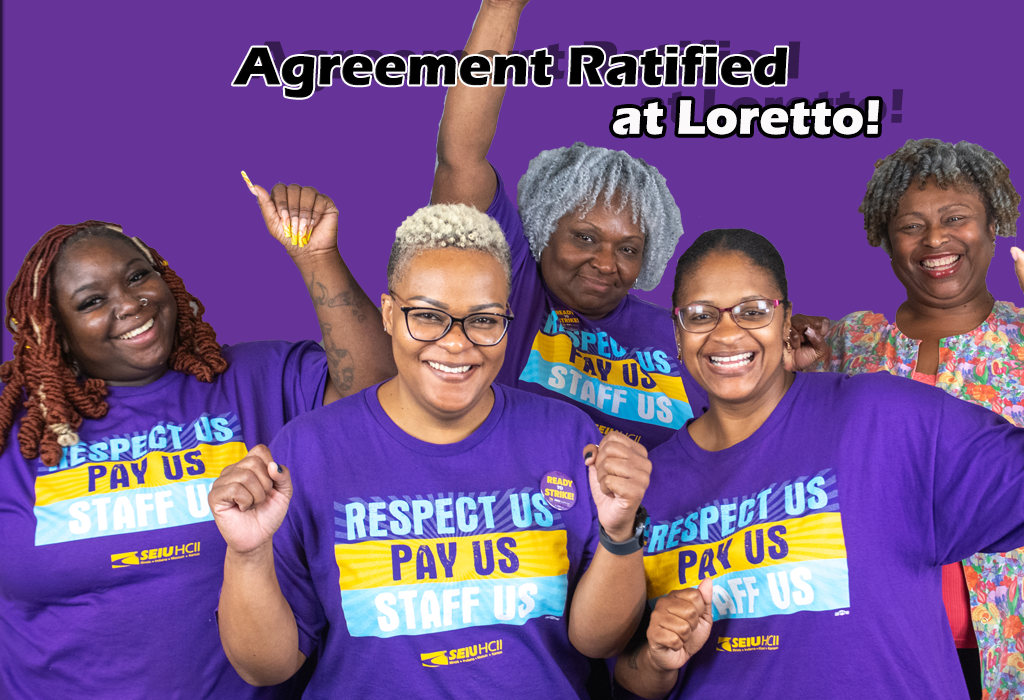 Desplácese hacia abajo para leer este mensaje en español.
After 11 days on strike, our members at Loretto Hospital in Chicago won their demands and voted to ratify a strong new three-year contract that includes:
✅ Increases to starting rates across job classifications,
✅ Seniority increases that recognize years of service,
✅ Across-the-board raises for every worker, and
✅ Juneteenth as a paid holiday.
Loretto members knew that the staffing crisis at their hospital was causing workplace injuries, burnout, and adverse patient outcomes. The only way to retain and recruit the workforce the hospital needs was by winning livable wages that are competitive with other Chicago hospitals.
Our members had to take a stand for each other and the community on the west side of Chicago that they serve because Loretto leadership refused to act, forcing workers to go on strike.
Throughout this fight, we saw faith leaders, community organizations, elected officials from every level of government, the wider labor movement, and so many fellow SEIU Healthcare members join them in solidarity every step of the way.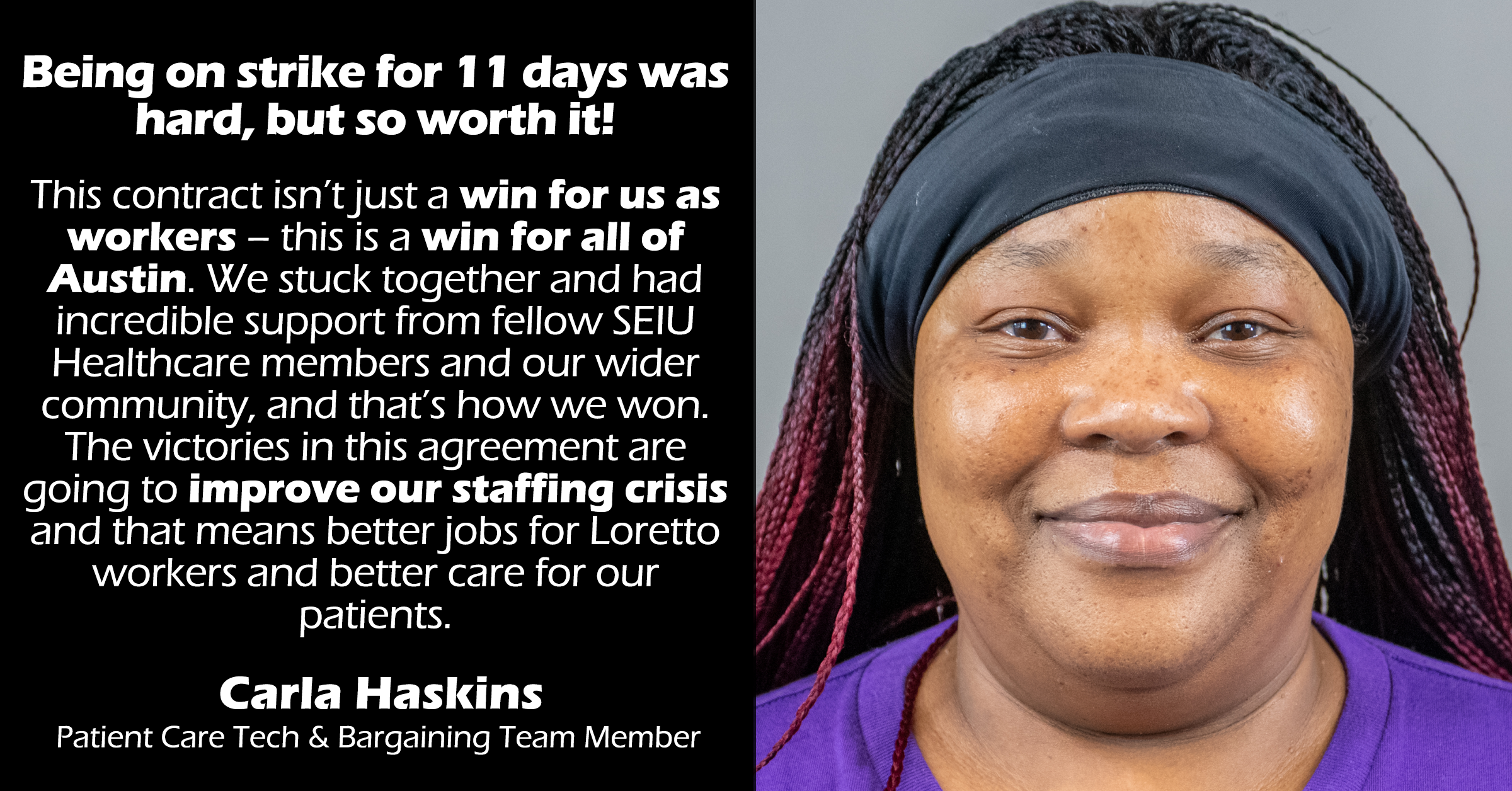 Meanwhile, we saw member leaders at Loretto step up in unprecedented ways to persevere and remain committed to their goal.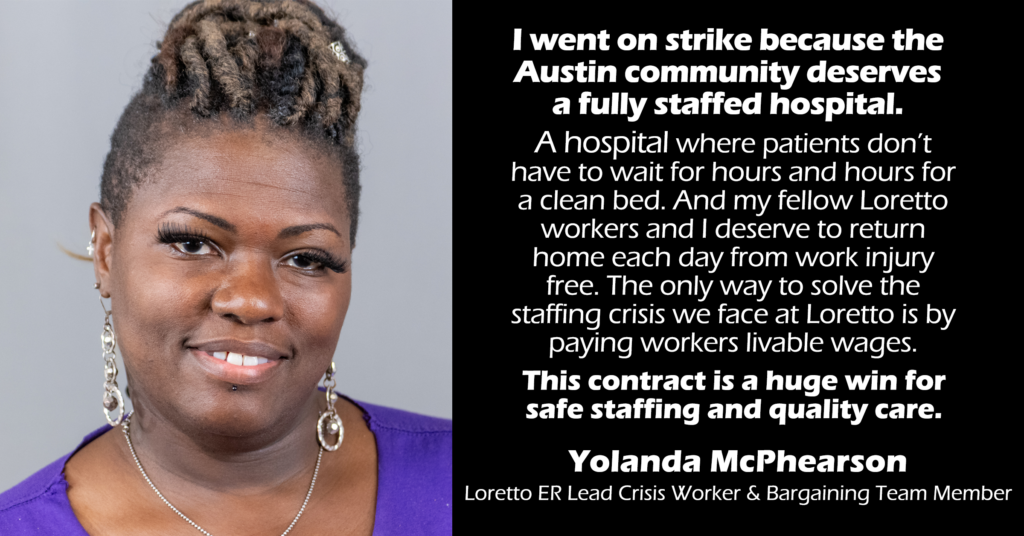 This hard-fought victory is a testament to the collective power of working people to uplift entire communities. Frontline Loretto Hospital workers refused to settle for anything less than the livable wages and safe staffing that they and their patients deserve.
When we are UNAFRAID to speak our truth and UNAPOLOGETIC for our demands, we truly are UNSTOPPABLE.
Congratulations to our mighty Loretto members!
---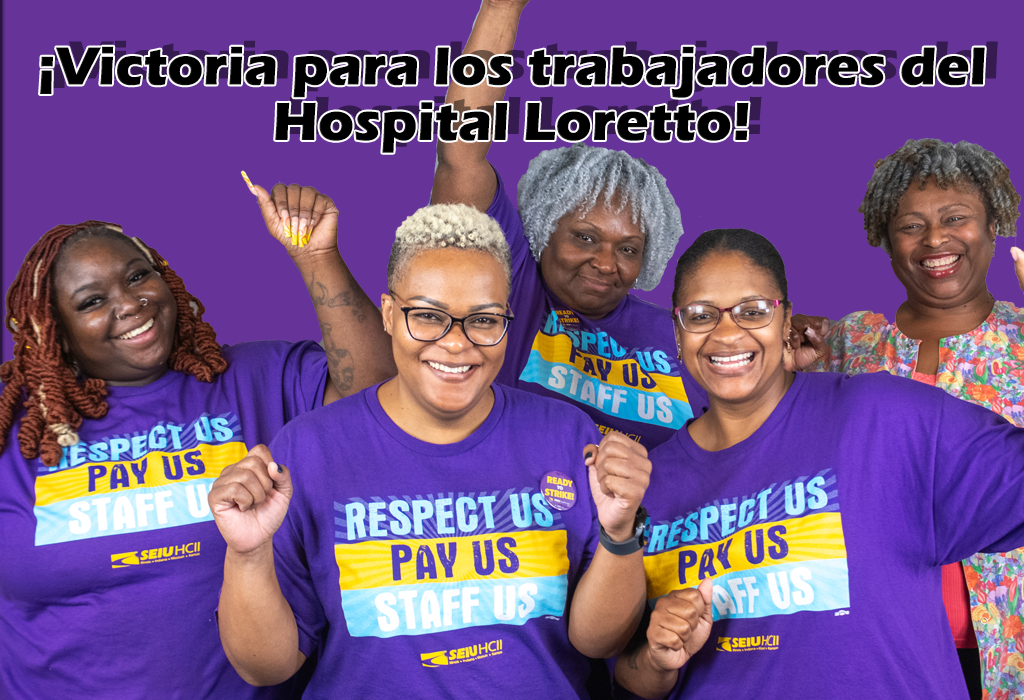 Después de 11 días de huelga, nuestros miembros en el Hospital Loretto en Chicago ganaron sus demandas y votaron para ratificar un fuerte nuevo contrato de tres años que incluye:
✅ Aumentos de los salarios iniciales en todas las clasificaciones laborales,
✅ Aumentos por antigüedad que reconocen los años de servicio,
✅ Aumentos generales para todos los trabajadores, y
✅ El diecinueve de junio como día festivo pagado.
Los miembros de Loretto sabían que la crisis de personal en su hospital estaba causando lesiones en el lugar de trabajo, agotamiento y resultados adversos para los pacientes. La única forma de retener y contratar al personal que el hospital necesita era conseguir salarios dignos que fueran competitivos con los de otros hospitales de Chicago.
Nuestros miembros tuvieron que tomar partido por sí mismos y por la comunidad de el lado oeste de Chicago a la que sirven, porque los dirigentes de Loretto se negaron a actuar, obligando a los trabajadores a ir a la huelga.
A lo largo de esta lucha, vimos a líderes religiosos, organizaciones comunitarias, politicos electos de todos los niveles de gobierno, el movimiento obrero en general, y tantos compañeros miembros de SEIU Healthcare unirse a ellos en solidaridad en cada paso del camino.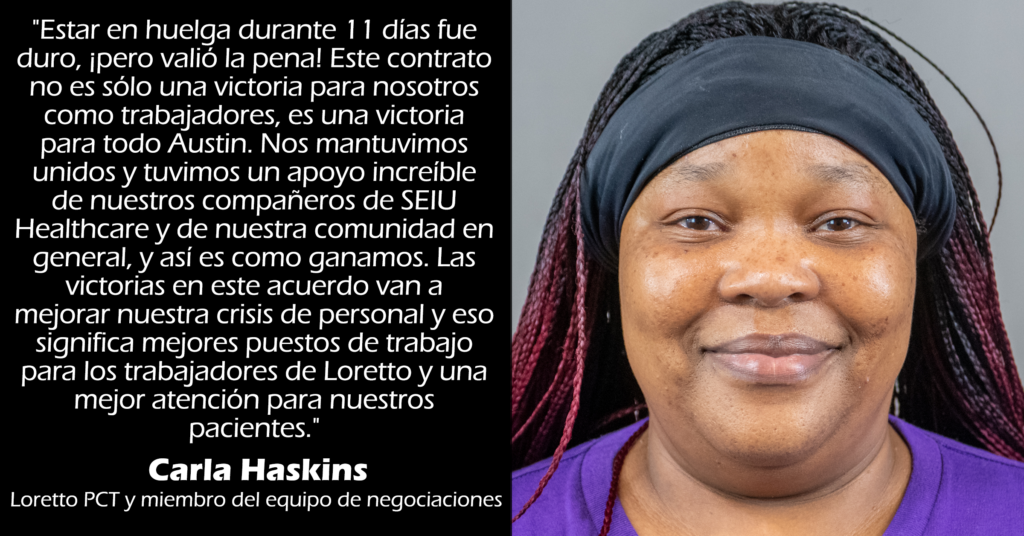 Mientras tanto, vimos a los miembros líderes de Loretto dar un paso adelante de una manera sin precedentes para perseverar y seguir comprometidos con su objetivo.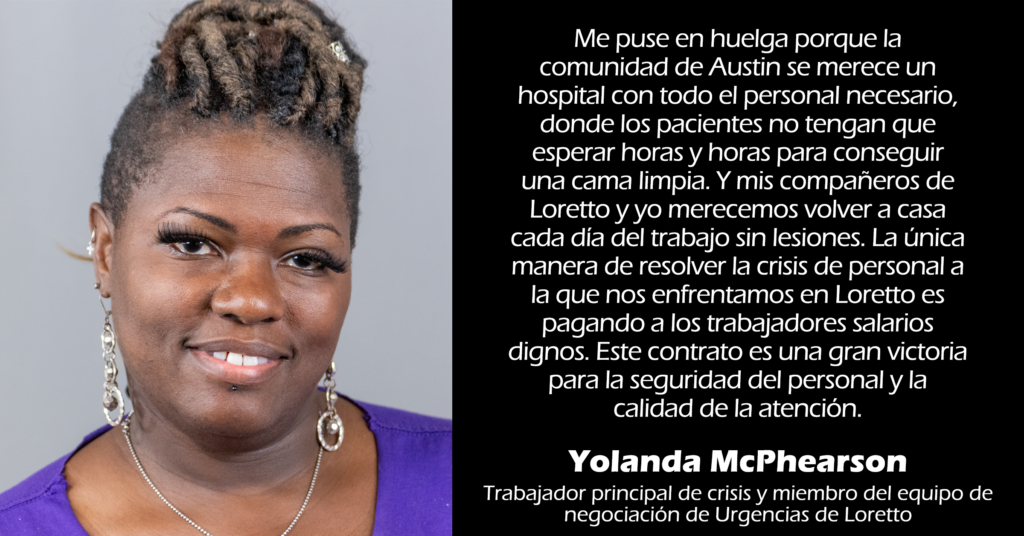 Esta reñida victoria es un testimonio del poder colectivo de los trabajadores para levantar comunidades enteras. Los trabajadores de primera línea del Hospital Loretto se negaron a conformarse con nada menos que los salarios dignos y el personal seguro que ellos y sus pacientes merecen.
Cuando decimos nuestra verdad sin miedo y hacemos nuestras demandas sin disculpas, somos de verdad imparables.
¡Felicitacions a nuestros poderosos miembros de Loretto!