SEIU Healthcare Illinois Celebrates Johnson Victory Driven by Multiracial, Citywide Movement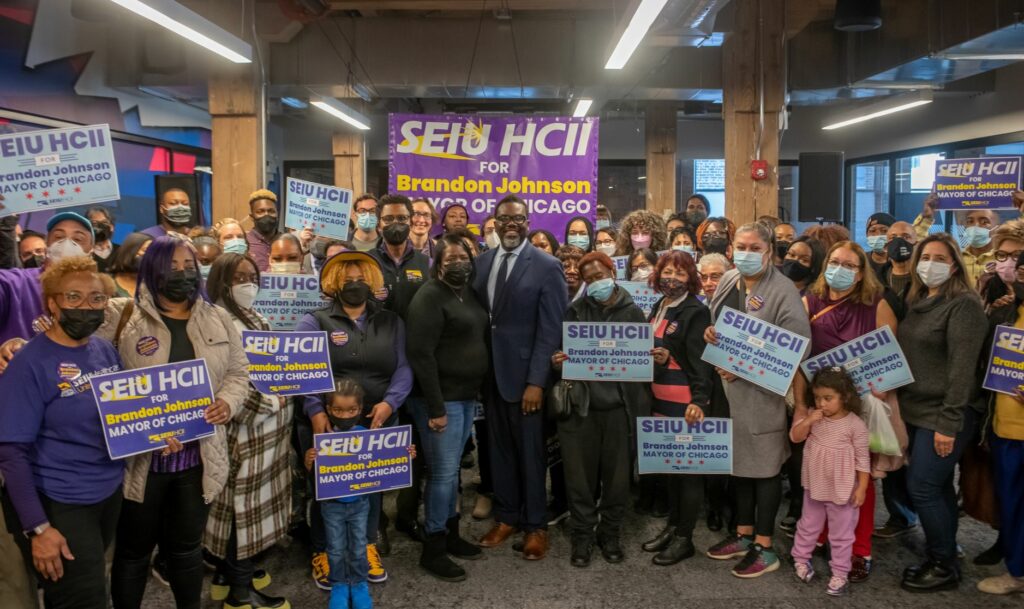 For Immediate Release: April 4, 2023
Contact: Catherine Murrell, Catherine.Murrell@seiuhcil.org
SEIU Healthcare Illinois Celebrates Johnson Victory Driven by Multiracial, Citywide Movement of Chicagoans Ready for Change
Greg Kelley, President of SEIU Healthcare Illinois, issued the following statement on Brandon Johnson's victory in the 2023 Mayoral runoff election:
"It's a new day in Chicago thanks to a multi-racial movement of working people who turned out to elect Brandon Johnson as our next Mayor. He's ready to hit the ground running, deliver much-needed investment in the working people of our city and build avenues for a real community voice in City Hall.
This victory belongs to the coalition of working people from across backgrounds and neighborhoods who came together to get out the vote for Mayor-elect Johnson. Thousands of working people knocked on doors, talked to friends and family and cast ballots for a brighter future for our city. This victory is an impossible-to-ignore mandate for all elected leaders in Chicago and beyond to deliver for working people.
Mayor-elect Johnson is one of us. He's ready to tackle the challenges most important to our members – from public safety to economic justice to quality public education – by focusing on root causes rather than the surface-level bandaid approaches of the past.
He understands that investments in mental health services and good jobs are public safety investments. And that our communities need a working-family-friendly approach to inflation, affordable child care, and housing that families can afford to move into – and stay in – without the disruptions of gentrification.
Mayor-elect has been there in the trenches with us through so many struggles, and we know he'll keep fighting for us in City Hall. We're proud of this tremendous victory, and look forward to working alongside our newly elected city leaders to build a city and an economy that works for all of us, not just the wealthy few."
###