Chicago, we did it! | ¡Chicago, lo hicimos!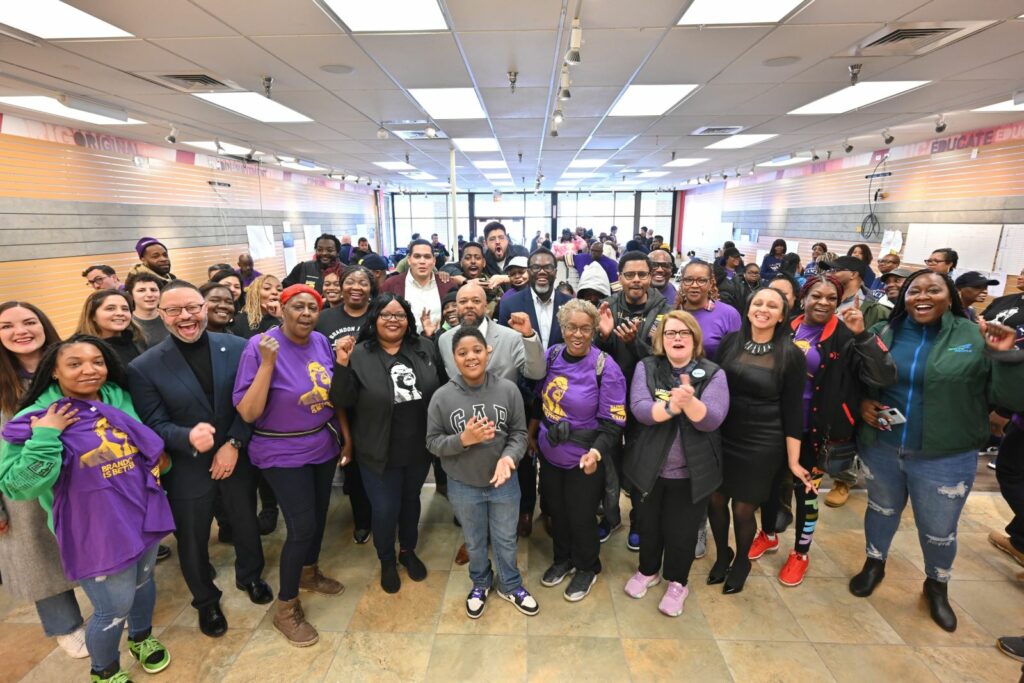 Desplácese hacia abajo para leer este mensaje en español.         
Fellow Chicago SEIU Healthcare members,  
Today marks a new era in Chicago politics. For the first time, the newest slate of our political leadership are community organizers, neighbors, parents, and working people with the lived experience needed to create lasting change for Chicago's working families. And we wouldn't be here without the multiracial coalition of working people who raised their voices to demand change, with SEIU Healthcare Illinois members at the forefront.
Member leaders in our union own this victory, like child care provider Irma Landeros who welcomed Brandon Johnson into her home so he could see and hear about the struggles providers and parents alike face. Leaders like George White, a home care worker who spent weeks knocking doors and making phone calls for Brandon Johnson, and Northwestern Hospital worker Kim Smith who told everyone who would listen about how Brandon Johnson always showed up for SEIU members and now it was time to show up for him. Or nursing home worker Maria Romero who spread the word about the importance of early voting.
So many stepped up to make this historic victory possible and it didn't happen overnight. For years, our union has organized and worked in coalition with working people across our city. This election season, we came together to turn out the vote for worker champions with bold, progressive policies that protect working families at every level of our city's leadership. And we won REAL RESULTS.
Brandon Johnson is the next Mayor of Chicago, and he will be joined by new progressives on the city council, like Angela Clay in the 46th Ward, Ronnie Mosley in the 21st, William Hall in the 6th, Desmon Yancy in the 5th, and Lamont Robinson in the 4th.
We did what we were told was impossible, SEIU Healthcare members. When we unite, we are Unafraid, Unapologetic and UNSTOPPABLE!
While these offices are just positions, we believe that with this leadership shift we have a real opportunity to make lasting change that ensures workers are paid livable wages that keep up with inflation and families have access to affordable housing and affordable child care. We can make our communities safer by treating the root causes of crime and giving young people the resources they need to thrive – disrupting the cycle of poverty and creating generational change. We have opportunity to make City Hall more reflective of the values of working people.
We're ready to continue advancing racial and economic justice for working people across Chicago hand-in-hand with the newly elected leaders.
Together, we can write a new story for working families in Chicago. Let's get to work!
In solidarity,
Greg Kelley
President, SEIU HCIIMK 
---
Compañeros miembros de Chicago SEIU Healthcare,
Hoy marca una nueva era en la política de Chicago. Por primera vez, la lista más nueva de nuestro liderazgo político son organizadores comunitarios, vecinos, padres y trabajadores con la experiencia vivida necesaria para crear un cambio duradero para las familias trabajadoras de Chicago. Y no estaríamos aquí sin la coalición multirracial de trabajadores que alzaron la voz para exigir un cambio, con los miembros de SEIU Healthcare Illinois al frente.
Los líderes miembros de nuestra unión son dueños de esta victoria, como la proveedora de cuidado infantil Irma Landeros, quien recibió a Brandon Johnson en su hogar para que pudiera ver y escuchar acerca de las dificultades que enfrentan tanto los proveedores como los padres. Líderes como George White, un trabajador de cuidado en el hogar que pasó semanas tocando puertas y haciendo llamadas telefónicas para Brandon Johnson, y Kim Smith, trabajadora de Northwestern Hospital, quien les dijo a todos los que escuchaban cómo Brandon Johnson siempre se presentaba para los miembros de SEIU y ahora era el momento de presentarse para él. O la trabajadora de hogar de ancianos María Romero, quien corrió la voz sobre la importancia de la votación temprana.
Muchos dieron un paso adelante para hacer posible esta victoria histórica y no sucedió de la noche a la mañana. Durante años, nuestra unión se ha organizado y trabajado en coalición con trabajadores de toda nuestra ciudad. En esta temporada de elecciones, nos unimos para votar por los campeones de los trabajadores con políticas audaces y progresistas que protegen a las familias trabajadoras en todos los niveles de liderazgo de nuestra ciudad. Y ganamos RESULTADOS REALES.
Brandon Johnson es el próximo alcalde de Chicago, y se le unirán nuevos progresistas en el consejo de la ciudad, como Angela Clay en el distrito 46, Ronnie Mosley en el distrito 21, William Hall en el distrito 6, Desmon Yancy en el distrito 5 y Lamont Robinson en el distrito 4.
Hicimos lo que nos dijeron que era imposible, miembros de SEIU Healthcare. ¡Cuando nos unimos, no tenemos miedo, no nos disculpamos y somos IMPARABLES!
Si bien estas oficinas son solo puestos, creemos que con este cambio de liderazgo tenemos una oportunidad real de hacer un cambio duradero que garantice que los trabajadores reciban salarios dignos que se mantengan al día con la inflación y que las familias tengan acceso a viviendas asequibles y cuidado infantil asequible. Podemos hacer que nuestras comunidades sean más seguras al tratar las causas profundas del crimen y brindarles a los jóvenes los recursos que necesitan para prosperar – interrumpiendo el ciclo de la pobreza y creando un cambio generacional. Tenemos la oportunidad de hacer que el Ayuntamiento refleje más los valores de los trabajadores.
Estamos listos para continuar promoviendo la justicia racial y económica para los trabajadores de todo Chicago de mano a mano con los líderes recién elegidos.
Juntos, podemos escribir una nueva historia para las familias trabajadoras de Chicago. ¡Pongámonos a trabajar!
En solidaridad,
Greg Kelley
Presidente, SEIU HCIIMK