Illinois Home Care Workers and Seniors Sound the Alarm on Growing Care Crisis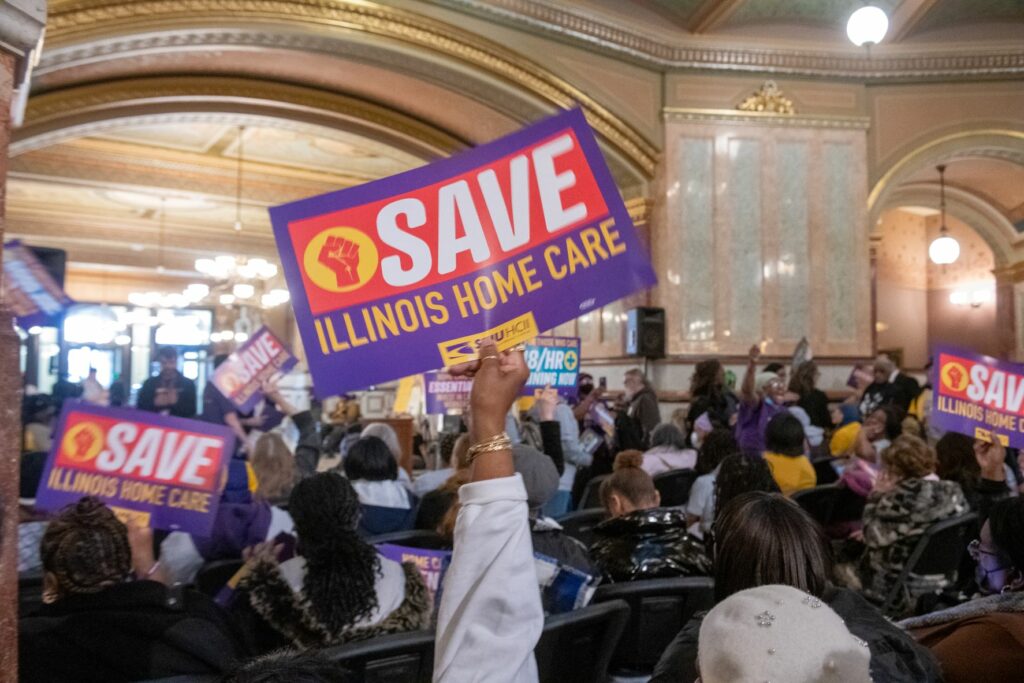 Over 300 care workers, seniors, and allies urge lawmakers to invest in the home care workforce by raising pay and revamping training program
Find photos available here.
View livestream of the rally here.
SPRINGFIELD – On Thursday, March 23, chants for an $18 per hour minimum wage and a revamped paid training program for home care workers serving seniors through the Community Care Program (CCP) echoed through the halls of the capitol during a rally and press conference.
300 SEIU Healthcare Illinois home care workers, seniors, and allies joined together to urge state lawmakers to take action and address the worsening workforce shortage by passing SB 1980/HB 2718, which would set a new wage floor of $18 per hour starting July 1, 2023, and SB 2004/HB 3021, which would create new standards for paid training for CCP home care workers.
"It's time to invest in the home care workforce before it is too late," said Jenny Smith, a Champaign home care aide who spoke during the program. "The pay, benefits and training currently offered will not recruit the workforce our seniors need. It won't prevent good home care workers from leaving the industry either. This work requires trust between the client and worker and it's nearly impossible to build that trust when there's a revolving door of care workers."
The Illinois Community Care Program, one of the state's most important and essential long term care programs, allows 100,000 Illinois seniors to remain living in their communities longer by receiving services at home for their daily living needs. Seniors overwhelmingly prefer these home care services as they age, but right now, many seniors who are approved for services cannot get the care they need due to a workforce shortage driven by low wages, limited benefits, minimal training support and as a result, high turnover. The number of authorized CCP home care hours not delivered has increased by 46% as agencies struggle to recruit and retain workers.
Employment projections show Illinois will need an additional 9,000 home care workers this year and in each of the next ten years as our senior population continues to grow, amounting to roughly ten percent of the current worker base. With the cost of living increasing rapidly, many home care workers cannot afford to remain in the field with the current pay and benefits.
"We are at a crossroads as a state and as a nation. The home care workforce shortage that we face will have a direct and dire impact on our seniors," said State Senator Omar Aquino, who is the chief sponsor of SB 1980. "Now is the time for action, and that's exactly what my bill will accomplish by lifting pay to $18 per hour for home care workers serving our seniors through the Community Care Program."
Current training offered to home care workers is largely unpaid, meaning workers who take time to further their skills lose income doing so.
"As a former CNA, I know firsthand how important training is when it comes to care work," added State Representative Lakesia Collins, chief sponsor of HB 3021. "The current training provided for home care workers in the Community Care Program is unpaid, untracked, and inadequate. This all contributes to our workforce shortage and my bill aims to address each of these issues so we can build the workforce our state's seniors deserve."
SB 2004/HB 3021 would require all training hours be paid at the worker's regular rate of pay, establish a registry maintained by IDPH to record completed trainings, and would create a Home Care Worker Training Subcommittee dedicated to addressing and improving the current state of home care worker training standards.
Advocates, workers, and recipients of home care services agree that these two pieces of legislation are a critical first step in building the home care workforce our state desperately needs as more and more Illinoisans age.
###