Child care providers bring demands to IDHS headquarters in Chicago!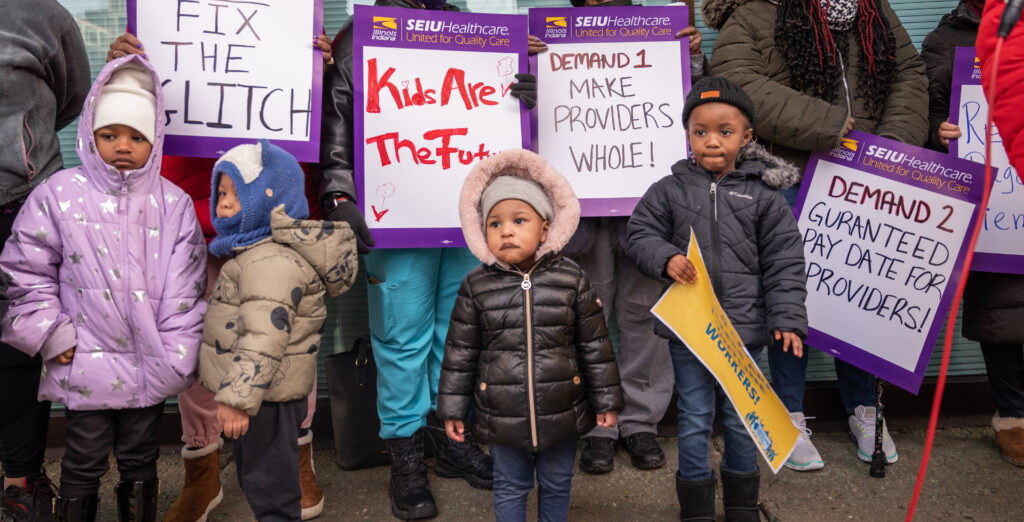 This Tuesday, home child care providers brought our petition with over 600 signatures to the Illinois Department of Human Services (IDHS) office in downtown Chicago. Thousands of providers in the CCAP program were not paid for the month of December due to a glitch in the state's payment processing software, leaving home child care workers scrambling to pay bills and keep our doors open. "While fixing the glitch is crucial, this is not a new issue. Delays and errors are frequent obstacles that child care providers navigate as a part of the CCAP program," said LaTonya Mitchell, a home child care provider and member of SEIU Healthcare Illinois. "The state has known for some time that this is an issue, but instead of investing at the level we need to make sure errors and delays don't happen, the state chronically underfunds the child care system."
We demanded that the state invest in a new payment system, make providers whole and pay those who have still not received their checks, provide hardship pay for those impacted, and set up clear communication structures for how errors and delays will be reported in the future. Watch the full video of our action here, and check out some amazing coverage we received from WTTW's Chicago Tonight and Univision!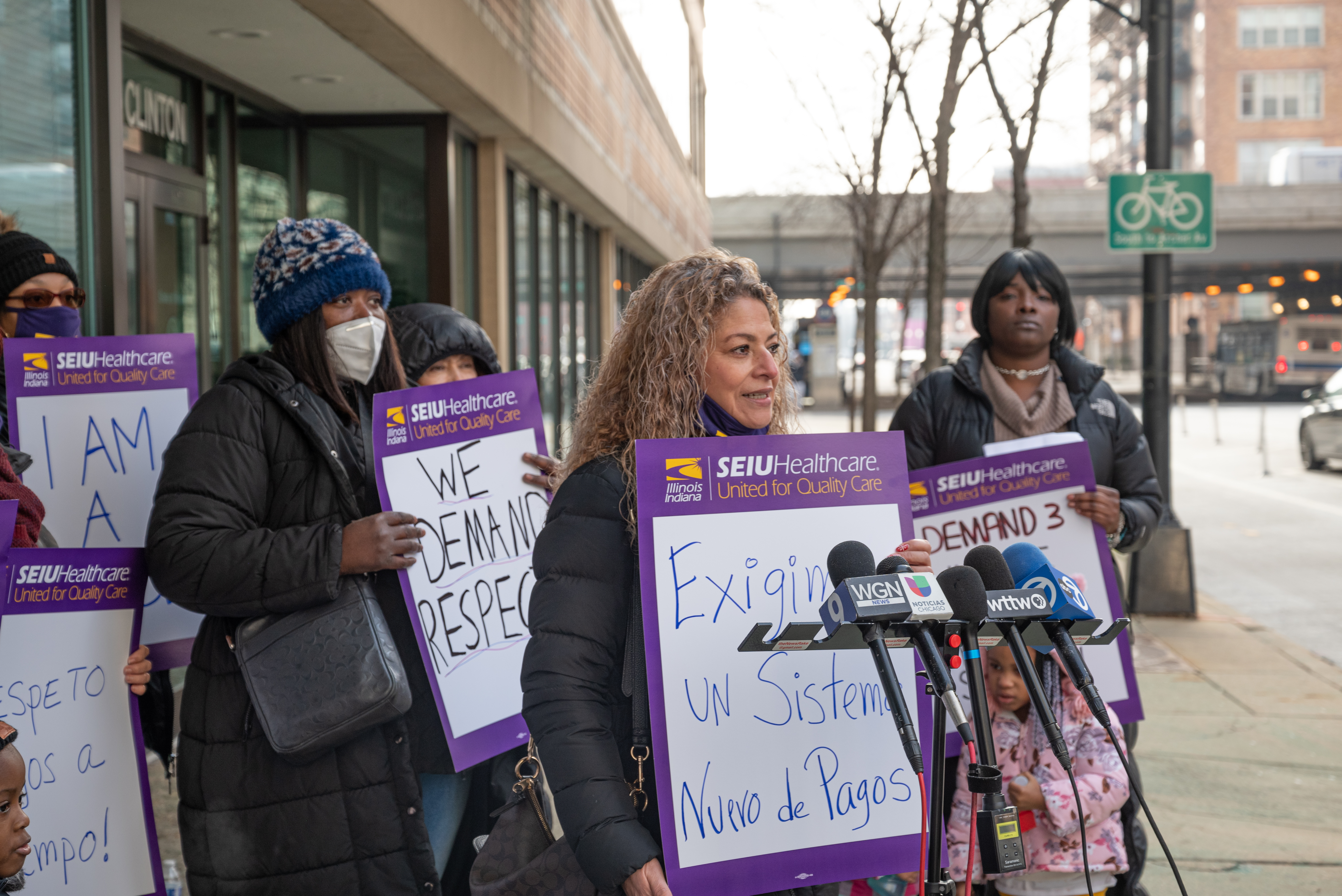 "We're demanding a new payment system so that these errors don't happen again." said Sandra Roa, Chicago home child care provider and SEIU HCII member. "As providers, we don't get paid enough as it is to have savings to cover payment delays. We're demanding justice."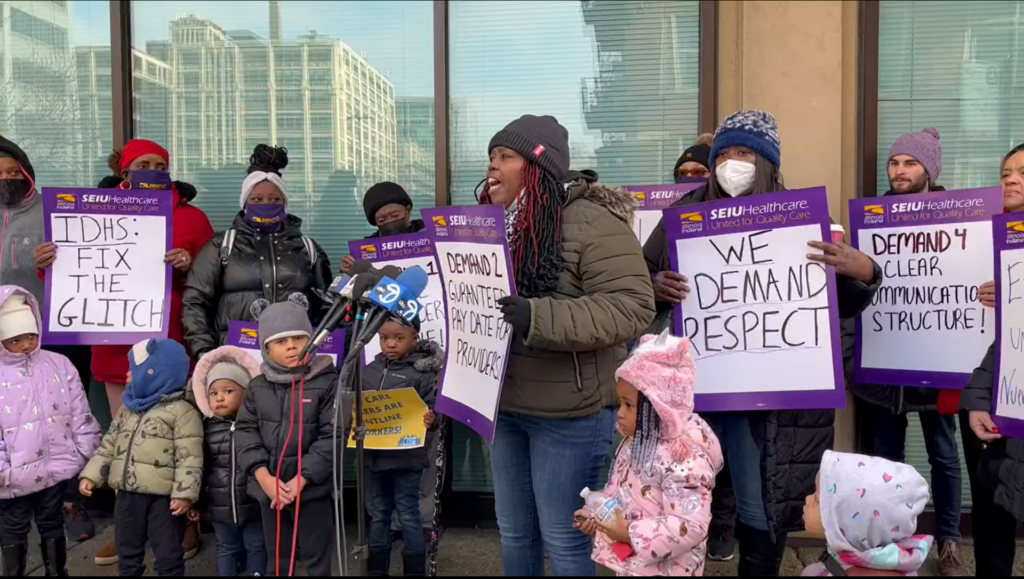 "I've been doing child care for almost 19 years and I'm still hollering about respect, about how little we're paid, still fighting for these same things. We demand respect," said Debra Murphy, a home child care provider and member of SEIU Healthcare Illinois.
This is so much bigger than a payment delay. We are fighting for a child care system where all providers make a living wage, where all parents and families can afford and access care, and where child care providers of every race and zip code are treated with the dignity and respect we deserve. Our fight continues at the bargaining table this year, where we'll negotiate our new contract with the state.
Ayer, proveedores de cuidado infantil en casa llevaron nuestras demandas con más de 600 firmas a la oficina de IDHS en Chicago. Miles de proveedores en el programa de CCAP no recibieron pago para el mes de diciembre, haciendo que proveedores estuvieran corriendo para pagar cuentas y mantener abiertas las puertas. "Arreglar el error del sistema de pago es esencial, pero no es nada nuevo. Retrasos y errores son obstaculos comunes para proveedores de cuidado infantil en casa," dijo LaTonya Mitchell, una proveedora de cuidado infantil en casa y miembro de SEIU Healthcare Illinois. "El estado sabe que debe arreglar eso hace mucho tiempo, pero en lugar de invertir en el programa para que no occuran errores, el estado no financia el sistema de cuidado infantil suficientemente."
Exigimos que el estado pague a los proveedores, invierta en un nuevo sistema de pago, garantize una fecha de pago, y cree un sistema para comunicar con proveedores en caso de errores. Mira el video completo aqui y cobertura de WTTW y Univision!
"Estamos exigiendo un sistema nuevo de pago para que esto no pueda occurir en el futuro, "dijo Sandra Roa, proveedora de cuidado infantil en casa y miembro de SEIU Healthcare Illinois."Como proveedoras, no ganamos lo que deberiamos ganar para poder tener un ahorro para momentos asi. Estamos exigiendo justicia."
"He sido proveedora hace 19 años, y todavia estoy gritando sobre el respeto, sobre lo poco que ganamos, las lcchando por las mismas cosas. Nosotros exigimos respecto," dijo Debra Murphy, proveedora de cuidado infantil en casa y miembro de SEIU Healthcare Illinois.
Es mucho más que un retraso de pago. Estamos luchando por un sistema de cuidado infantil donde cada proveedor gane un sueldo digno, cada familia puede aceder al cuidado, y proveedores de cada raza y ciudad en Illinois reciben la dignidad y el respeto que merecemos. Nuestra lucha continua en la mesa de negociaciones, donde ganamos nuestro nuevo contracto.
News Coverage