Endorsement Alert! SEIU Healthcare Members Choose Brandon Johnson for Mayor of Chicago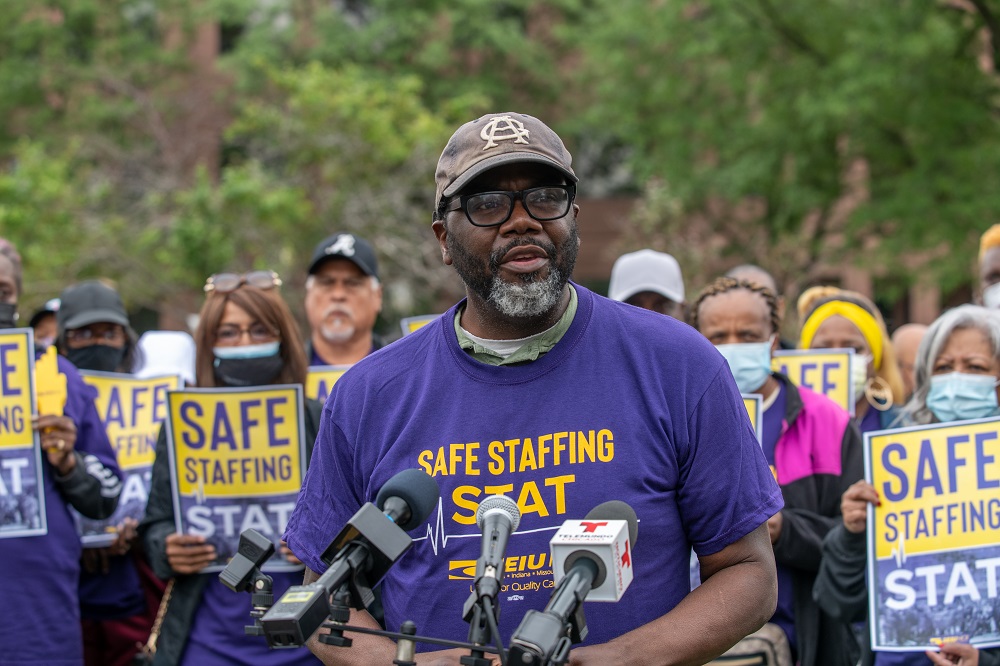 We are proud to share that our union's Executive Board voted to endorse Brandon Johnson for mayor of Chicago!
As a public school teacher, union organizer and Cook County commissioner, Brandon Johnson is the only candidate who has been a leader in our communities in the fights for fully funded public schools, affordable housing, child care for all, safe staffing in our hospitals and nursing homes, and access to mental healthcare.
Brandon has stood side by side with us through so many struggles and he doesn't just talk about change, he delivers it to our communities.
Brandon has a proven track record in his time as Cook County commissioner:
In the wake of civil uprisings in the summer of 2020, he organized the Cook County Board to commit to the "Budget for Black Lives," bringing new investments in healthcare, public transportation, internet access, and affordable housing.
At the onset of the COVID-19 pandemic, Brandon convened a statewide "Save Our Seniors" response to the crisis in low-income nursing homes.
He led the effort to pass the Just Housing Ordinance, which prohibited housing discrimination against formerly incarcerated people.
He collaborated with colleagues to eliminate the gang database, secure legal representation for immigrants facing deportation and advance recognition of Indigenous Peoples' Day.
Click here to learn more about Brandon Johnson's platform and why he is the right choice to lead our city right now.
With a crowded race for mayor and multiple alderpersons choosing to not seek re-election next year, there is great opportunity for SEIU members from all races, neighborhoods, and workplaces to help shape what our future leadership of Chicago will look like.
Brandon Johnson is one of us and stands with the people of Chicago. He is ready to tackle the challenges on the minds of our members – from community safety, inflation, and affordable housing to access to mental health services and police accountability.
You'll hear a lot more from us soon on the Chicago municipal elections, but we are so happy to share this exciting endorsement with you today.