A Labor Day Unlike Others | Un Día del Trabajo Diferente a Otros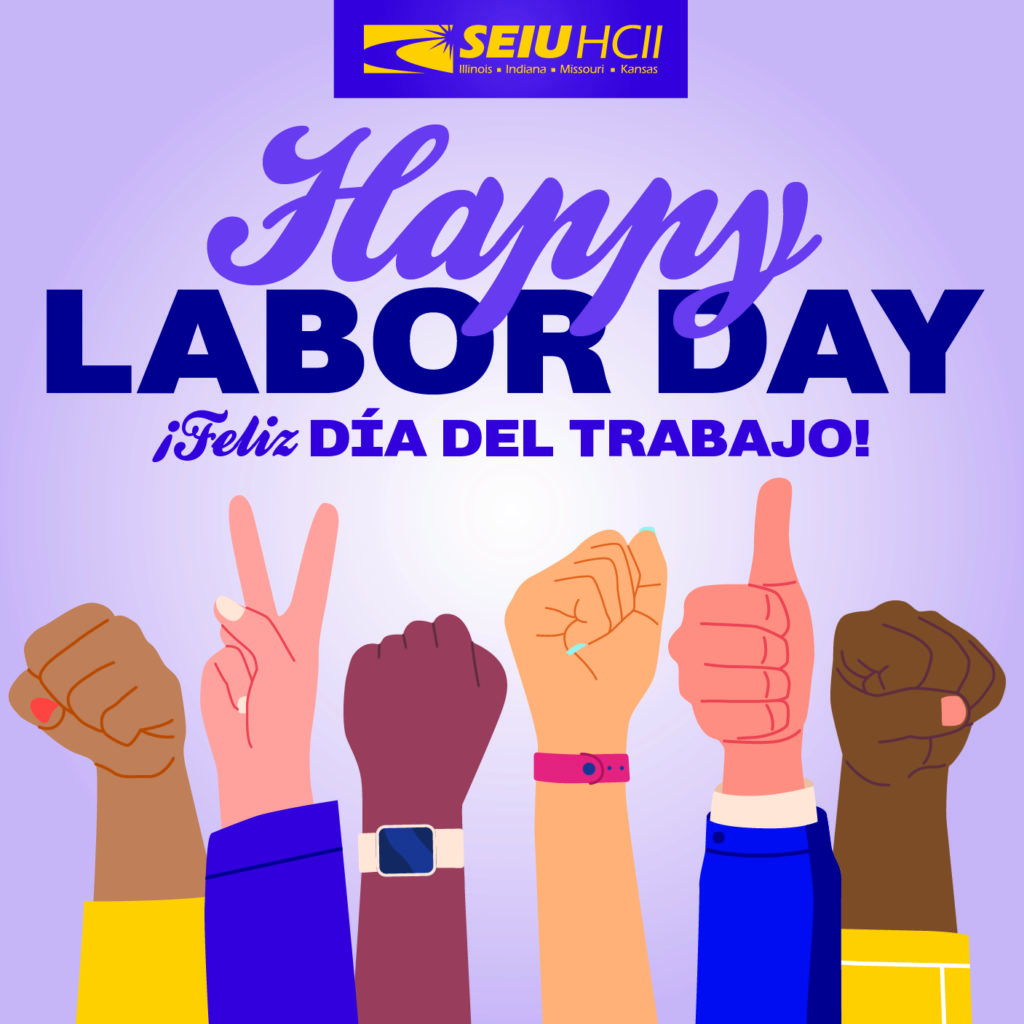 This Labor Day is feeling unlike any other in recent memory. Stories about workers organizing, demanding more and winning major victories are all over the news and social media. From coast to coast, and right here in the Midwest, it's working people of every race and background who are rising up collectively to take on corporate power and give voice to their coworkers and entire communities.
Gallup just released a poll showing that Americans' support for unions is the strongest in 70 years. And it's no surprise: After two and a half years of frontline workers being called "essential" but treated as disposable, corporations that get richer off rising prices for basic goods, and working people realizing their power, we're fed up and we're taking action.
Since last Labor Day, we've been engaged in so many important fights. To name a few: Hospital workers showing up day in and day out to keep our systems running, even as the pandemic continues, and we've raising our voices to call for safe staffing. Childcare providers coming together alongside faith and community partners to demand child care for all — and with it, good, union jobs that pay a living wage. Home care workers traveling to Washington, DC to march on the Capitol demanding an investment in expanded access to affordable care and quality jobs with a voice through a union.
Starbucks partners at more than 230 locations, including so many here in the Midwest, winning their unions. Working people standing up to the likes of Amazon, United Airlines, McDonald's and Chipotle like never before. And I congratulate our fast-food brothers and sisters in California who drove the passage of landmark legislation that gives workers a real seat at the table with government and their employers to set wages and working conditions.
That's the power of workers coming together collectively and acting like a union. Because we are most powerful when we are united. And we are truly united as working people – Black, white, Latino, and Asian. We might be from different states; urban, rural or suburban neighborhoods; or different jobs, but we all want the same things. We work hard to build a better life for our families and the generations that follow.
Today's labor movement charges forward with new energy, but with the same tenacious, justice-driven spirit of those who came before us. A Phillip Randolph, Samuel Gompers and Helen Miller who built our union and continue to help show us the way forward through their example of fighting for social, racial and economic justice.
This Labor Day, in a nation awoken to workers seizing our power, we celebrate all that we have won and recommit to the fights still to come. Onward!
In solidarity,
Greg Kelley, President at SEIU HCIIMK
---
Este Día del Trabajo se siente como ningún otro en la memoria reciente. Las historias sobre trabajadores que se organizan exigen más y obtienen grandes victorias están en todas las noticias y redes sociales. De costa a costa, y aquí mismo en el Medio Oeste, son trabajadores de todas las razas y antecedentes los que se están levantando colectivamente para asumir el poder corporativo y dar voz a sus compañeros de trabajo y comunidades enteras.
Gallup acaba de publicar una encuesta que muestra que el apoyo de los estadounidenses a las uniones es el más fuerte en 70 años. Y no es una sorpresa: después de dos años y medio de trabajadores de primera línea llamados "esenciales" pero tratados como desechables, corporaciones que se enriquecen con el aumento de los precios de los productos básicos y trabajadores que se dan cuenta de su poder, estamos hartos y estamos tomando medidas.
Desde el último Día del Trabajo, hemos estado involucrados en muchas luchas importantes. Por nombrar algunos: los trabajadores del hospital se presentan día tras día para mantener nuestros sistemas en funcionamiento, incluso mientras continúa la pandemia, y hemos alzado nuestras voces para pedir una dotación de personal segura. Proveedores de cuidado infantil que se unen junto con socios religiosos y comunitarios para exigir cuidado infantil para todos, y con ello, buenos trabajos de unión que paguen un salario digno. Trabajadores de cuidado en el hogar viajando a Washington, DC para marchar en el Capitolio exigiendo inversión en mayor acceso a cuidado asequible y empleos de calidad con una voz a través de una unión.
Los socios de Starbucks en más de 230 ubicaciones, incluyendo muchas aquí en el Medio Oeste, ganan sus uniones. Trabajadores que se enfrentan a empresas como Amazon, United Airlines, McDonald's y Chipotle como nunca. Y felicito a nuestros hermanos y hermanas de la comida rápida en California que impulsaron la aprobación de una legislación histórica que otorga a los trabajadores un asiento real en la mesa con el gobierno y sus empleadores para establecer salarios y condiciones de trabajo.
Ese es el poder de los trabajadores que se unen colectivamente y actúan como una unión. Porque somos más poderosos cuando estamos unidos. Y estamos realmente unidos como trabajadores: negros, blancos, latinos y asiáticos. Podríamos ser de diferentes estados; barrios urbanos, rurales o suburbanos; o diferentes trabajos, pero todos queremos las mismas cosas. Trabajamos arduamente para construir una vida mejor para nuestras familias y las generaciones que siguen. 
El movimiento laboral de hoy avanza con nueva energía, pero con el mismo espíritu tenaz e impulsado por la justicia de aquellos que nos precedieron. Phillip Randolph, Samuel Gompers y Helen Miller construyeron nuestra unión y continúan ayudándonos, mostrándonos el camino a seguir a través de su ejemplo de lucha por la justicia social, racial y económica.
Este Día del Trabajo, en una nación que se despierta ante los trabajadores que toman nuestro poder, celebramos todo lo que hemos ganado y volvemos a comprometernos con las luchas que aún están por venir. ¡Adelante!
En solidaridad,
Greg Kelley, Presidente en SEIU HCIIMK