What we achieved yesterday | Lo que logramos ayer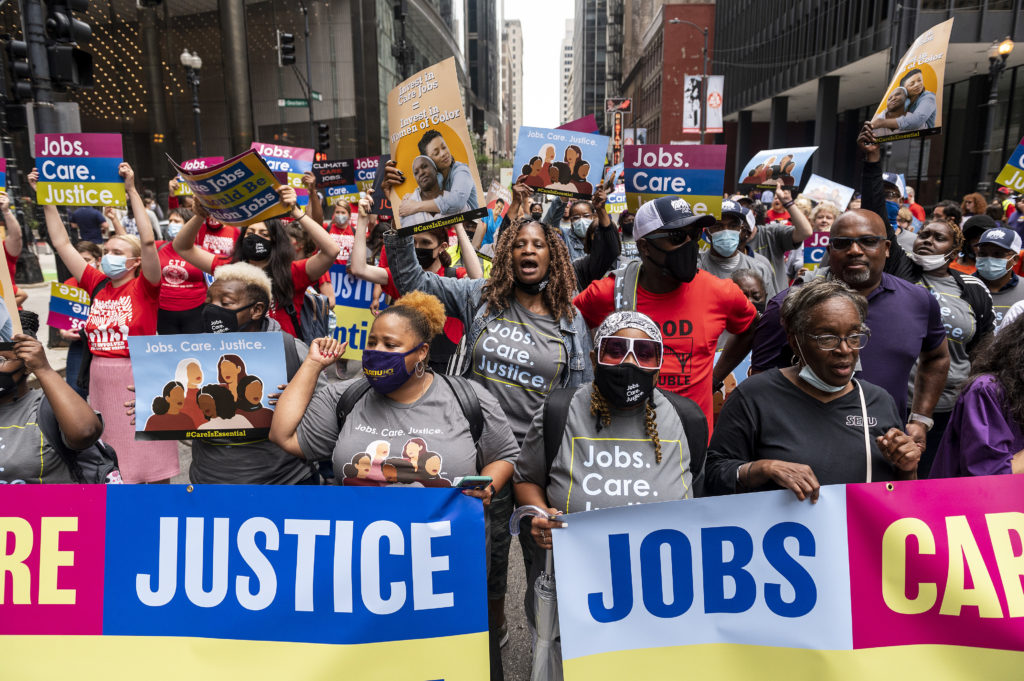 Yesterday we took a big step forward toward putting candidates in office who stand with home care, nursing home, child care, and hospital workers and our vision for a better future in Illinois.
Up and down the ballot, SEIU Healthcare members helped carry our endorsed candidates to victory!
Here are a few noteworthy races we are especially proud of our work in:
Delia Ramirez clinched the Democratic nomination for Congress in the newly-drawn 3rd During her time as an Illinois state representative, Ramirez passed legislation to expand affordable housing and increase access to healthcare and continues to advocate for fair paying jobs, healthcare access, affordable housing and accessible child care for all. We're ready to help her win in November next so she can take her passion and commitment to the halls of Congress.
State Senators Celina Villanueva and Robert Martwick also won their Democratic primaries. A daughter of immigrants, Sen. Villanueva is committed to uplifting historically marginalized voices and championing policies that will benefit immigrant communities. Sen. Martwick has fought to protect public education, enforce fair labor practices, and provide tax relief for Illinois families. We're proud to back them both for re-election this fall.
Lilian Jiménez won the Democratic primary for State House District 4, ready to continue the progress that Delia Ramirez ushered in while representing the district. Jiménez is a working mom and community advocate who helped pass the first-ever countywide minimum wage and paid sick leave legislation.
State Representatives Lindsey LaPointe and Sonya Harper are also looking ahead to November after winning their primaries yesterday. LaPointe has been a fierce advocate for social justice, healthcare and mental health care reform, and women's rights. Rep. Harper has consistently advocated for Illinois' working families and fought to promote economic opportunity, public safety, and health care accessibility. We look forward to helping them both get re-elected.
Scroll down to view a full list of victories on the races we endorsed.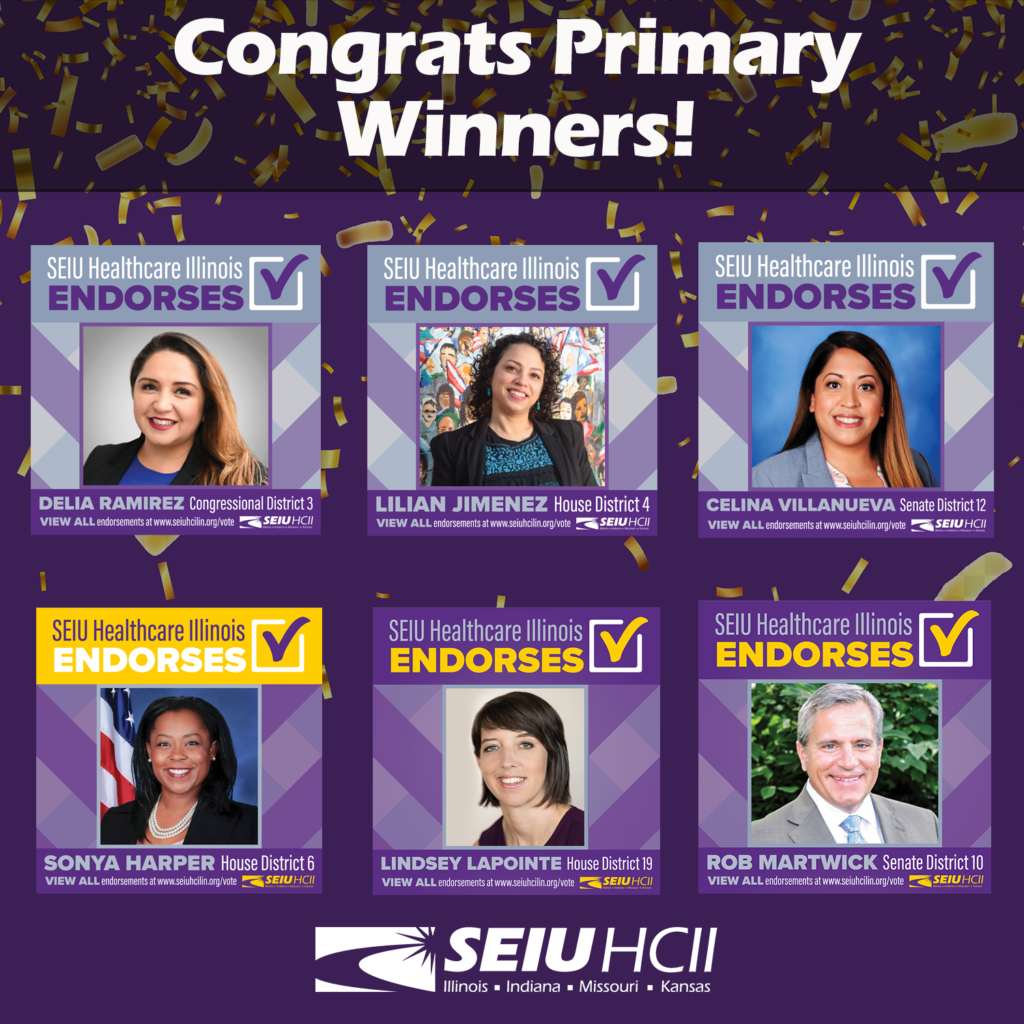 With the primary behind us, we're ready for the work ahead leading up to the November midterm election.
There is so much at stake, and already we see stark differences on where candidates stand.
We are committed to our vision of an Illinois where we can all thrive. Where we all have access to quality, affordable healthcare. Where the rights of women and our LGBTQIA+ neighbors are protected, and where we can all live lives free from discrimination and racism. We want good schools for our kids and quality jobs that offer wages we can support our families on. We want to make sure that every senior or person with a disability has access to the home care they need, and child care for every working family.
The rich and powerful are already using their influence on the politicians they control to divide us with their rhetoric and actions. Why? They know that when we unite across racial and geographic lines we cannot be stopped.
We've come together in the past to win the change we demanded, and we will do it again.
Congratulations on your hard work paying off in the primary yesterday, and let's get ready to do it again this November!
Federal
U.S. Senate: Tammy Duckworth
CD 2: Robin Kelly
CD 3: Delia Ramirez
CD 4: Chuy Gracia
CD 5: Mike Quigley
CD 7: Danny Davis
CD 8: Raja Krishnamoorth
CD 9: Jan Schakowsky
CD 10: Brad Schneider
CD 11: Bill Foster
CD 13: Nikki Budzinski
CD 14: Lauren Underwood
Statewide
Governor: JB Pritzker
Lt. Governor: Julianna Stratton
Secretary of State: Alexi Giannoulias
Attorney General: Kwame Raoul
Comptroller: Susana Mendoza
Treasurer: Michael Frerichs
SD 1: Javier Cervantes
SD 2: Omar Aquino
SD 10: Robert Martwick
SD 12: Celina Villanueva
SD 36: Mike Halpin
HD 4: Lilian Jimenez
HD 6: Sonya Harper
HD 15: Micheal Kelly
HD 19: Lindsey LaPointe
HD 25: Curtis Tarver
HD 27: Justin Slaughter
HD 39: Will Guzaradi
HD 62: Laura Faver Dias
Cook County
District 1: Brandon Johnson
District 2: Dennis Deer
District 5: Monica Gordon
District 13: Josina Morita
Metropolitan Water Reclamation: Yumeka Brown
Metropolitan Water Reclamation: Patricia Flynn
Metropolitan Water Reclamation: Dan Pogorzelski
Metropolitan Water Reclamation: Mariyana Spyropoulos
---
Ayer dimos un gran paso adelante para poner en el cargo a candidatos que apoyen a los trabajadores de cuidado en el hogar, hogares de ancianos, cuidado infantil y hospitales y nuestra visión de un futuro mejor en Illinois.
Arriba y abajo en el boleto electoral, los miembros de SEIU Healthcare ayudaron a llevar a nuestros candidatos apoyados a la victoria.
Aquí hay algunas carreras notables de las que estamos especialmente orgullosos de nuestro trabajo en:
Delia Ramírez aseguró la nominación demócrata para el Congreso en el 3er distrito recién trazado. Durante su tiempo como representante del estado de Illinois, Ramírez aprobó una legislación para ampliar las viviendas asequibles y aumentar el acceso a el cuidado de la salud y continúa abogando por empleos con salarios justos, acceso a el cuidado de la salud, viviendas asequibles y cuidado infantil accesible para todos. Estamos listos para ayudarla a ganar en noviembre para que pueda llevar su pasión y compromiso a los pasillos del Congreso.
Los senadores estatales Celina Villanueva y Robert Martwick también ganaron sus primarias demócratas. Hija de inmigrantes, la Senadora Villanueva está comprometida a elevar las voces históricamente marginadas y defender políticas que beneficiarán a las comunidades inmigrantes. El Senador Martwick ha luchado para proteger la educación pública, hacer cumplir las prácticas laborales justas y brindar alivio fiscal a las familias de Illinois. Estamos orgullosos de apoyarlos a ambos para la reelección este otoño.
Lilian Jiménez ganó las primarias demócratas para el Distrito 4 de la Cámara de Representantes del Estado, lista para continuar el progreso que Delia Ramírez logró mientras representaba al distrito. Jiménez es una madre trabajadora y defensora de la comunidad que ayudó a aprobar la primera ley de salario mínimo y licencia por enfermedad pagada en todo el condado.
Las representantes estatales Lindsey LaPointe y Sonya Harper también miran hacia noviembre después de ganar sus elecciones primarias ayer. La representante LaPointe ha sido una feroz defensora de la justicia social, la reforma del cuidado de la salud y la salud mental, y los derechos de las mujeres. La representante Harper siempre ha defendido a las familias trabajadoras de Illinois y ha luchado para promover las oportunidades económicas, la seguridad pública y la accesibilidad al cuidado de la salud. Esperamos poder ayudarlas a ambas a ser reelegidas.
Desplácese hacia abajo para ver una lista completa de victorias en las carreras que apoyamos.
Con las primarias detrás de nosotros, estamos listos para el trabajo por delante que conduce a las elecciones de mitad de período de noviembre.
Hay mucho en juego, y ya vemos grandes diferencias en la posición de los candidatos.
Estamos comprometidos con nuestra visión de un Illinois donde todos podamos prosperar. Donde todos tengamos acceso a un cuidado de la salud asequible y de calidad. Donde se protegen los derechos de las mujeres y nuestros vecinos LGBTQIA+, y donde todos podemos vivir vidas libres de discriminación y racismo. Queremos buenas escuelas para nuestros hijos y trabajos de calidad que ofrezcan salarios con los que podamos mantener a nuestras familias. Queremos asegurarnos de que todas las personas mayores o discapacitadas tengan acceso al cuidado en el hogar que necesitan y cuidado infantil para todas las familias trabajadoras.
Los ricos y poderosos ya están usando su influencia sobre los políticos que controlan para dividirnos con su retórica y acciones. ¿Por qué? Saben que cuando nos unimos a través de líneas raciales y geográficas no podemos ser detenidos.
Nos hemos unido en el pasado para ganar el cambio que exigíamos, y lo haremos de nuevo.
¡Felicitaciones por su arduo trabajo que rindió frutos en las primarias de ayer y preparémonos para hacerlo nuevamente este noviembre!
Federal
Senado de los Estados Unidos: Tammy Duckworth
Distrito del Congreso 2: Robin Kelly
Distrito del Congreso 3: Delia Ramirez
Distrito del Congreso 4: Chuy Gracia
Distrito del Congreso 5: Mike Quigley
Distrito del Congreso 7: Danny Davis
Distrito del Congreso 8: Raja Krishnamoorth
Distrito del Congreso 9: Jan Schakowsky
Distrito del Congreso 10: Brad Schneider
Distrito del Congreso 11: Bill Foster
Distrito del Congreso 13: Nikki Budzinski
Distrito del Congreso 14: Lauren Underwood
En todo el estado
Gobernador: JB Pritzker
Vicegobernadora: Julianna Stratton
Secretario de Estado: Alexi Giannoulias
Procurador General: Kwame Raoul
Contralor: Susana Mendoza
Tesorero: Michael Frerichs
Distrito del Senado 1: Javier Cervantes
Distrito del Senado 2: Omar Aquino
Distrito del Senado 10: Robert Martwick
Distrito del Senado 12: Celina Villanueva
Distrito del Senado 36: Mike Halpin
Distrito de la Cámara 4: Lilian Jimenez
Distrito de la Cámara 6: Sonya Harper
Distrito de la Cámara 15: Micheal Kelly
Distrito de la Cámara 19: Lindsey LaPointe
Distrito de la Cámara 25: Curtis Tarver
Distrito de la Cámara 27: Justin Slaughter
Distrito de la Cámara 39: Will Guzaradi
Distrito de la Cámara 62: Laura Faver Dias
Condado de Cook
Distrito 1: Brandon Johnson
Distrito 2: Dennis Deer
Distrito 5: Monica Gordon
Distrito 13: Josina Morita
Recuperación de Agua Metropolitana: Yumeka Brown
Recuperación de Agua Metropolitana: Patricia Flynn
Recuperación de Agua Metropolitana: Dan Pogorzelski
Recuperación de Agua Metropolitana: Mariyana Spyropoulos