Illinois Legislative Session Wrap Up: SEIU Healthcare members WIN!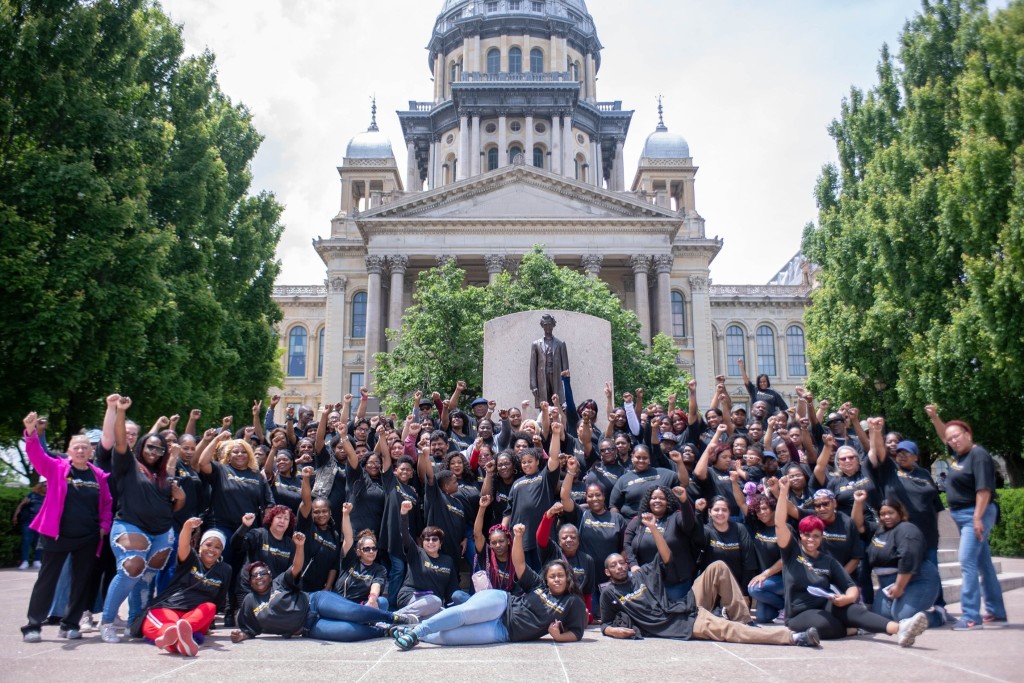 Recently, the 2022 Illinois Spring Legislative Session came to a close with some notable wins for SEIU Healthcare members that we're excited to share!
Workers from every community in every corner of the state united and took action through our union to make these victories possible.
From testifying virtually, speaking out at press conferences in Springfield, making calls to state lawmakers, and more, SEIU Healthcare members made sure our voices were heard and our demands were known throughout the session.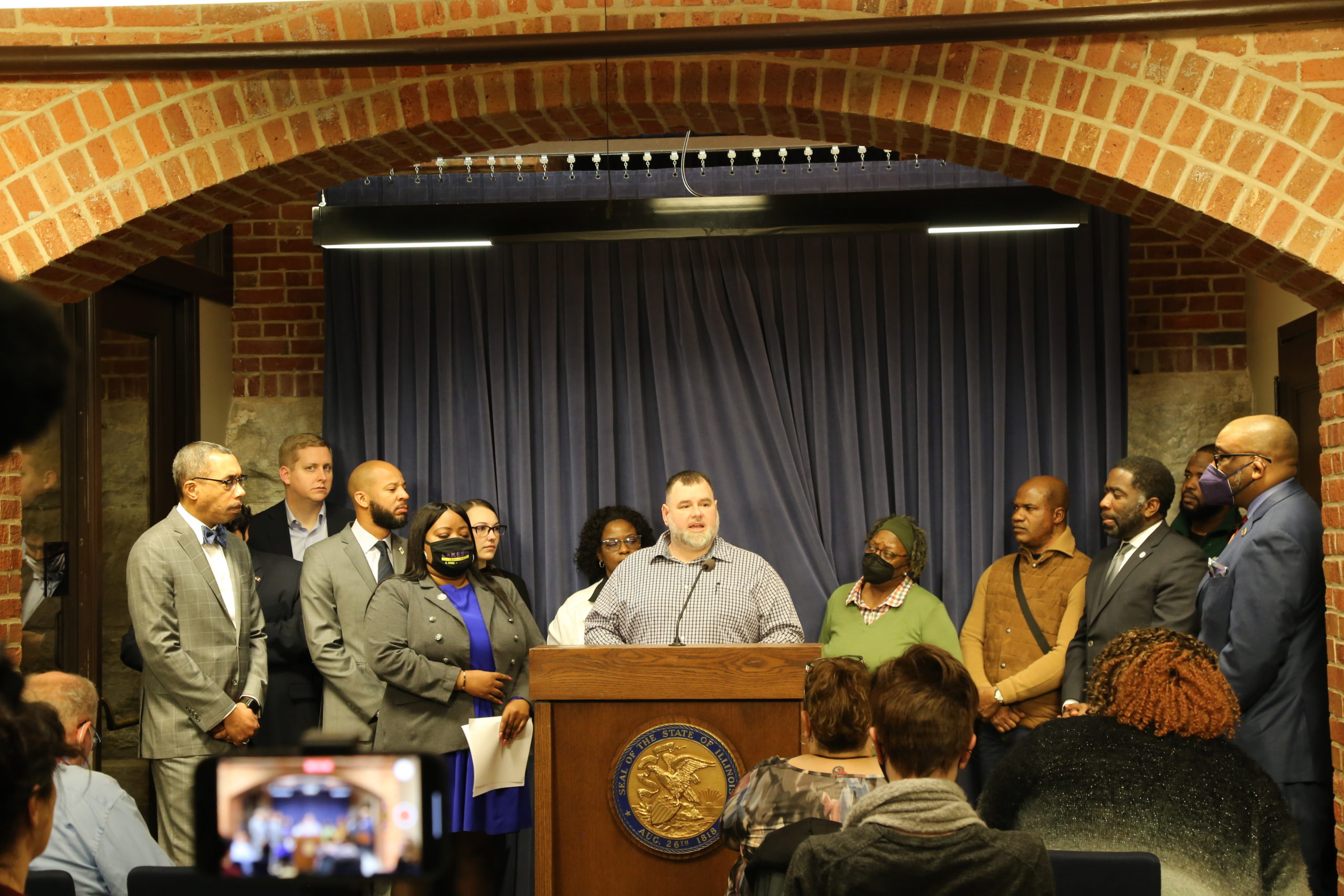 Here are some highlights of what we achieved:
A $0.45/hour rate increase for home care workers serving seniors through the Community Care Program effective January 1, 2023.
Funding for the $2/hour "pandemic pay" increase nursing home workers covered under our Association contract will see from May 1, 2022-April 30, 2023.
Nursing home rate reform that will provide incentives for homes that provide better staffing and meet certain quality metrics, as well as provide CNA wage increases tied to seniority.
A $1.00/hour rate increase for Direct Service Providers (DSPs) effective January 1, 2023, training reform, and stronger accountability for future funding to ensure that it is passed through to the frontline workforce as intended.
Protected and/or expanded funding for the Home Services Program, the Community Care Program, the Child Care Assistance Program, and for safety-net hospitals.
Some other significant wins for struggling working families include:
Direct payments to Illinois families ($50 for single + $100 for each child).
A freeze on the gas tax increase.
Suspension of the grocery tax.
$300 property tax relief.
While the budget passed will provide crucial help to the workers and communities hardest hit by the pandemic, additional investment is still needed.
Our members and all working families are struggling under rising costs due to the inflation. We know our system is rigged by the rich and powerful corporations who rob our state of the resources and wages we need because they refuse to pay what they owe.
When we come together across racial and geographical lines, we can rewrite the rules and we can all live a full and plentiful life of our choosing. We look forward to continuing our fight for additional investment in care services and jobs and infrastructure in communities across the state.
But for now, let's celebrate these victories and remember that by standing together in our union, we can achieve anything.
---
Finaliza la sesión legislativa de Illinois: ¡Los miembros de SEIU Healthcare GANAN!
¡Recientemente, la sesión legislativa de primavera de Illinois de 2022 llegó a su fin con algunas victorias notables para los miembros de SEIU Healthcare que nos complace compartir!
Los trabajadores de todas las comunidades en todos los rincones del estado se unieron y actuaron a través de nuestra unión para hacer posible estas victorias.
Desde testificar virtualmente, hablar en conferencias de prensa en Springfield, hacer llamadas a los legisladores estatales y más, los miembros de SEIU Healthcare se aseguraron de que nuestras voces fueran escuchadas y nuestras demandas se conocieran durante toda la sesión.
Estos son algunos aspectos destacados de lo que logramos:
Un aumento de tarifa de $0.45/hora para los trabajadores de cuidado en el hogar que atienden a personas mayores a través del Programa de Cuidado Comunitario a partir del 1 de enero de 2023.
Fondos para el aumento de $2/hora de "pago pandémico" para los trabajadores de hogares de ancianos cubiertos por nuestro contrato de la Asociación se verán del 1 de mayo de 2022 al 30 de abril de 2023.
Reforma de tarifas de hogares de ancianos que brindará incentivos para los hogares que brinden mejor personal y cumplan con ciertas métricas de calidad, así como también brindará aumentos salariales de CNA atado a la antigüedad.
Un aumento de tarifa de $1.00/hora para proveedores de servicios directos (DSP) a partir del 1 de enero de 2023, reforma de entrenamiento y mayor responsabilidad por la financiación futura para garantizar que se transfiera a la fuerza laboral de primera línea según lo previsto.
Financiamiento protegido y/o ampliado para el Programa de Servicios en el Hogar, el Programa de Cuidado Comunitario, el Programa de Asistencia para el Cuidado Infantil y los hospitales de la red de seguridad.
Algunas otras victorias significativas para las familias trabajadoras con dificultades incluyen:
Pagos directos a familias de Illinois ($50 solo + $100 por cada niño).
Congelación del aumento del impuesto a la gasolina.
Suspensión del impuesto a los comestibles.
Alivio de impuestos a la propiedad de $300.
Aunque el presupuesto aprobado brindará una ayuda crucial a los trabajadores y las comunidades más afectadas por la pandemia, aún se necesita una inversión adicional.
Nuestros miembros y todas las familias trabajadoras están luchando contra los crecientes costos debido a la inflación. Sabemos que nuestro sistema está manipulado por corporaciones ricas y poderosas que roban a nuestro estado los recursos y los salarios que necesitamos porque se niegan a pagar lo que deben.
Cuando nos unimos a través de líneas raciales y geográficas, podemos reescribir las reglas y todos podemos vivir una vida plena y abundante de nuestra elección. Esperamos continuar nuestra lucha por inversiones adicionales en servicios de cuidado, empleos e infraestructura en comunidades de todo el estado.
Pero por ahora, celebremos estas victorias y recordemos que, unidos en nuestra unión, podemos lograr cualquier cosa.