Nursing Home Leader Profile: Krystle Jacobs: "Bria's threats to take away our pension, put us all on probation, shows why we need to stick together and not back down!"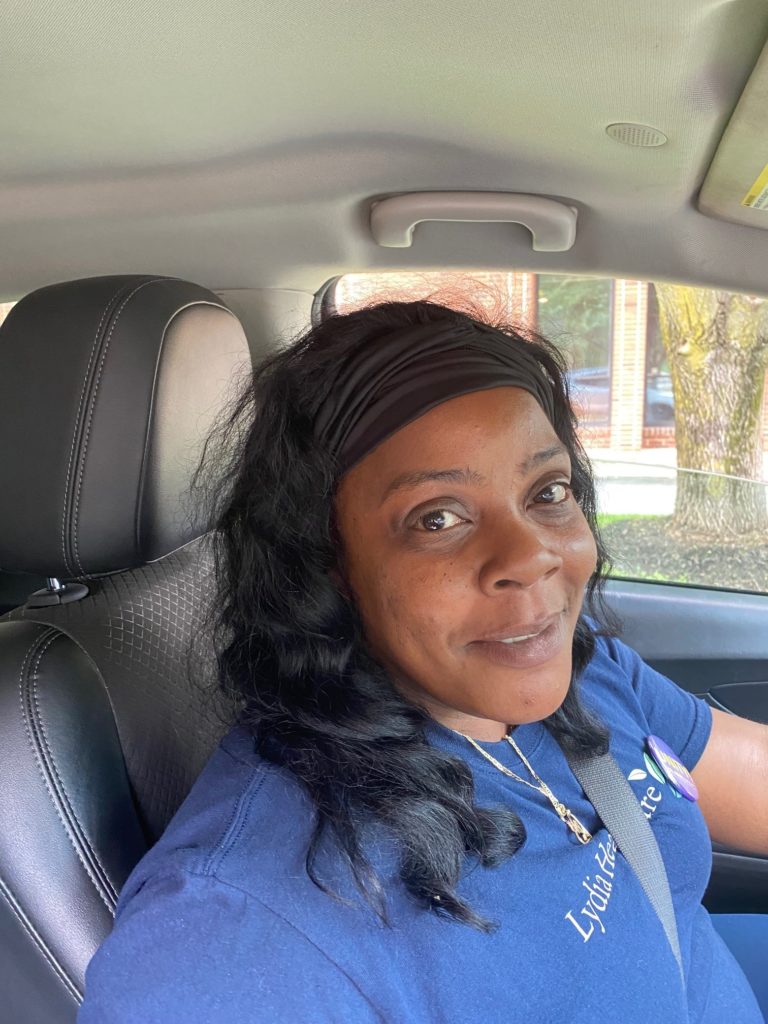 Imagine working for a company for almost 13-years and then suddenly new management shows up and effectively puts you and all your co-workers on immediate probation to prove your value, threatens to take away your pension, and reduce your wages and benefits.
That's why Krystle Jacobs was blunt after a contract bargaining session on July 12th: "We need to stick together and show Bria Health Services we are not backing down!"
Krystle was responding to the contract proposal by Bria's management team, the new operators of her facility, Lydia Healthcare Center in Robbins, Illinois. Lydia's previous owners ceased operating the facility because of financial issues and failing to pay back creditors.
Now Bria's management told workers there is a new sheriff in town and wants to tear up the existing contract and make workers accept a worse deal that also outsources or eliminates whole units, such as laundry, dietary, and smoke monitors.
Thirteen years ago Krystle joined Lydia Healthcare Center as a housekeeper making only $8.25/hour and worked her way up to now becoming a Psychiatric Rehabilitation Services Aide (PRSA) making $19/hour today.
"We were only getting .15 cent raises, but through our union we got organized and fought back for a better contract which is why I'm at $19/hour now."
Krystle and the rest of her colleagues at Lydia have fought too hard for too long to lose all the gains we've made in our contract. That's why Krystle, as a shop steward and a leader, is moving a "ready to strike" petition among her fellow workers to send a message to Bria's management that workers are not going to take these attacks and insults lying down and are ready to protect our consumers.
Whether it's shopping for residents, cooking up meals, planning bingo or decorating doors for birthdays, Krystle Jacobs says the hard work never stops her from caring for her residents as if they were her own family.
"I do several jobs; on Tuesdays, I go to the store to stock up on items for residents. On Wednesdays, I buy groceries and cook meals. On Thursdays, I run the Lydia locker where residents can buy personal hygiene items. On Fridays, I plan activities such as art projects, basketball tournaments or bingo."
"The residents are what keep me at Lydia Health Center, I take care of them on a daily basis. At first, it was hard doing so many jobs; I like doing it but I still have my own job and I'm not able to meet my consumers one on one as much as I used to," she said.
Employees like Krystle have been told that they can be demoted if management feels they aren't working hard enough. Yet when they brought their concerns up to management during bargaining they were met disrespect, and a contract proposal that included wage cuts, benefits being revoked, and a refusal to deal with the crisis of short staffing.
"Bria's management even changed our financial system so I don't have access anymore to see my pay stubs or time off."
Bria may treat their nursing homes as businesses but for Kyrstle she sees the residents as her own extended family. When she isn't at work she can be found caring for her special-needs brother who lives with her at home.
"My brother is not in a facility but I would want someone to take care of him the same way I take care of my residents. I am dedicated to my consumers, like all of my fellow workers. We give our all to our consumers. It's time that Bria's management recognized our service and respected all that we provide."
Krystle is ready to do whatever it takes to win a fair contract. "We need to stick together and prepare to strike if we are forced to, wear our buttons in solidarity, and show Bria we are not backing down!"