2021 Illinois Legislative Session Recap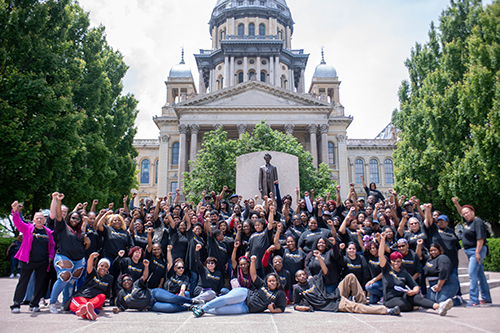 With the close of the 2021 Illinois legislative session, we wanted to highlight a few big victories for our members and working families that our union played a vital role in winning!
As a state and nation we continued to battle COVID-19 through this Spring session, so the way we took action and fought for legislation that would move us forward looked a little different.
SEIU members stepped up and testified during committee hearings via zoom, made phone calls to state lawmakers, shared our stories with the media, and held virtual lobby days to ensure our voices were heard. 
Together through our union, our work achieved the following:
We expanded child care benefits through the Child Care Assistance Program to 200% of the federal poverty limit.
We secured $30 million from the American Rescue Plan Act to support safety net hospitals.
We expanded the rental assistance program.
We won a rate increase to lift pay to at least $15/hr. for agency home care aides working through the Community Care Program starting January 1, 2022.
We won a $1/hr. rate increase for the people who work with the developmentally disabled.
We closed of 4 corporate tax loopholes.
We won protections for undocumented families with the Illinois Way Forward Act.
These bills and the overall state budget are now headed to Governor Pritzker for final approval.
Federal relief programs were crucial to some of this victories, with federal funding creating opportunities to support working families hit hardest by the pandemic over the last year.
This is considerable progress but there is still so much work to do to transform our state to a place where we can all thrive.
Our work doesn't end when legislative session does so stay tuned for ways to get involved and take action over the summer so we can continue to improve healthcare, home care and child care jobs and services while advocating for stronger communities overall for us all to reside in.