TAKE ACTION to Support the The People's Ordinance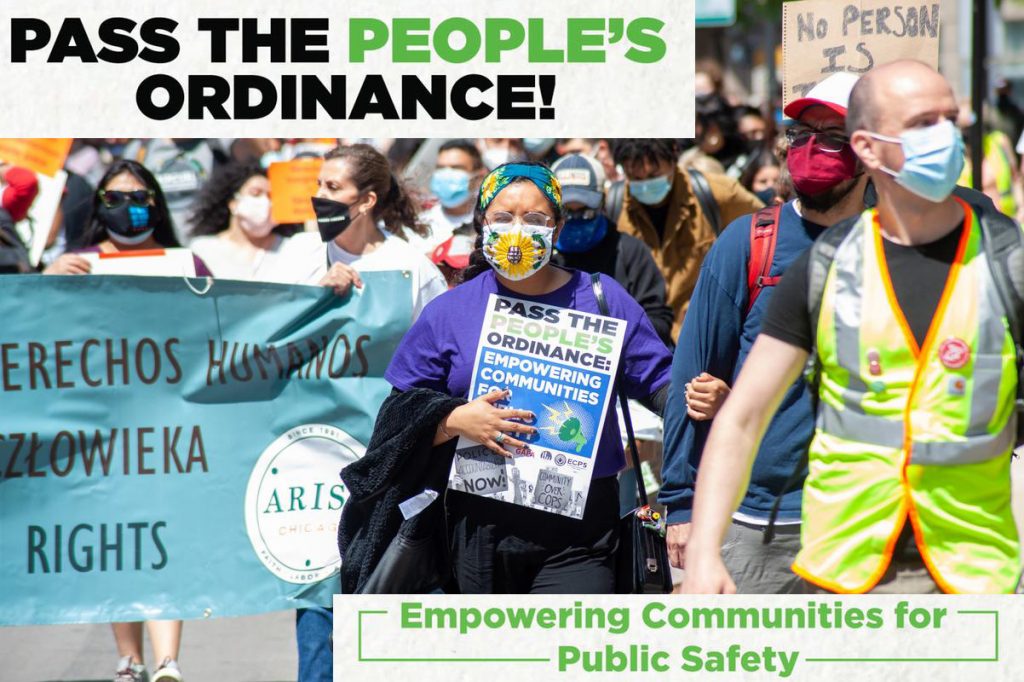 Scroll down to take action!
For decades, community members across Chicago have been organizing and demanding its elected leaders take action to transform the broken policing system that has victimized far too many communities of color, and has created deep mistrust of its police force amongst many city residents.
Week after week, we continue to see civilians being killed at the hands of the police. Something has got to change.
Call Your Alderperson
Click on the "Enter an address" Box below.
Type your address.
Hit the red magnifying glass button
Your ward & your alderperson's name and phone number will appear (scroll down if necessary)
Call! – Say: "Hi, I'm [Name] and I live your ward. Please sign on to The People's Ordinance to create a Community Commission on Public Safety. Civilians should have a say in how their communities are policed."
Background
The Empowering Community for Public Safety Ordinance, also known as The People's Ordinance, will transform policing in Chicago by creating a Community Commission on Public Safety.
This Commission will oversee Chicago Police Department policy and create more opportunities for community engagement. By empowering residents to have a voice in the public safety process, Chicago will have real police accountability that is responsible to the people and keeps our communities safe.
The Commission will be responsible to residents and can make budget suggestions, make recommendations on hiring the police superintendent, and promote community engagement. When passed, this ordinance will create the strongest system of police accountability in the nation.
It is time that Chicago residents have a say in how their neighborhoods are protected and served.
Don't Wait, Call Your Aldererson
Click on the "Enter an address" Box below.
Type your address.
Hit the red magnifying glass button
Your ward & your alderperson's name and phone number will appear (scroll down if necessary)
Call! – Say: "Hi, I'm [Name] and I live your ward. Please sign on to The People's Ordinance to create a Community Commission on Public Safety. Civilians should have a say in how their communities are policed."