HCIIMK Members React to Biden/Harris Inauguration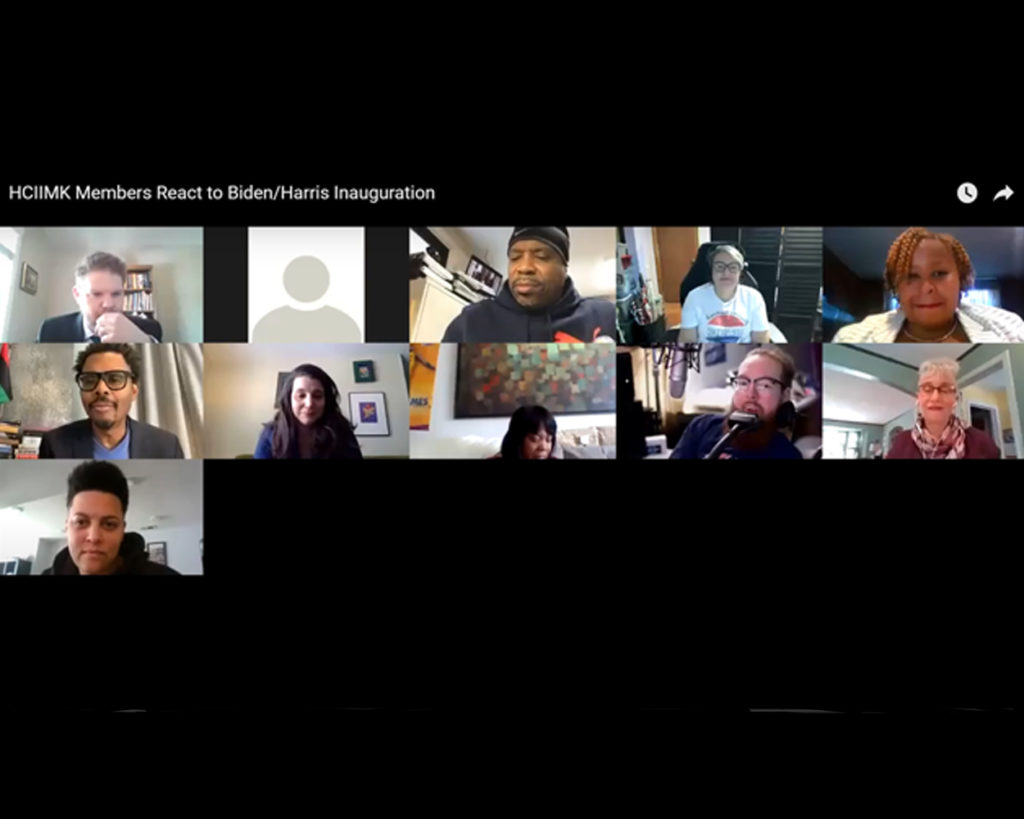 Shortly after the President Biden and Vice President Harris were sworn into office, SEIU HCIIMK members gathered virtually to talk about it. Take a look below.
Thank you to Maurice Champion (Jesse Brown VA worker), Lillie Cleeton (DORS PA from Effingham), Jamila Wilson, (family child care provider), and all who participated in today's discussion
Some some specific policy proposals the Biden Administration has announced are listed below the video.
COVID/Economic Recovery
President-elect Biden announced his ambitious COVID-19 plan Thursday to prioritize and protect working people as the country works toward recovery. Dubbed the "American Rescue Plan," Biden's $1.9 trillion proposal lays out desperately needed public health measures, including:
$1400 checks to make the direct payments equal $2,000
$1 Trillion in Direct aide including stimulus and unemployment insurance

$400 billion in Coronavirus focus on testing and vaccine delivery.
$350 billion to local states and governments
$130 billion to help reopen schools safely

Expanding and increasing the value of ACA tax credits. 
Directing a portion of the $50 billion allocated for testing to long term care facilities to assist with the costs of regular testing.
Authorizing OSHA to issue a COVID-19 Protection Standard that protects workers from unsafe working conditions and retaliation related to COVID-19, as well as enforcement and grant programs designed to keep workers safe from COVID-19.
Eliminating paid leave exemptions for employers with more than 500 or fewer than 50 employers, and ensures that health care providers are eligible for paid leave.
Extending paid leave provisions through Sept. 2021, and providing 14 weeks of paid sick and family leave to care for a child or other family member with 100 percent wage replacement for people earning under $73,000.

Addressing the pre-existing economic crises in this country:

$15 minimum wage
Protecting the Right to Organize (PRO) Act, providing public service and federal government workers with bargaining rights
Pass the Paycheck Fairness Act as the next step in efforts to ensure women are paid equally for equal work.
-expanding tax credits for kids to 3,600
-14 weeks of paid sick and family medical leave.
-food and water assistance. Food stamps and funding for local governments in us territories like Puerto Rico
Addressing need for affordable child care and home care, and supporting workers

A plan to make it far easier to afford child care and to ensure aging relatives and people with disabilities have better access to home and community-based care; to elevate the pay, benefits, and professional opportunities for caregivers and educators; to create millions of good-paying new jobs in these areas with a choice to join a union; and to free up millions of people to join the labor force and grow a stronger economy in return. 
Immigration Plan
Provide an eight-year path to citizenship for an estimated 11 million people living in the U.S. without legal status (more– Biden Immigration Plan)