Watch Our Incredible News Coverage: Local Labor Unions Stand With Infinity Nursing Home Workers to Demand a $15 Starting Wage as Strike Enters 7th Day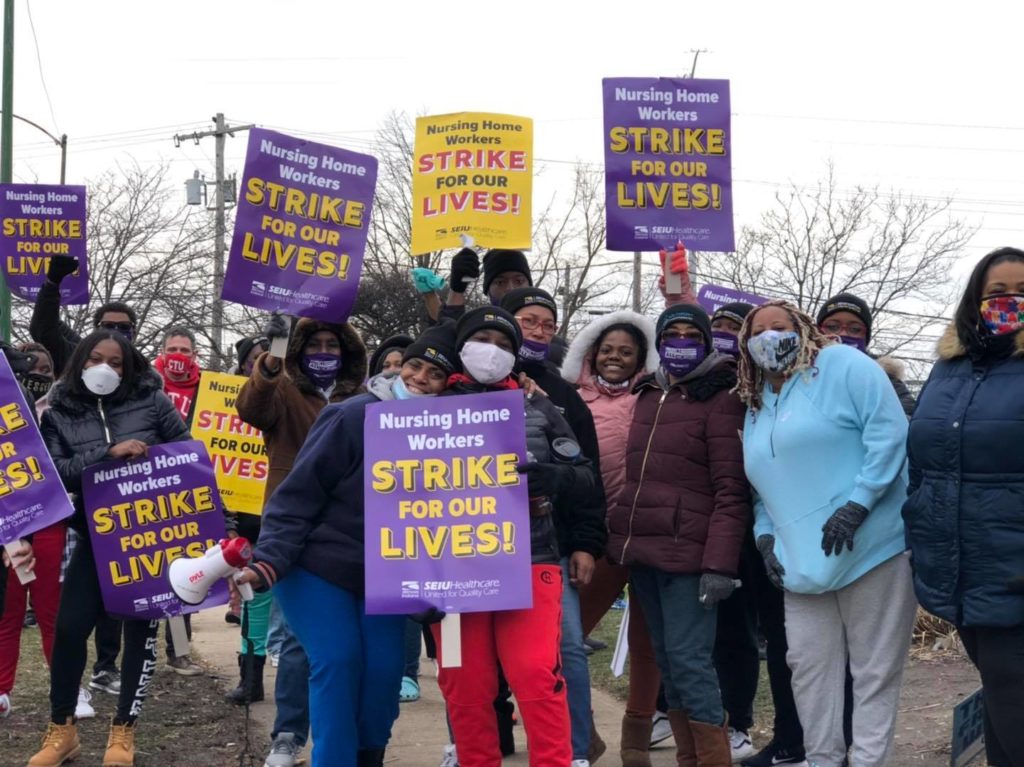 Chicago Federation of Labor, Chicago Teachers Union and SEIU Local 73 Pledge Solidarity with Essential Workers Who Are Striking For a $15 Starting Wage, Hazard Pay, and an End to Poverty Wages as COVID-19 Cases Surge Across Illinois
(Sunday, November 29th, 2020, CHICAGO)—Labor leaders from the Chicago Federation of Labor, Chicago Teachers Union (CTU), SEIU Local 73, and other unions stood in solidarity and joined Infinity nursing home workers on the strike line at Southpoint Nursing and Rehab Center after holding a remarkable press conference.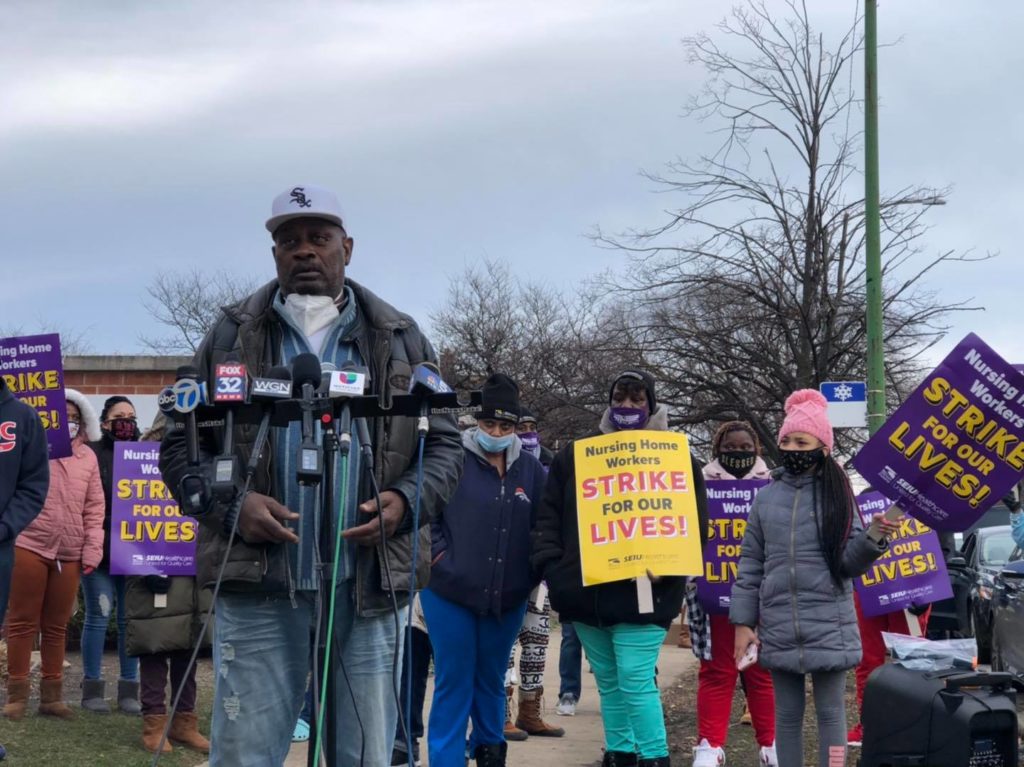 Nursing home workers at 11 Infinity Healthcare facilities are continuing their strike for the seventh day.
Labor leaders pledged their solidarity for essential workers, while also hearing from frontline workers about their struggles working at Infinity facilities with chronic short-staffing and a constant fight to get proper personal protective equipment (PPE).
Infinity workers began bargaining in June after their contract expired in late May. They made the difficult decision to go on strike after Infinity continued to ignore their calls for pandemic pay and living wages as the spread of COVID-19 not only extended but surged into record-breaking numbers.
Workers and labor leaders called upon Infinity's owner and management to return to the bargaining table.
Those leaders included: Bob Reiter, President of the Chicago Federation of Labor; Jesse Sharkey, President of Chicago Teachers Union (CTU); Diane Palmer, President of SEIU Local 73.
Our very own Greg Kelley, President SEIU Healthcare Illinois Indiana gave an impassioned speech honoring the workers at Infinity:
"Here on the seventh day on the strike line, our essential workers are showing which true grit and tenacity really looks like.

It is often said that "budgets are moral documents." But so are union contracts!

Our Infinity nursing home workers are fighting for a FAIR contract that sets a $15 starting wage, mandates equal pay for equal work just like other nursing home workers in Illinois, and gives workers the pandemic hazard pay they deserve during this public health crisis."
Two of the 11 Infinity facilities lead the state in COVID-19 nursing home rankings. City View Multi-Care Center has the state's highest number of infections and Niles Nursing & Rehab Center has the highest number of deaths.
Infinity discontinued pandemic pay for workers at the end of July and pays workers base wages well below those of other nursing homes in the Chicago area, despite receiving $12.7 million in COVID-19 funding through the CARES Act.
-END-