Press Release: New national data show nursing home workers fear for our lives on the job, feel government and industry have failed to protect workers and residents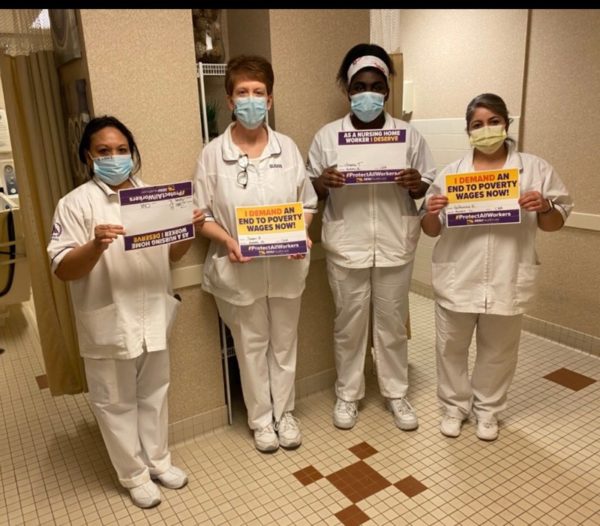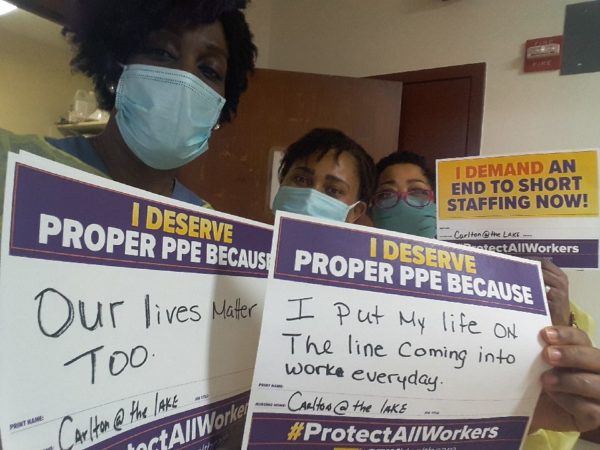 For Immediate Release: June 11, 2010
MEDIA CONTACT: Scott.Vogel@seiuhcil.org
(Chicago) — The Service Employees International Union (SEIU) released results of a national nursing home worker survey, revealing startling realities nursing home workers face on the front lines of the COVID-19 pandemic. Data suggest that unless the federal government does everything possible to expedite resources and relief to nursing homes and long term care facilities, more Americans will tragically, needlessly die and any real recovery from this pandemic will be further delayed.
Topline results from SEIU's national nursing home worker survey include:
Nearly 90 percent of survey respondents said that if they could not work for two weeks due to coronavirus, they would have trouble paying for housing or food.
Nearly 80 percent of respondents feel their lives are at risk every day they go to work because they might be infected by the virus.
80 percent of survey respondents said they do not feel the federal government is doing enough to ensure that there is enough PPE, free testing, paid sick days and other protections for nursing home workers in this pandemic.
More than 75 percent of nursing home workers feel their employers are not doing enough to ensure that there is enough protective equipment, free testing and paid sick days and other protections.
According to recent estimates, one in three COVID-19 deaths have occurred in nursing homes. As the death toll continues to rise, nursing home workers across the country are sounding the alarm on the ways in which corporations and the Trump administration continue to fail to provide equipment, testing and essential support, thus putting the lives of working women and men, their families and communities at greater risk.
"The results of this survey underscores what workers and CNAs like me are saying every day: our government and the nursing home industry must protect workers and residents if we are to stop this virus," said Francine Rico, a CNA at Villa of Windsor Park and Vice-Chair of the Nursing Homes Division at SEIU Healthcare Illinois Indiana. "Nursing home workers are essential, and we are crying out the industry and the Trump administration to do more to protect our frontline healthcare workers. Resident care, not corporate profits, must drive standards across this industry."
Caregiving, including nursing home work, is a chronically undervalued and under-supported profession, and workers' voices are consistently muzzled by corporations and those in power.
The majority of nursing home workers are women of color, and the COVID-19 pandemic is laying bare the structural racism and sexism endangering Black, brown and Asian Pacific Islander nursing home workers. Despite their vital work caring for our nation's seniors and people with disabilities, nursing home workers face poverty wages, little to no benefits, and inadequate training — a reality confirmed by the SEIU survey results.
Seven in ten nursing home workers said their employers do not offer paid sick time if they have to self quarantine for two weeks, six in ten said their employers do not provide paid sick days at all, and nearly 50 percent said their employers do not provide affordable healthcare.
This lack of basic protections, paired with low wages, feeds a cycle of multi-generational poverty in our communities — a cycle that corporations and elected officials consistently choose to ignore.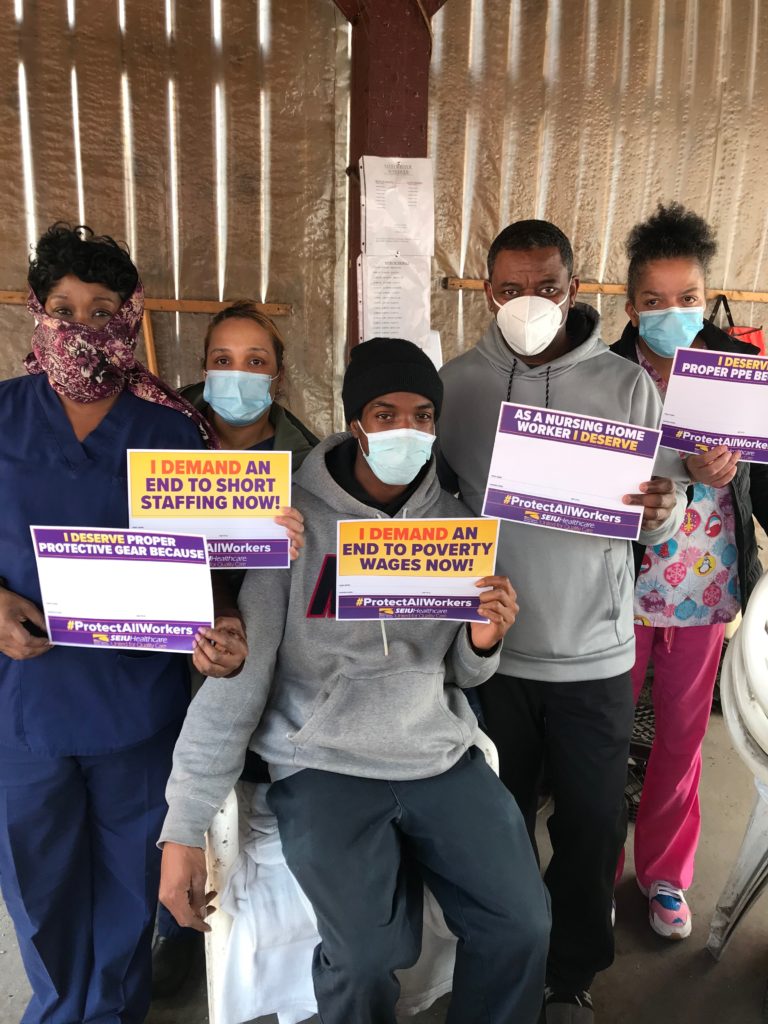 Nursing home workers in Illinois and across the country are joining together to end systemic racism, sexism and corporate profiteering and demanding immediate, bold and strategic action to protect all workers and ensure the long term health and recovery of all working people.
"Against the current backdrop of national outrage over racial injustice, this survey makes a clear case of discrimination and indifference toward this majority Black and brown workforce," said Shaba Andrich, Vice-President of Nursing Homes Division, SEIU Healthcare Illinois. "We will not stop fighting until all nursing home workers — regardless of race or country of origin — are treated with the unconditional respect they deserve.
"We will continue to demand accountability from the nursing home industry and the elected officials, especially President Trump. These institutions simply cannot say they've done absolutely everything in their power to protect our workers and residents from the Covid-19 pandemic. We must address this crisis now," said Shaba Andrich.


###
About the Survey
The Service Employees International Union (SEIU) Nursing Home Worker Survey was fielded May 20–June 7, 2020. The opt-in survey was conducted online in English and Spanish using the Wufoo form builder, and included a national sample of 2,397 nursing home workers living in the United States. The survey has a credibility interval of plus or minus 3 percentage points for all respondents. Click here for full survey results.