Nursing Home Workers Display 3,433 Tea Lights for Vigil to Remember the Nursing Home Residents and Workers in Illinois Who Have Died from the Covid-19 Pandemic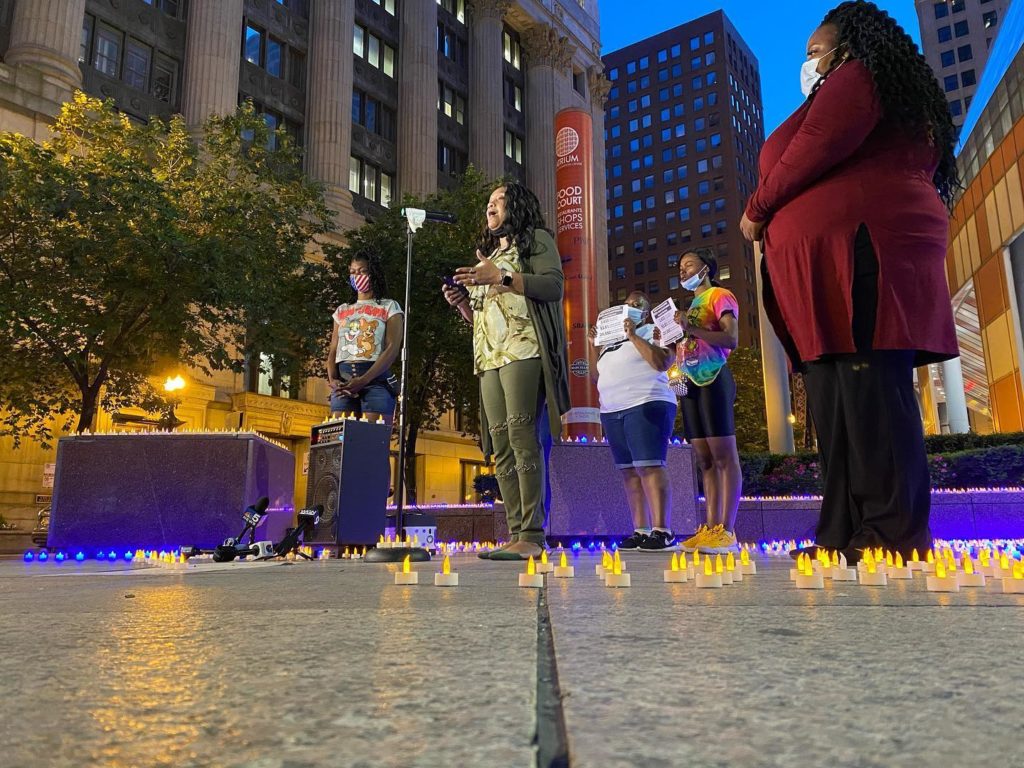 Nursing Home Workers Join Day of Action in 14 States and Launch National Campaign for More COVID-19 Testing, PPE, Unions for All, and End to Legal Protections for Nursing Home Owners
CONTACT: Scott.Vogel@seiuhcil.org
(June 18, 2020, Chicago) — As of the morning of June 18th at least 3,433 nursing home residents in Illinois have died from the Covid-19 according to reporting by the Illinois Department of Public Health. More than 50,000 nursing home residents and workers across the country have died from COVID-19.
That's why Carla Blacher, a Central Supply worker at Lake Shore Healthcare Center for 11 years will speak at tonight's candlelight vigil to acknowledge those residents who lost their lives. She saw at least 12 residents die from the pandemic that swept through the nursing home which also took the life of a beloved co-worker, Baltazar Martinez, the head cook at the nursing home for over 43 years. Carla Blacher's own great uncle, Howard, who was born in December 1917 during the Spanish Flu, died on April 29th at his nursing home at the age of 102.
"This pandemic has hit as close to home as you can get. As workers, our hearts are heavy and all we can do is put one foot in front of the other. For a lot of residents, we were their own family – especially after facilities were put on lockdown," said Blacher.
"The fact is there are longstanding issues within the industry that contributed to this crisis: paying workers poverty-level wages and constant short-staffing for which they should be held accountable for. These pre-existing conditions allowed the Covid-19 pandemic to do the damage it is doing because our country hasn't invested enough in our workforce by providing workers with living wages, better training, and basic needs like paid sick time and healthcare. Our workforce was hollowed out before the pandemic hit and then the real crisis started and our country was simply unprepared – and that's not evening dealing with the incompetent response from the federal government."
Now nursing home workers are taking matters into their own hands with the launch of a national campaign Thursday to win greater health and safety protections for workers and residents. Workers are also fighting for structural changes to the nation's economy to give all workers — Black, brown, white, Asian and Pacific Islander — a seat at the table. The effort is organized by the Service Employees International Union (SEIU), the nation's largest union of healthcare workers.
As a part of the campaign, workers are releasing a set of demands during today's Day of Action, which will feature vigils and events honoring workers and residents who have needlessly lost their lives to COVID-19.
In 20 states, both union and non-union workers are calling for greater protections as news reports attribute more than two in five COVID-19 deaths to nursing homes and long term care facilities as cases of COVID-19 continue to rise rapidly in many states.
Nursing home workers united in SEIU have been calling for a nationally-coordinated response since the early days of the pandemic. With today's launch, nursing home workers are calling out the federal government and nursing home owners for their failures and coming together to do whatever it takes to protect themselves, their families, and their residents. They are joined by a surge of workers who want to unite in a union to make sure essential workers have the protections, training and support needed throughout the pandemic and beyond.
(A full list of demands can be found here and below).
"Tonight's somber candlelight vigil shows why the nursing home industry must be held accountable. The lives of our residents and workers are not disposable and shouldn't be ignored or forgotten. The fundamental question we have to ask is this: can the industry say they did absolutely everything in their power to protect residents and staff from this pandemic? The resounding answering is definitely no. They still put their profits over providing quality care to residents even amidst this Covid-19 crisis and on-going tragedy," said Lakesia Collins, the presumptive State Representative for the 9th District and currently a nursing home organizer.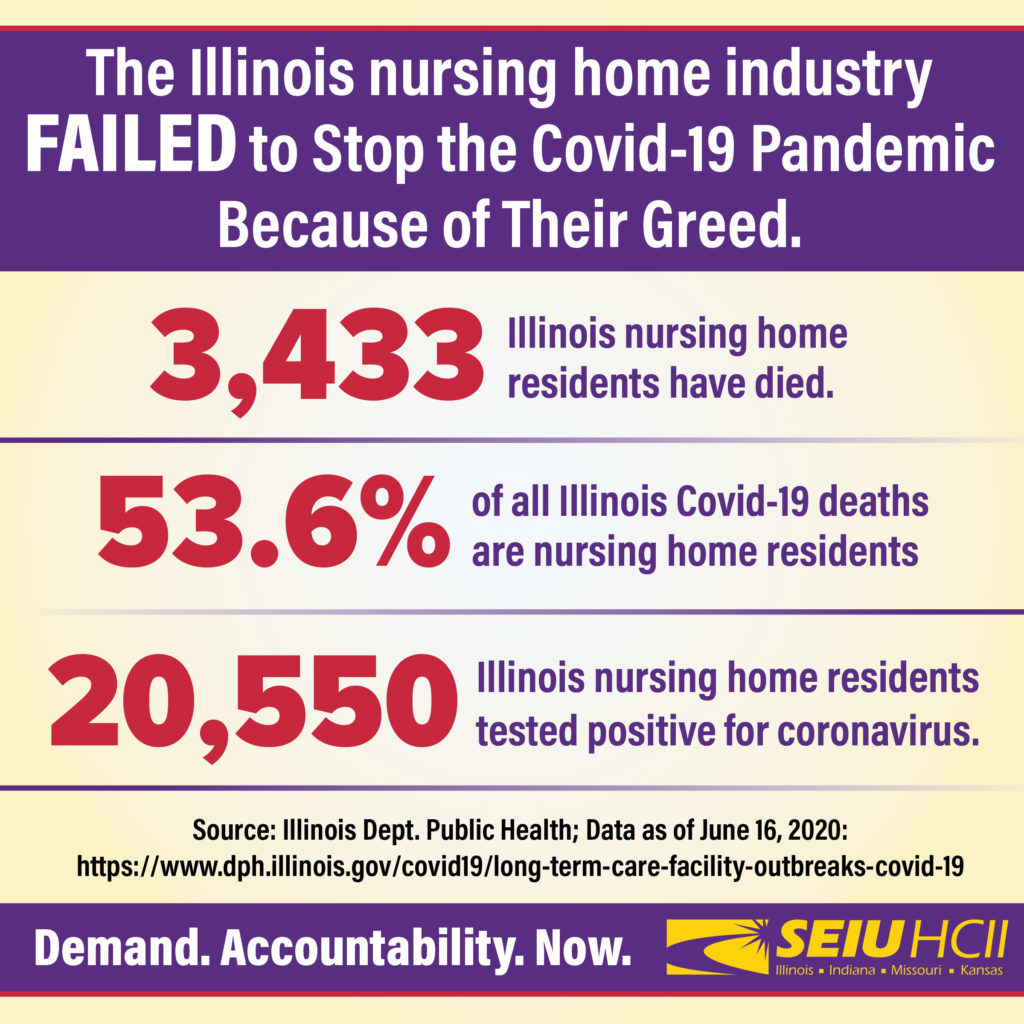 "Thousands of brave women and men who work on the frontlines of care are coming together and turning their outrage and loss into action," said Mary Kay Henry, International President of SEIU. "It's past time for all nursing home workers to have a seat at the table with owners and government officials to rewrite the rules and ensure the health and safety of workers and residents. If we are truly committed to ending this senseless loss of life, we must all support these common-sense demands of nursing home workers."
Last week, SEIU released the results of a nationwide survey of nursing home workers that showed nearly 80 percent of workers surveyed believe they put their lives at risk by going to work daily.
Additionally, 80 percent of nursing home workers surveyed also believe the government isn't doing enough to protect workers, the vast majority of whom are women and more than half who are people of color. If forced to self-quarantine without pay, 85 percent of workers surveyed report that they would struggle to afford housing and food.
SEIU nursing home workers demand government and owners come to the table with workers to implement the following:
1- Racial and economic justice for all workers — Black, brown, white Asian and Pacific Islander, and immigrant nursing home workers — so that regardless of the color of our skin or where we come from, we can all care for ourselves and our own families.
2- Unions for all nursing home workers so that we have a voice in delivering care and can make these low-paying, dangerous jobs into good jobs. United in our union, we can negotiate better wages, benefits and protections standards for all nursing home workers.
3- Frontline workers should have a voice at state tables to establish health, safety and employment standards across the industry. This means stronger state regulations to hold nursing home corporations accountable for health and safety violations, targeted PPE distribution, accountability for federal relief dollars
4- A clear, specific plan to address the racial disparities in care for Black and Brown residents that COVID-19 has exposed.
5- The personal protective equipment (PPE) we need to keep ourselves, residents and our communities safe, including: gloves, face shields or goggles, and protective clothing and N-95 respirators where needed.
6- Regular/weekly COVID-19 testing for all nursing home workers at no cost to workers.
7- Fully covered treatment of COVID-19 for all nursing home workers so that no one is forced to go to work sick and workers are no longer at risk of unknowingly spreading illness at work or at home.
8- Paid sick days, and double-time hazard pay so that workers fighting the virus on the frontlines can care for our own families.
9- The end of legal protections for nursing home corporations and employers who have failed to protect all nursing home workers and residents so that every employer can be held accountable to nursing home workers, residents and family members, and taxpayers.
10- Family-sustaining wages and affordable healthcare, so that we can live healthy lives without fear of missing a bill payment or ending up in the emergency room because we can't afford to see a doctor.
11- Enough staff to keep both workers and residents safe and provide the highest quality care. All residents — Black, Latino, Asian and Pacific Islander or white — deserve the best care possible.
12- Sufficient funding for nursing homes, with clear requirements that state and federal funding goes to resident care, not corporate profits.
Check out a photo album of the event on our Instagram page.