Workers at 20 ADDITIONAL Nursing Homes Give Strike Notice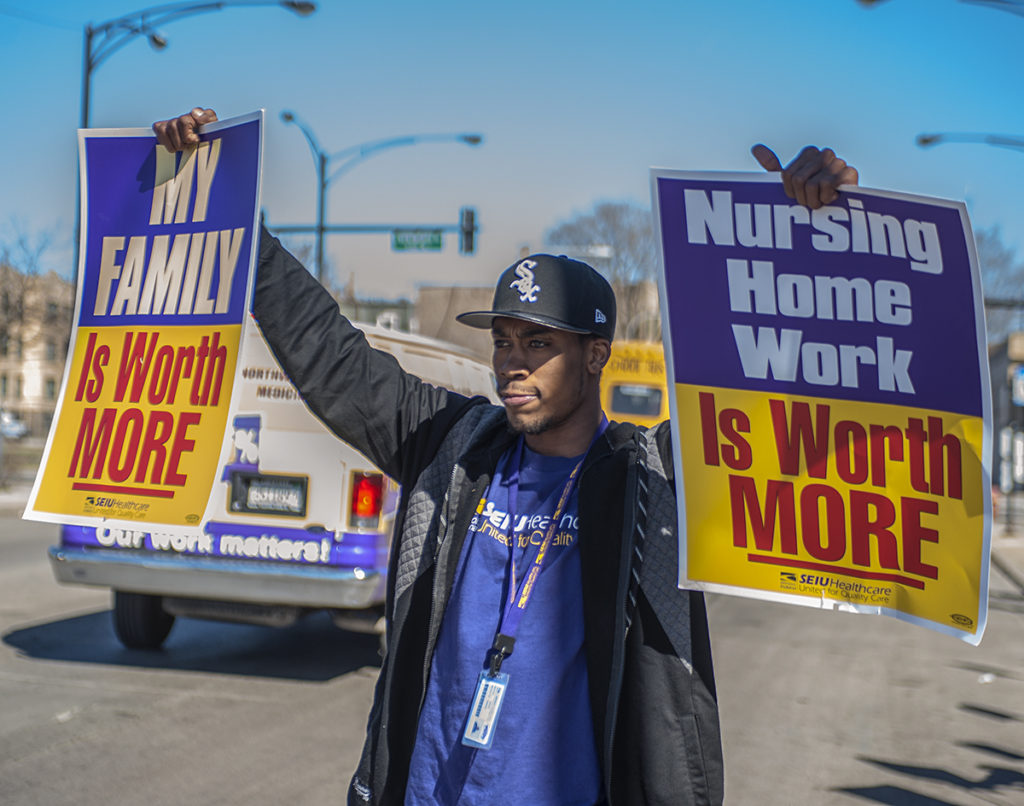 Total Number of Striking Homes Now 64 as Workers Prepare to #StrikeforOurLives—with the Strong Support of Residents' Families and Community
Updated 6:41 PM
Full list of 64 facilities where strike notices have been delivered
Recording of today's Zoom press conference featuring residents' family members and faith leaders speaking out in support of workers as they countdown to #StrikeforOurLives and the lives of residents and community members
FB Live recording of today's speak out outside Elevate Care Chicago North
CHICAGO —The families of nursing home residents, faith leaders and community members joined their voices together Friday afternoon to express their support of workers counting down to a strike date, after workers give strike notice at 20 additional facilities.
In a series of remote and in-person events on Friday afternoon, residents' family members and faith leaders listened to stories of workers preparing to #StrikeforOurLives starting on May 8th and shared their appreciation for the workers taking action to call for the essential resources, practices and information needed to help safeguard workers, residents and entire communities during this time of crisis.
Following the delivery of at least 20 additional strike notices earlier in the day—bringing the total of impacted facilities to 64 and counting—workers were joined by residents' family members and faith leaders for remote  Zoom press conference, followed by a community procession of 35+ cars driving by Elevate Care Chicago North at shift change this afternoon to show support for workers. Shortly after the cars left to greet workers at several other northside nursing homes, workers at Elevate Care conducted a brief, socially-distanced, speak out outside the facility addressing their growing health and safety concerns for themselves, their families, and their residents.
Throughout the events this afternoon, family members, faith leaders and community supporters were united in calling upon nursing home owners to promptly settle a fair contract with the provisions needed to safeguard both workers and residents—including above-poverty base wages, hazard pay during the current crisis, appropriate and adequate levels of PPE, plus the increased staffing levels to support quality resident care.
Background: On Monday, workers delivered strike notices to management at 44 facilities—with a strike date set for next Friday, May 8th. Additional strike notices were delivered to 20 facilities on Friday, May 1st as owners continue to refuse to adequately address frontline workers' concerns to make their facilities safer for themselves and residents.
The delivery of strike notices followed weeks of workers putting their lives on the line on the coronavirus frontline. Workers have been put at risk by the refusal of owners to provide appropriate hazard pay and base compensation, improved personal protective equipment (PPE), and enhanced safety protocols. Owners have also failed to provide sufficient paid time off for coronavirus-related illness and have refused to increase staffing levels, protect workers' healthcare coverage, and be transparent about COVID-19 cases and risks at their facilities.
In recent weeks, workers have delivered dozens of letters to management, made public appeals through online videos, petitions and media interviews, and conducted multiple group meetings with supervisors all with the goal of convincing nursing home owners to address their concerns during this unprecedented time of crisis.
Now they have no choice but to strike to protect themselves and the vulnerable residents in their facilities.
The workers, members of SEIU Healthcare Illinois, are calling for a short-term one-year contract that would set a wage floor of $15 per hour for all workers and $16 an hour for CNAs. It would also provide for a 50% hazard pay bonus during the current and ongoing emergency period.
Additionally, the workers are calling for an additional 80 hours of paid sick leave for COVID-19 or related illnesses and for provisions for continued health care coverage for any vulnerable workers who have to take leave from their job to protect themselves and their families. The workers also call on their employers to provide adequate PPE and safety training and ask that employers assist workers in gaining access to testing and any emergency benefits being made available to essential workers.
The current contract covering these facilities is set to expire on May 1—and at the onset of the COVID-19 crisis, workers were hopeful that the Illinois Association of Health Care Facilities would agree to a one-year agreement with modest and reasonable accommodations to address the extreme risks and challenges workers now face as a result of working on the frontlines of a pandemic.
The refusal of owners to agree to modest provisions for wage increases and safety measures—together with widespread problems across these homes related to PPE shortages, lack of transparent disclosure of COVID-19 risks, inadequate training on safety protocols, lack of hazard pay, increasing shortages in staffing levels, and difficulty with taking needed time off for workers with symptoms, COVID-19 exposure or high-risk levels due to underlying health conditions—drove workers to start conducting strike votes as a last resort measure to win the measures and resources needed to protect themselves and the vulnerable residents for which they provide daily, hands-on care.
###
Follow all the latest updates at our #StrikeForOurLoves