Justice for George Floyd and victims of police violence and brutality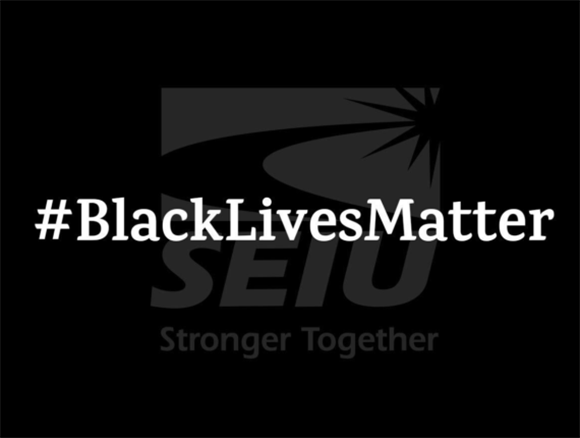 The following statement was released by Greg Kelley, president, SEIU Healthcare Illinois Indiana Missouri Kansas, in solidarity with the call for justice by the family of George Floyd, who died at the hands of police in Minneapolis, and all other victims of police violence and brutality in this country who seek justice:
The murder of George Floyd in Minneapolis has once again put police brutality against Black people in America on view to the world. The blatant disregard for Black life in the emotionless face of officer Derek Chauvin — as he put his knee to Mr. Floyd's neck for more than eight minutes while he drew his last breath — was beyond shocking.
The uprisings that followed in cities across the country demonstrate that oppressed communities want change and justice meted out equally to all—especially when it involves law enforcement officials.
We at SEIU Healthcare Illinois Indiana Missouri Kansas stand with Mr. Floyd's family and families who have been victimized by police without receiving justice. We remember Michael Brown, Sandra Bland, LaQuan McDonald, Tamir Rice, Eric Gardner, Philando Castile, Breonna Taylor, and so many others.
Our members work in healthcare every day and witness the impact of racism on African Americans, whether it's experiencing the disproportionate number of deaths from Covid-19 among Black people, or the lack of access to healthcare and healthcare facilities, to diseases heightened by poverty and lack of quality foods, to the excessive use of police force and the over militarization of our communities.
The arrest and charging of officer Chauvin is a good first step, but the world questions what took so long given the video evidence that we all witnessed? We will continue to stand with people of conscience – Black, brown, white, Asian and others — to force change in this country, where equity and justice is valued as a human right.
Racism is the real virus that prevents our country from becoming what it should be. Rooting it out must start with acknowledging the contributions of African Americans – more than a century of free labor, creative ingenuity, lives sacrificed in wars – and uniting to correct the wrongs of the past.
The country will heal when racism dies and there is real liberty and justice for all.
###
Related
CHICAGO FEDERATION OF LABOR STATEMENT ON ONGOING PROTESTS IN CHICAGO