SEIU Members at Rancho Manor in Florissant Approve New Contract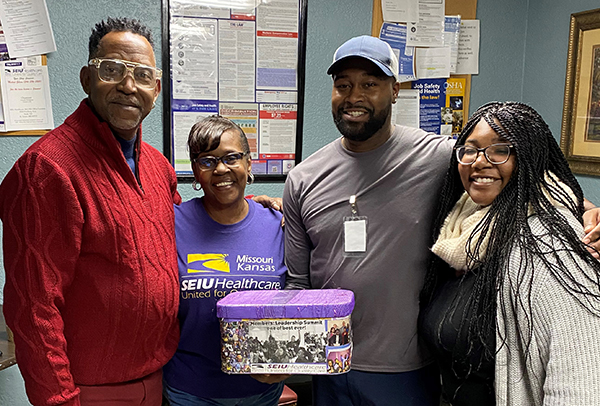 Congratulations to nursing home workers at Rancho Manor in Florissant, Missouri who recently voted YES to ratify their new contract.
Steward and bargaining team member Michael Gibson (pictured above, far left) says that unity went a long way in this fight.
"We circulated a petition around the nursing home to make sure everyone got involved. We wanted to send a strong message that we meant business from the start and it really worked! I'm most proud of the wage increases that we won because our proposals were shot down in the past. We all were invested in the fight so management knew we weren't going to back down and came in with a different tune," Gibson explained.
By standing united, workers raised standards and secured improvements like:
Wage increases of as much as $1.20 per hour for some workers, effective January 1, 2020, plus another $0.40 per hour the next two years,
A yearly re-opener to review the affordability of health insurance,
A $0.10 wage differential for weekend hours worked, in addition to the existing shift differentials in the contract,
A $10 attendance bonus each pay period with perfect attendance, and
Access to new hires at orientation to share information about our union and our rights on the job.
Another great example of what we can accomplish when we stick together and demand more for the important work we do!