Alivio Medical Center Workers Speak Out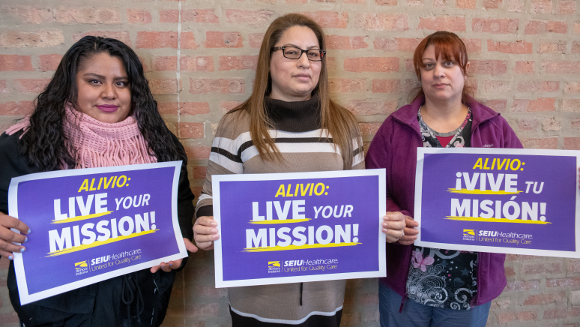 Latest update 2/28: Senator Muñoz speaks up about how supporting workers means great care for the community.
_____________________
(February 19, 2020, Chicago) — Our fellow healthcare workers at Alivio Medical Center held yet another bargaining session where management refused to offer a serious contract proposal that addressed our concerns or struggles living on poverty wages.
We continue to demand that #AlivioLiveYourMission and pay our healthcare workers a fair and living wage that lifts us out of poverty and gives workers affordable healthcare — the same quality patient care that we currently can't access for ourselves or for own families.
Our workers are organizing across our Pilsen and Latinx communities to get the word out that so many of our co-workers are being paid minimum wages or slightly higher, and also told to pay higher health insurance premiums, along with feeling disrespected by management.
We know the service, dedication, and value we bring to our patients and to the greater Latinx community — we just want Alivio's management to appreciate our hard work and pay us what we are worth!
Our Alivio workers are continuing to fight for a fair contract and will not stop until we win!
###