Public Charge Rule Upheld By U.S. Supreme Court Unveils Cruel Face of Trump Administration's Immigration Policy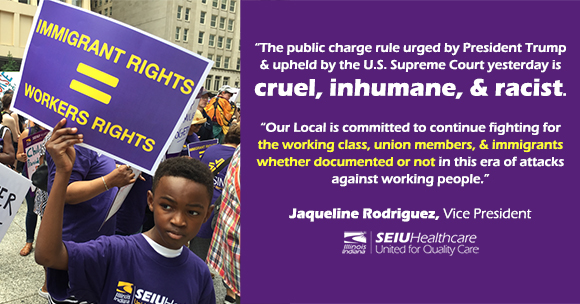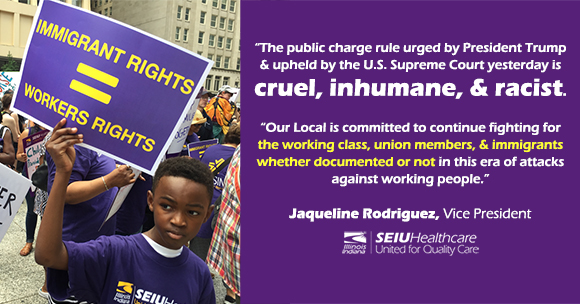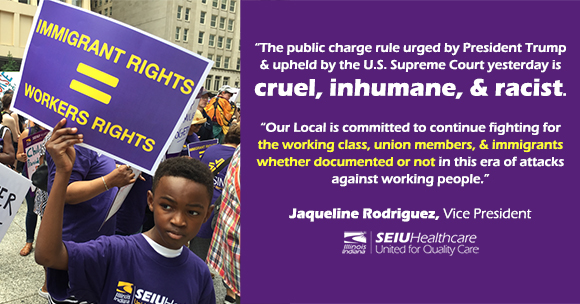 The following statement was released by SEIU Healthcare Vice President Jaqueline Rodriguez in response to yesterday's U.S. Supreme Court ruling allowing President Trump's Public Charge rule to be enforced:
"The public charge rule urged by President Trump and upheld by the U.S. Supreme Court yesterday is cruel, inhumane and racist. The ruling allegedly is aimed at keeping immigrants out of the U.S. who at some point might rely on public assistance in order to live. In reality, the goal of the public charge is to prevent poor immigrants of color fleeing poverty and violence in their own country south of our border from entering the U.S.
"Instead of securing the homeland, the public charge policy could drive immigrants further into the shadows and cause immigrant families and their children already in the U.S. to delay care for illnesses such as the flu, risking more dangerous diseases and the spread of these illnesses at workplaces and at schools. The result: a sicker, hungrier, poorer nation.
With actions like these, the Trump Administration deceitfully suggests that immigrants are just "takers". This is a bald-faced lie. The facts have shown that immigrants greatly contribute to society in taxes and overall contributions to jobs and our economy than they actually use in public benefits.
"We are encouraged that the State of Illinois has filed a separate injunction – in line with our position as a sanctuary state — preventing public charge from taking effect. All people, no matter where they were born, should be able to keep their families healthy, safe and thriving. Today's US Supreme Court ruling allows Trump to limit this to the rich.
"Our Local is committed to continue fighting for the working class, union members, and immigrants whether documented or not in this era of attacks against working people."
##
(SEIU Healthcare Illinois Indiana Missouri Kansas represents 90,000 workers in hospitals, home healthcare, nursing homes and child care across our four states.)