SINAI HOSPITAL WORKERS DELIVER STRIKE NOTICE AND PREPARE FOR NOVEMBER 11th STRIKE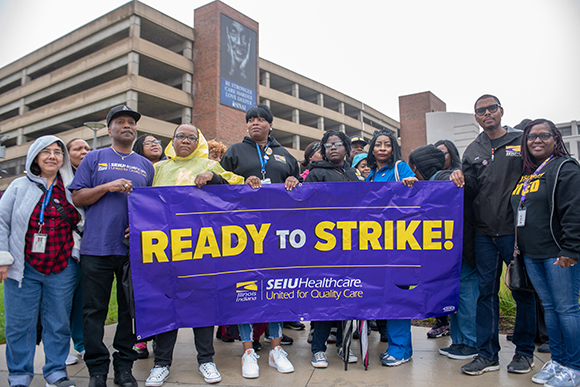 Workers prepare to walk off the job on November 11 if Sinai does not settle a fair contract to improve wages, staffing, working conditions and address unfair labor practices

CONTACT: Catherine.Murrell@seiuhcil.org

(November 4, 2019, CHICAGO) — Hundreds of certified nursing assistants, housekeepers, transportation workers and more who work for Sinai Health System have given notice of a November 11th strike date if management fails to settle a fair contract that provides fair and livable wages, improves staffing levels and other working conditions and addresses current unfair labor practices. The workers are represented by their union, SEIU Healthcare Illinois.
"It's unfortunate that management continues to underpay and understaff the workers at Mount Sinai and Schwab Rehab who give so much to serve the community," said Greg Kelley, President of SEIU Healthcare Illinois. "All around our city, people are standing up to say that a healthy Chicago means a place where everyone can prosper–Black, white or brown. Hospital workers are doing their part by calling on Sinai to provide good jobs with fair and livable wages for every worker to support vibrant neighborhoods everywhere, not just on the North Side and downtown."
Sinai workers delivered their official 10-day strike notification to management late last week. In early October, the workers overwhelmingly voted to give their bargaining committee the authorization to call a strike. The committee chose to do so after management continued in its refusal to grant crucial provisions for a fair contract, including fair and appropriate wages for Level 1 Trauma Center workers, and additionally refused to cease in its unfair labor practices.
"Sinai workers provide an invaluable service to our community, working around the clock in stressful situations and literally saving lives," said Rima Coleman, a dietary aide at Sinai. "Yet for all our efforts, workers like me are paid wages so low that we can't pay all our bills and we are regularly short staffed and face unfair labor practices. That's why we're making the decision to strike on November 11th if management doesn't settle a fair contract. No one wants to walk off the job, but workers need for Sinai to understand the situation is dire."
###