Sinai Hospital Workers and Sinai Reach Contract Agreement, Averting Monday Strike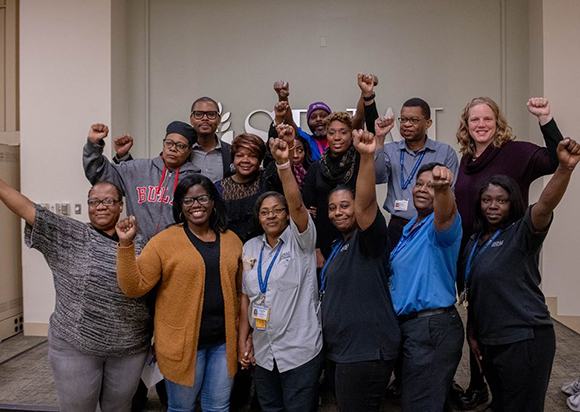 New Contract Averts Strike Scheduled for Monday, Lifts Wage Standards, Improves Staffing and Provides Affordable Health Care Coverage
CHICAGO—Sinai Health System and Sinai workers represented through SEIU Healthcare Illinois have reached a tentative agreement on a new contract for workers at Mount Sinai Hospital and Schwab Rehabilitation Hospital. Following a marathon late night bargaining session on Thursday ahead of the strike workers had announced for Monday, Sinai and Sinai workers represented through SEIU Healthcare settled on a fair contract that will lift standards for wages, staffing, health coverage and working conditions for hundreds of CNAs, housekeepers, dietary and transportation workers.
"Mount Sinai Hospital and Schwab Rehabilitation workers have reason to celebrate and take great pride in the tremendous gains they have won under this new contract, especially when it comes to pay and staffing levels," said Greg Kelley, President of SEIU Healthcare Illinois. "This contract represents a significant step toward lifting up standards for workers throughout the Chicago-area hospital industry, a workforce that is largely black and brown and female. Sinai workers have secured significant wage increases and higher staffing levels which will improve both working conditions and the quality of patient care."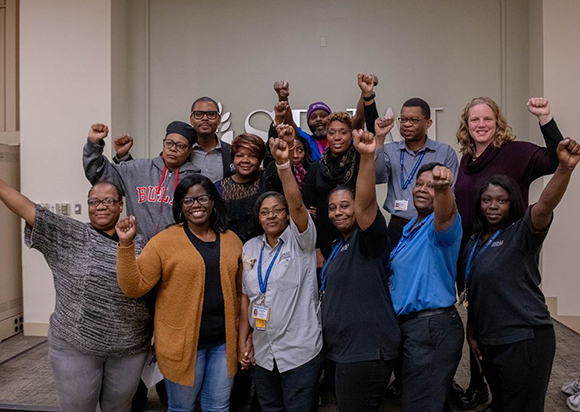 "Providing access to high-quality health care for people in need has been the heart of Sinai's mission for 100 years," said Karen Teitelbaum, President and CEO of Sinai Health System. "We applaud the hard work of the negotiating teams from both Sinai and SEIU to reach an agreement that will allow us to take care of our caregivers and continue to work together to meet our mission – improving the health of the individuals and communities we serve."
Upon ratification, the new contract will lift many of Sinai's bargaining unit workers to a new starting base wage of $15 an hour. Currently, 55 percent of hospital service workers in the Chicago area make less than $15 an hour. The agreement will also provide decreased costs for health care coverage for Sinai workers, as well as improved staffing levels and enforcement.
"After 18 years on the job, I'm getting my first decent raise and we're getting better staffing levels," said Connie Jackson, a CNA at Mount Sinai Hospital. "That makes a big difference to me, to my community and to the patients we serve. We're lifting up wages for workers on the West Side and we're improving care for patients in our communities too."
After reaching the agreement, workers called off the strike that was scheduled to begin on Monday, November 11th, after the union had provided its 10-day notification to Sinai on October 31st. Mediators Emil Totonchi and Brenda Pryor from FMCS joined the committee in the final two bargaining sessions and were key in assisting the two parties in reaching an agreement.
###