Low Wage Workers and Allies Celebrate Passage of $15 Chicago Minimum Wage
400,000 Chicagoans Will Get a Raise Next Year Thanks to Raise Chicago Coalition's Work;  Fight for One Fair Wage for Tipped Workers Continues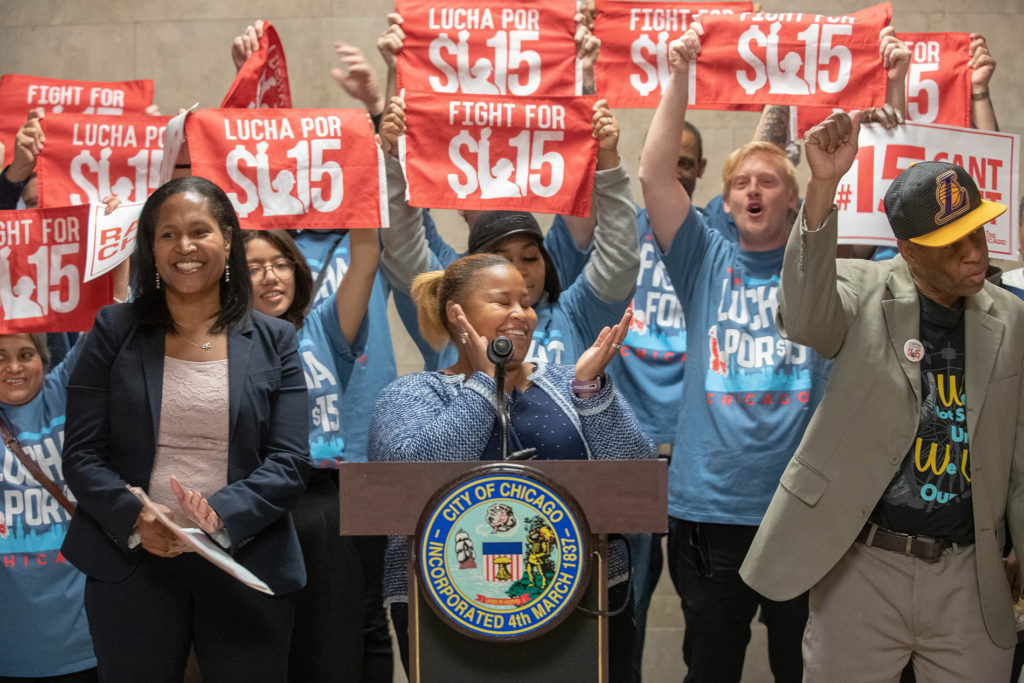 CHICAGO–Low-wage workers and other members of the Raise Chicago Coalition gathered on the third floor of City Hall today to celebrate the passage of a $15 minimum wage for the city. The measure, sponsored by Alderwoman Sophia King, came about as the direct result of a multi-year campaign by workers and Raise Chicago Coalition members and will boost wages for 400,000 Chicago workers starting in July of 2020, with the vast majority of impacted workers reaching $15 by July of 2021.
"We have the best and hardest working people in the world here in Chicago. As the cost of food, housing, and healthcare skyrockets, we took action to make sure Chicago families can stay ahead," said Alderwoman Sophia King. "This ordinance will greatly assist our city's working class in providing their families with the resources they need. While there is still work to be done, today we can smile and know we have collectively taken a leap in a positive direction."
"Getting $15 by 2021 is a huge burden lifted off my shoulders," said Tyree Johnson, a McDonald's worker and leader with Fight for $15. "Right now I'm working two jobs and still struggling to get by. With $15, I'll be able to pay my rent on time and have enough for groceries. Passing $15 is proof that when workers join together to fight and have support, we win."
"Workers have been organizing to set a $15 wage floor for Chicago since 2014 when we succeeded in getting the minimum wage up to $13 and boosted the incomes of hundreds of thousands of families living in poverty. We said back then that we were going to get to $15, and today we got there for most workers," said Erica Bland-Durosinmi, Vice President of Politics for SEIU Healthcare Illinois. "We didn't get everyone all the way to $15 this time and we didn't get everyone there as fast as we'd like, but this is a significant win for working families in Chicago and we are committed to continuing the fight."
Today's measure includes many categories of workers left behind in 2014, including youth workers who will get to $15 by July 2024. Youth workers are currently paid as little as $7.75 an hour.
Veronica Rodriguez, an organizer with Brighton Park Neighborhood Council, spoke to the toll low wages take upon homeless youth who are both working and going to school full-time.
"The stress that young people feel is immense and results in difficulties with physical, mental, or emotional well-being," Rodriguez said. "Thanks to the passage of a $15 Chicago minimum wage, working youth and their families will be able to see relief in their lives."
The Coalition pushed hard for a full $15 minimum wage for tipped workers, but their efforts were undermined by the restaurant industry's influence—and well-funded misinformation campaign. Tipped workers will benefit, with the new measure requiring them to be paid a base rate of 60% of the minimum wage—equal to $2 more an hour than the current pay level in the first year. However, in failing to bring tipped workers up to the full $15, the measure leaves in place a flawed sub-minimum wage pay system in which tens of thousands of tipped workers are left vulnerable to wage theft, sexual harassment—and to unpredictable pay levels which frequently fall below $15 when tips are accounted for.
Most of the impacted tipped workers are women of color, like Honni Harris, a restaurant server who has worked in the industry for over a decade.
"The restaurant industry says that no workers take home less than the minimum wage, but if that were true, I wouldn't have had to live at a homeless shelter," she said. Honni has twice been forced into homeless shelters in the past four years, when her tips and base pay combined weren't enough to cover her rent.
"The boss doesn't rely on tips. Why should I?" said Harris. "Tips should be on top of a full minimum wage. As it is, a bad night makes me nervous I'm headed back for the shelter."
"In passing today's $15 minimum wage, City Council confirmed a truth that workers have been speaking out about for years—that you can't live in this city on less than $15," said Bland-Durosinmi. "The long-term committed advocacy of these workers and the community groups supporting them has secured a significant, life-changing raise for 400,000 workers. Today we celebrate that victory while pledging to continue the fight for every worker left behind."
###