Sinai's Victory Shows the Way Forward to Beating the Hospital Industry!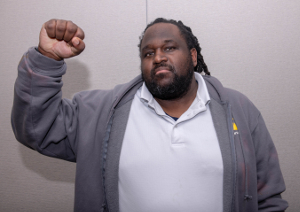 Gust commentary by Wellington Thomas, ER Tech, Loretto Hospital, and Executive Board Member of SEIU Healthcare Illinois
I am so proud of the hard work, member organizing, and commitment from our fellow Sinai Hospital and Schwab Rehab workers who recently ratified their amazing contract! (Check out this video from the Sinai press conference and write a comment or like it).
The contract victory at Sinai raised higher standards and set a new foundation that will fuel our fights at our safety net hospitals, such as Loretto where I serve, and with multi-billion dollar health systems like Northwestern Memorial Hospital, AMITA Health, and Advocate Health Care.
What did Sinai & Schwab workers win?
First ever wage scale that honors our years of service.
$15 an hour starting pay for everyone in the first year of the contract.
First-day sick and low-census pay.
Enforceable safe-staffing standards with short-staffing pay.
Reduced healthcare costs.
Hospital workers from across the Chicago region stood in solidarity with our sisters and brothers at Sinai Health to take on the hospital industry. We remain united on our core demands and proved that when we fight, we win.
Most inspiring was that Sinai workers were ready to strike to win a fair contract that protects our patients and communities and also invests in our hospital workforce.
How did our workers at Sinai do it?
Well, Sinai and Schwab workers stood strong, stood together with other hospital workers, and WE ALL won and benefited from their successful campaign.
This is the moment to celebrate.
But we must also organize hospital workers all across the Chicago area and give everyone the opportunity to join our union to demand fundamental change and accountability from the hospital industry.
Now is the time to build upon our major victory!
In Solidarity,
Wellington Thomas