Mayor Holding Living Wages Hostage to Budget Demands and Leaving Workers Out  
A press release from the Raise Chicago Coalition.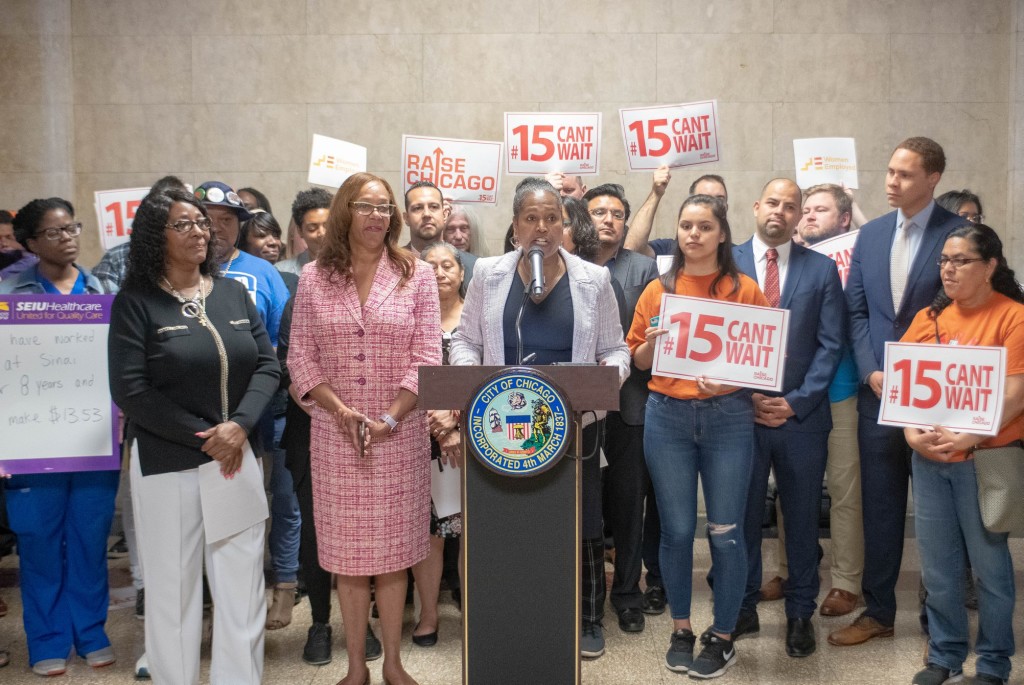 Chicago, IL – During Lori Lightfoot's budget address this morning, the mayor spoke about raising the minimum wage for many workers in Chicago to $15 an hour by 2021 and implied that the minimum wage and the budget should be passed in a single vote.
"Providing every worker in the City of Chicago a living wage of at least $15 an hour is an urgent priority. However, raising the minimum wage and passing a budget are two separate issues. We should not tie the passage of the budget to passage of a minimum wage ordinance," said 4th Ward Alderwoman Sophia King, sponsor of the Raise Chicago Ordinance to raise the city's minimum wage.
Tipped and youth workers, who are paid a subminimum wage, were disappointed that the mayor failed to explicitly commit to raising their wages, as was Alderwoman King.
"Tipped workers can't survive on $6.40 and the off chance they make enough tips to pay their bills. $15 can't wait and we look forward to the mayor doing the right thing for working people," said Nataki Rhodes, a former server and Lead Organizer of Restaurant Opportunities Center of Chicago.
"Being young doesn't mean having no responsibilities. Youth are falling asleep in class because they spend all their time out of school working jobs that don't pay for the effort they put in," said Jennifer Nava, a senior at Thomas Kelly High School and a leader at Brighton Park Neighborhood Council.  "We aren't demanding fair wages so we can go out and party. We are demanding fair wages so we can live well, so we can focus on what truly matters, instead of the constant stress of making sure our parents can pay the next bill and stay off the streets."
"There's no good reason for tipped and youth workers to be paid a subminimum wage. I hope the mayor joins our call for one fair wage," King added.
###
Background: The Raise Chicago Ordinance, sponsored by Alderwoman Sophia King, raises the minimum wage to $15 for workers by 2021.  Without passage of the ordinance, 400,000 Chicagoans would have their wages effectively frozen until the state minimum wage reaches $14 an hour in 2024 and $15 in 2025.  
The Raise Chicago Ordinance also raises the subminimum wage for youth workers to the full minimum wage by 2021 and for tipped workers by 2023. 
The current Chicago minimum wage for youth workers is $8.50 for those in the One Summer Chicago Program and $12.50 for all other youth workers. The current minimum wage for tipped workers in the city is $6.40 an hour. Employers are supposed to make up the difference if tipped workers make less than the full minimum wage after tips, but the Department of Labor reports that 83.8% of restaurants violate this law. Seven states require restaurant owners to pay their workers the full minimum wage with tips on top. Those states have higher restaurant industry job growth and tipped workers in these states have far less poverty, far less economic insecurity, and suffer half the rates of sexual harassment.  
To learn more and to see a list of Raise Chicago Coalition members, click here.