BREAKING: STRIKE AUTHORIZED at Mt. Sinai/Schwab Hospitals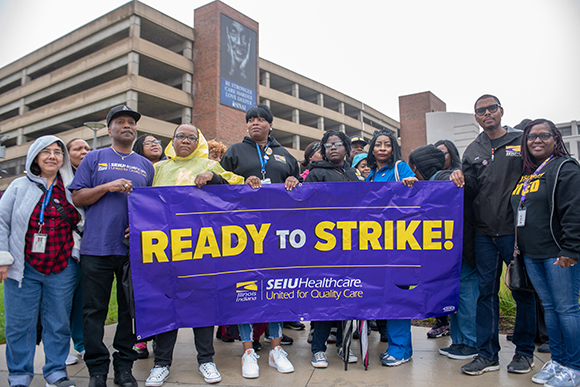 Mount Sinai Hospital/Schwab Rehab Workers Authorize Bargaining Committee to Call a Strike with a 97% Yes vote.
CHICAGO—Hospital workers at Mount Sinai Hospital today announced they have authorized their bargaining committee to call a strike if they can't get a fair deal from management at the bargaining table. A strike would include Mount Sinai and Schwab Rehabilitation Hospital, which is also part of Sinai Health System.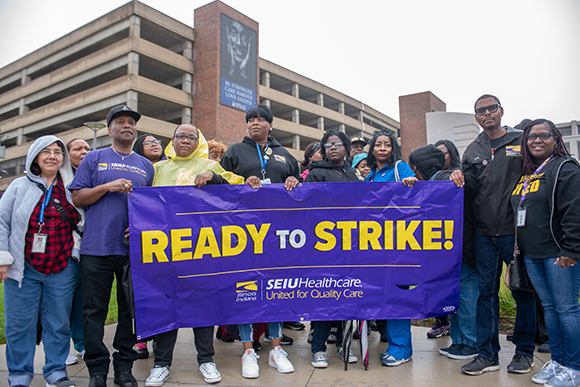 The 400 CNAs, housekeepers, dietary workers, techs, therapists and other workers at Mount Sinai– predominantly Black women living on the South and West Sides– say they are ready to strike to ensure they can provide quality care to the neighborhoods they serve. Other workers across the Sinai System fighting for union recognition, including RNs, said they will join the picket line if the unionized workers call a strike.
As the hospital industry focuses on the bottom line, most of the workers providing patient care and keeping the hospitals clean and safe are struggling to pay their bills, afford their own health care and contribute to their communities. Understaffing is putting patients at risk. All of these practices are widening the racial disparities that already exist in the city.
"It's hard work. I love my patients and I do my best. But I can't begin to tell you how stressful it is to do your best when you're doing the job of multiple people," said Clarise Evans, a certified nursing assistant at Schwab Rehabilitation Hospital. "You would think a hospital worker would be able to access healthcare without skipping paying other bills or putting groceries on the table. That's why I voted yes."
The authorization vote from the members of SEIU Healthcare Illinois comes as workers have been taking escalating action in recent months to demand that Sinai Health System address a range of workplace and community injustices stemming from the hospital system's refusal to properly invest in workers, patients or the communities it serves. The vote at Mt. Sinai comes as hospital workers across the city are organizing the first citywide campaign to demand all hospitals respect and invest in the communities where they operate.
"We are all here to close the 20-year death gap that separates our communities from more affluent communities," said Pastor Emma Lozano of the Lincoln United Methodist Church. "When you treat a caregiver bad and don't let them get what they need, then you're short-changing the patient." She called the hospital management hypocritical for not following their slogan of "Be Stronger, Care Harder, Love Deeper."
As union-represented workers at Mt. Sinai are demanding a fair contract, the RNs, techs and registry workers are demanding union representation through SEIU Healthcare Illinois. A majority of RNs at Mt. Sinai have joined together to demand union recognition to fight for safe staffing levels, fair pay, and to push back against a hospital industry that takes their skilled labor and care for their patients but pays them very little and undervalues their community in return. Both groups are demanding an end to anti-worker and anti-union tactics by management, manageable workloads, better wages, and the best patient care.
As talks at the bargaining table have stalled, and as management refuses to recognize the union for those not currently represented, union and non-union workers have been preparing to go on strike to achieve their goals: a voice on the job, dignity, and fair compensation. While the strike authorization vote does not include RNs, techs and registry workers, they have been simultaneously organizing and committing to a sympathy strike if the bargaining unit goes on strike.
Workers launched their strike authorization vote on September 13th with a "Get Loud for the Union" picket and speak out in front of Riot Fest, held across the street from Mount Sinai Hospital. That followed the expiration of their contract and a months-long fight for justice on the job and investments in quality care.
This historic hospital campaign is uniting RNs, CNAs, service and tech workers at hospitals across Chicago to demand that hospitals provide the good jobs workers deserve and truly invest in communities of color in the city. Like the teacher organizing campaigns in Chicago and across the country in which teachers fought for investment in children and families, hospital workers are ready to use the power of the strike to demand investment in their communities through working conditions that support quality care. They are prepared to take action to defend patients and communities and to ensure frontline caregivers have a meaningful voice on the job.
###