Mount Sinai Workers to Launch Official Strike Vote at Riot Fest During "Get Loud for the Union" Speakout Demanding Justice from Sinai Health System
Media Advisory for Friday, September 13, 2019

Workers to Take Next Step Towards Authorizing Strike in Fight for Fair Treatment and Wages, Improved Patient Care and Community Investment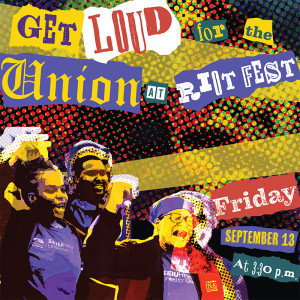 CHICAGO—Hospital workers from Mount Sinai Hospital, including RNs fighting for union recognition, will hold an informational picket outside the hospital and a "Get Loud for the Union" speakout across the street at Riot Fest, as thousands throng to the city for the popular music festival.
Workers, who have been taking escalating action in recent months in their demand that Sinai Health System address a range of workplace and community injustices stemming from the hospital system's refusal to properly invest in workers, patients or the communities it serves, will also take a significant step towards a possible strike—the launching of an official ballot to authorize a strike.
Addressing both Riot Fest attendees and hospital management within the facility walls, workers will turn up the volume of their campaign to win fair wages, fair treatment, fully employer-paid healthcare, safe staffing levels and a voice on the job through their fight for a fair contract and RNs' fight for management recognition of their decision to be represented through SEIU Healthcare.
Workers will be joined by faith, elected and community leaders in lifting up the need for meaningful investment in Sinai's predominantly black and brown workforce, and the predominantly black and brown communities it serves, through above-poverty-level wages, safe staffing levels that support quality patient care, and a seat at the table for all hospital workers.
WHEN:
4:00 p.m. Picket Starts
4:30 p.m. Riot Fest Speakout
WHERE:
At Riot Fest
Intersection of Ogden and California
Outside Mount Sinai Hospital and at SW corner of Douglas Park,
WHO:
Sinai Health System workers, including RNs, CNAs, dietary, housekeeping, admitting and transportation workers, workers from other hospitals throughout the Greater Chicago area; faith, elected and community leaders
WHY:
To conduct an informational picket and "Get Loud for the Union" speakout in front of Riot Fest as workers take a significant step towards a potential strike—the launch of an official strike ballot.
Workers will describe their fight for justice on the job, including fair wages, benefits, adequate staffing levels, a seat at the table and meaningful investments in patient care and in the predominantly black and brown communities Sinai serves.
Union-represented workers at Sinai are demanding a fair contract, and RNs are demanding union representation through SEIU Healthcare Illinois. Both groups are demanding an end to anti-worker and anti-union tactics by management, better staffing, better wages, and the best patient care. And both groups are prepared to do whatever it takes, including potentially going on strike, to win their demands.
Since joining together–RNs along with Certified Nursing Assistants, dietary and housekeeping workers, transporters and more—workers have been subjected to unfair labor practices and are escalating their fight to win the fair treatment, wages, benefits, staffing levels and respect they deserve and which support high quality patient care.
The escalation towards a potential strike at Sinai is part of a historic hospital campaign that is uniting RNs, CNAs, service and tech workers at hospitals across Chicago to demand that hospitals provide the good jobs workers deserve and truly invest in communities of color in the city. Like the teacher organizing campaigns in Chicago and across the country in which teachers fought for investment in children and families, hospital workers are ready to use the power of the strike to demand investment in their communities through working conditions that support quality care. They are prepared to take action to defend patients and communities and to ensure frontline caregivers have a meaningful voice on the job.
Workers at Mount Sinai and other Chicago-area hospitals, predominantly Black women living on the South and West Sides, are committed to providing quality care to the neighborhoods they serve. But, as the hospital industry focuses on the bottom line, most of the workers providing patient care and keeping the hospitals clean and safe are struggling to pay their bills, afford their own health care and contribute to their communities. Understaffing is putting patients at risk. All of these practices are widening the racial disparities that already exist in the city.
###