Information & Resources: New Public Charge Rule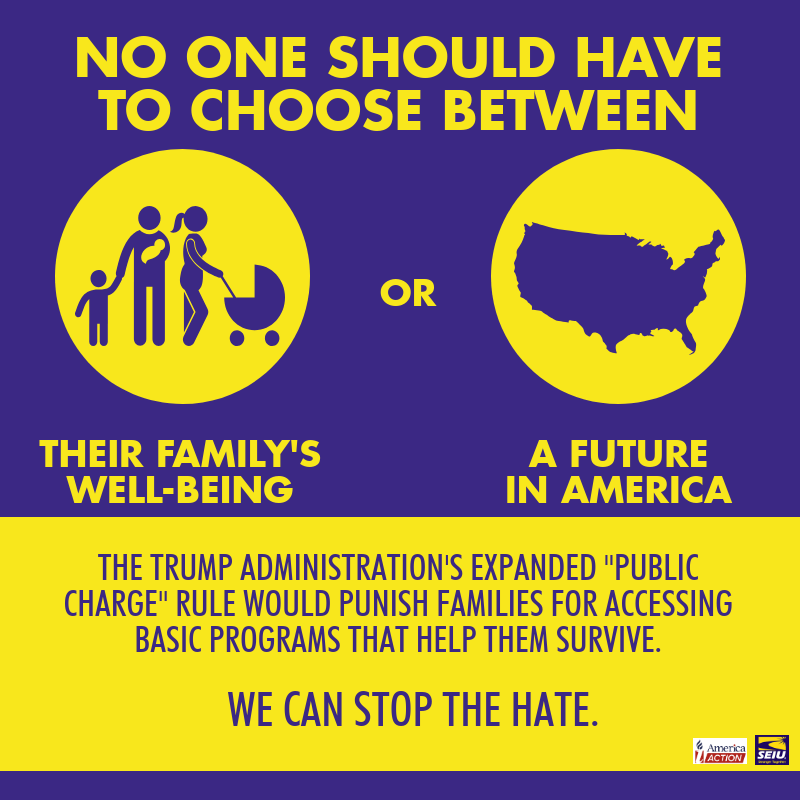 Español a continuación
On August 14, 2019, the Department of Homeland Security (DHS) posted their final public charge rule. If legal challenges do not prevent the rule from taking effect, the policy will become effective on October 15, 2019.
This rule is another racist, anti-immigrant attack from the Trump administration that seeks to hurt those among us with the least. It puts the health and well-being of millions of people at risk and violates our core values as Americans.
As a union, we strongly oppose this rule and want to be a resource for our members who are concerned about its impact.
The public charge rule was designed to be confusing and complicated. Below you will find more information, and additional resources that our allies have compiled to help families navigate what is happening.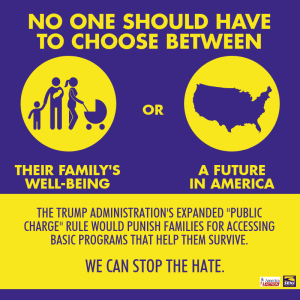 What is Public Charge?
The public charge has been part of federal immigration law for over one hundred years and was used to deny a person admission to the U.S. or lawful permanent residence if the government determined that they were likely to depend on the government as their main source of support, classifying them as a "public charge."
On August 14, drastic changes were finalized to this policy that will fundamentally alter our immigration system and make immigrants fearful of receiving critical support for things like healthcare and nutrition programs that help families thrive.
The final rule targets key programs that help participants meet basic needs, like:
Medicaid (with exceptions for emergency services, and coverage of children under age 21 and pregnant women)
Supplemental Nutrition Assistance Program (SNAP)
Public Housing, Section 8 housing vouchers, and Project-Based Section 8
Cash assistance under SSI, TANF or similar state, local or tribal programs
Under the new rule, using these programs for 12 months in a 36-month period will be considered a heavily weighed negative factor in deciding whether something is likely to become a public charge.
What can be done now? How can I get the help I need?
Remember, this new rule will not take effect until October 15, 2019. It will only take effect if legal efforts to stop it are unsuccessful. The State of Illinois has joined many other states in suing the federal government over these changes.
For now, DO NOT STOP utilizing the programs listed above; if legal challenges fail and the rule does take effect, it will NOT be retroactive and will only take into account the use of programs after October 15, 2019.
More information and resources to get help can be found here.
To learn more about your rights to protect your health and go to the doctor, click here.  
Our union will share updates on the public charge rule changes as we have them. You can always call our Member Resource Center if you need assistance at 866-933-7348 and we will help you get connected with advocates or resources to assist you.
---
El 14 de agosto de 2019, el Departamento de Seguridad Nacional (DHS) publicó su regla final de carga pública. Si los desafíos legales no impiden que la regla entre en efecto, la política será efectiva el 15 de octubre de 2019.
Esta regla es otro ataque racista y antiinmigrante de la administración Trump que busca lastimar a aquellos entre nosotros con lo menos. Pone en riesgo la salud y el bienestar de millones de personas y viola nuestros valores fundamentales como estadounidenses.
Como sindicato, nos oponemos firmemente a esta regla y queremos ser un recurso para nuestros miembros que están preocupados por su impacto.
La regla de carga pública fue diseñada para ser confusa y complicada. A continuación, encontrará más información y recursos adicionales que nuestros aliados han recopilado para ayudar a las familias a navegar por lo que está sucediendo.
¿Qué es la carga pública?
La carga pública ha sido parte de la ley federal de inmigración durante más de cien años y se usó para negar la admisión de una persona a los EE. UU. o la residencia legal permanente si el gobierno determinaba que probablemente dependerían del gobierno como su principal fuente de apoyo, clasificándolos como una "carga pública."
El 14 de agosto, se finalizaron cambios drásticos en esta política que alterarán fundamentalmente nuestro sistema de inmigración y harán que los inmigrantes tengan miedo de recibir apoyo crítico para cosas como programas de salud y nutrición que ayudan a las familias a prosperar.
La regla final se dirige a programas clave que ayudan a los participantes a satisfacer necesidades básicas, como:
Medicaid (con excepción de los servicios de emergencia y cobertura de niños menores de 21 años y mujeres embarazadas)
Programa de asistencia nutricional suplementaria (SNAP)
Vivienda pública, vales de vivienda de la Sección 8 y Sección 8 basada en proyectos
Asistencia en efectivo bajo SSI, TANF o programas similares estatales, locales o tribales
Según la nueva regla, el uso de estos programas durante 12 meses en un período de 36 meses se considerará un factor negativo muy pesado para decidir si es probable que algo se convierta en una carga pública.
¿Qué se puede hacer ahora? ¿Cómo puedo obtener la ayuda que necesito?
Recuerde, esta nueva regla no entrará en efecto hasta el 15 de octubre de 2019. Solo entrará en efecto si los esfuerzos legales para detenerla no tienen éxito. El estado de Illinois se ha unido a muchos otros estados para demandar al gobierno federal por estos cambios.
Por ahora, NO DEJE de utilizar los programas mencionados anteriormente; Si los desafíos legales fallan y la regla entra en efecto, NO será retroactiva y solo tendrá en cuenta el uso de programas después del 15 de octubre de 2019.
 Puede encontrar más información y recursos para obtener ayuda aquí.
Para obtener más información sobre sus derechos para proteger su salud e ir al médico, haga clic aquí.
Nuestro sindicato compartirá actualizaciones sobre los cambios en las reglas de carga pública a medida que los tengamos. Siempre puede llamar a nuestro Centro de Recursos para Miembros si necesita ayuda al 866-933-7348 y lo ayudaremos a conectarse con defensores o recursos para ayudarlo.