Truman Medical Center Techs, Lab Workers Unite with Community to Fight for Their Union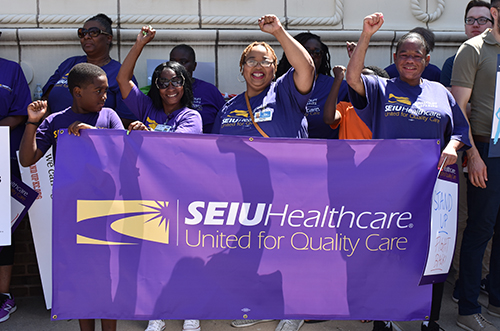 FOR IMMEDIATE RELEASE
Tuesday, August 13
COMMUNITY, FAITH LEADERS, WORKERS DEMAND A FAIR AND OPEN PROCESS FOR TRUMAN MEDICAL CENTER TECHS AND LAB WORKERS TO ORGANIZE THEIR UNION
 Community members and workers rally in support of organizing efforts, demand an end to management's anti-union intimidation and retaliation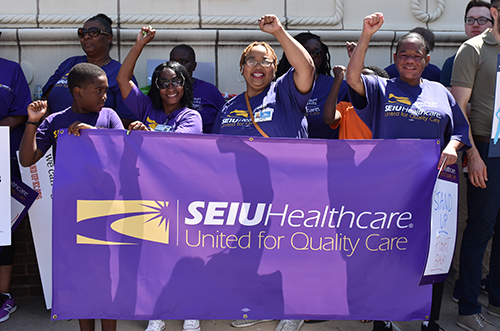 KANSAS CITY, MO — Patient Care Techs, Mental Health Techs, Lab workers, and Certified Medical Techs at Truman Medical Centers held a rally today to call on TMC management to meet their demand for a fair and open process free from retaliation and intimidation to organize their union. Community, faith, and labor leaders joined workers to denounce anti-union tactics and show support for their frontline hospital workforce.
"My message to CEO Charlie Shields is clear, our community is watching and now is the time to meet with workers to agree to a process that will allow them to exercise their right to form a union free from interference and fear," said Reverend Rodney Williams, President of the Kansas City Chapter of the NAACP. "This is our community and our hospital, we cannot allow this to continue in our own backyard."
Workers have secured majority support across their departments and are seeking to join the more than 350 TMC workers already united in SEIU Healthcare Missouri. Union representation would provide workers a seat at the table and a voice on the job to address issues like workplace safety, short staffing, and respect from management.
"I love my job as a Patient Care Tech. I've been in this field for 16 years and have spent eight of them at Truman, but my coworkers and I see problems that need to be addressed, like high turnover, inadequate training, and short staffing," explained Shaunte Hayes, a Patient Care Tech at Truman Medical Center – Lakewood. "We want to help find solutions and a union is our path to win a voice."
Workers have reported intimidating one on one questioning, hostility, and retaliation from management in response to organizing. Given Truman's reliance on Jackson County taxpayers for $36.2 million in annual subsidies, in addition to tens of millions of dollars in Medicaid enhancements, speakers called out CEO Charlie Shields for allowing public resources to be used to undermine worker organizing efforts.
"We know that Jackson County residents support a worker's right to organize. That's why more than 75% of voters decisively rejected Proposition A and Right-to-Work last August," said State Representative Judy Morgan (D-24). "This same community of voters provides ample resources for this hospital in the form of tax dollars. The fact that our hard-earned money is being used to undermine this workforce at Truman is a slap in the face."
Following the program, a delegation delivered a letter to CEO Charlie Shields to request a meeting as soon as possible to discuss terms of an agreement that will allow for Truman techs and lab workers to exercise their federally protected right to organize absent the anti-union behavior on display so far.
"Truman relies on community tax dollars and it is the community's hospital," said SEIU Healthcare Illinois Indiana Missouri Kansas President Greg Kelley. "It's time that hospital leadership hears and respects the community's voice and these workers are part of this community."
###