BREAKING: Back Pay for Personal Assistants to be Released on 6/28
BREAKING NEWS FOR PERSONAL ASSISTANTS!
We are very happy to announce that we have received confirmation from the State that the more than $30 million in back pay that is owed to Illinois Personal Assistants will be released this Friday, June 28!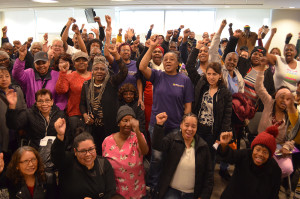 Personal Assistants united in our union fought incredibly hard to win the 48-cent raises that state lawmakers approved in 2017. Those raises were set to be implemented starting in August 2017, but former-Governor Bruce Rauner refused to release the funds, prompting our union to file a class action lawsuit. Both circuit and appellate courts sided with SEIU Personal Assistants, ruling Rauner's actions illegal.
Earlier this year in March, we reached agreement with the Pritzker administration over the implementation of the 48-cent raises and the release of back pay. Raises were implemented on April 1, 2019, and back pay was expected by the end of the fall. However, thanks to diligent work and pressure, the back pay is being released earlier than anticipated.
By the end of this week, the money owed to every PA who worked between August 1, 2017 – March 30, 2019 will be released and workers will receive their long-overdue back pay after a nearly two-year delay. (Note: If you receive your check in the mail, it will likely arrive early next week.)
PAs will receive the back pay in the same manner they are normally paid. If you receive direct deposit, your back pay will be paid through a separate direct deposit; if you receive a paper check, your back pay will be sent to you on a separate check in the mail.
Soon, PAs can expect to receive the following information from the State:
Notification of the amount of back pay received.
A separate letter with the monthly breakdown of hours to account for the back pay received.
For those PAs who were overpaid in April, they will receive an explanation of the amount recouped from their back pay.
While this fight was long, we stuck together and that is how we won. We said from the beginning that our union would fight to ensure each PA received every penny they were owed and today we are happy to announce we have succeeded.
As we say in SEIU, when we fight – WE WIN!