Don't Miss Our June Home Care Meetings!
June Home Care Membership Meetings
Our hard work continues to pay off, but we've got more work ahead! Stay informed and make sure you attend our next home care membership meeting in your area. We've got updates for all Illinois home care aides and PAs.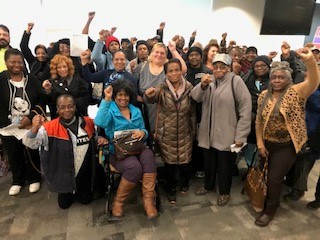 After months of hard work, we won funding in the state budget to raise wages for every Illinois home care aide to $13 per hour by January 1, 2020. Plus, PAs are finally seeing the raises that our union fought for and won on paychecks. Now it's time to get back to the bargaining table to negotiate a new contract with the Pritzker administration and fight for the things PAs and consumers need.
Make sure you attend our next membership meeting to share your opinion and to learn about how you can get involved!
Thursday, June 27
Olney: 5:30pm
Olney Public Library
400 West Main St., Olney
Saturday, June 29
Chicago: 10 a.m.
SEIU HCII Union Hall
2229 S. Halsted St., Chicago
South Suburbs: 9:30 a.m.
Prairie State College – Conf. Center Rm. 1322
202 S. Halsted St., Chicago Heights
Rockford: 10 a.m.
SEIU Office
4920 E. State St., Rockford
Peoria: 10 a.m.
SEIU Office
400 N.E. Jefferson St., Peoria
Springfield: 11 a.m.
SEIU Office
701 S. 2nd St., Springfield
East St. Louis: 10:30 a.m.
East St. Louis Library
5200 State Street, East St. Louis
Mt. Vernon: 10 a.m.
SEIU Office
206 S. 9th Street, Mount Vernon