Workers Converge to Call a Code Blue on Illinois Hospital Industry
 Hundreds Gather to Demand Immediate Action by Hospitals' "Sick" and Misplaced Priorities 
***VISUALS: A march and then rally of hundreds of workers and supporters, including a section of stretchers illustrating the casualties of a sick hospital system. Workers will act out the Code Blue emergency with medical props.***
CHICAGO—On the first day of spring, March 20th, hundreds of hospital workers in uniform from across Greater Chicago are coming together to call a Code Blue on the Illinois hospital industry to address the crisis of hospitals routinely putting profits before people and communities.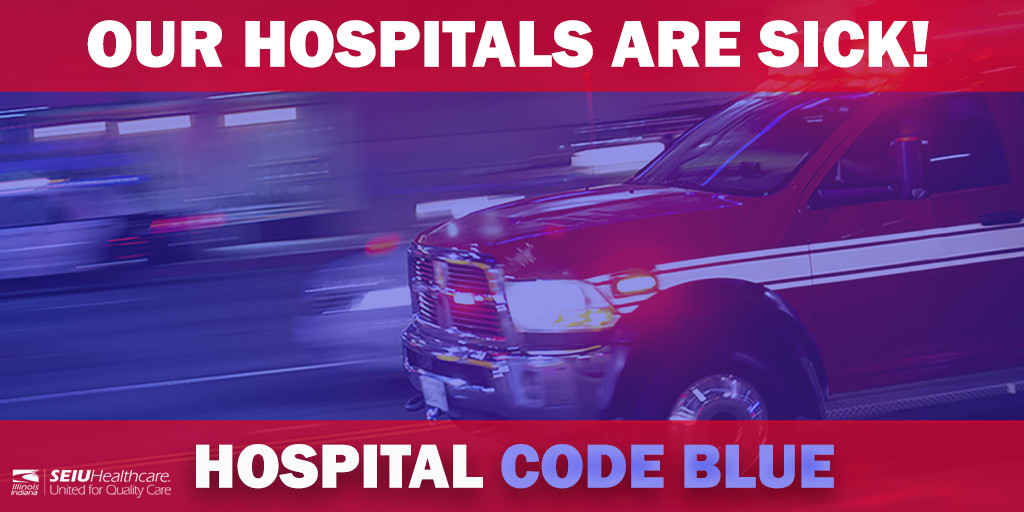 Workers are joining together with elected and community leaders to call for immediate action by the hospital industry on unfair pay, unhealthy benefits, and a sick system that fails to respect or heed the voices and needs of workers and that regularly shortchanges the communities in which workers live.
Workers are also calling for the right to a union in all Illinois Hospital Association facilities—and demanding a seat at the table in order to resuscitate a sick system and turn around the unhealthy and misplaced priorities of the state's hospital industry.
WHAT:
A march, rally and press conference of hundreds of workers from dozens of hospitals calling a Code Blue on the crisis of the hospital industry's sick and misplaced priorities, resulting in unfair pay, unhealthy benefits, lack of respect for workers, routine short staffing and a refusal to invest in the health and well-being of the communities in which hospital workers live
WHEN & WHERE:
Wednesday, March 20, 2019
11:40 AM        March, starting at Douglas Park (Albany and Ogden),
ending across the street from Mt. Sinai Hospital (at California and Ogden)
12:00 PM        Rally and Press Conference across (at California and Ogden)
WHO:
Hundreds of Hospital Workers in Uniform from Dozens of Hospitals Across Greater Chicago, and
Toni Preckwinkle, President of Cook County Board of Commissioners and Mayoral Candidate
Rossana Rodriguez Sanchez, 33rd Ward Aldermanic Candidate
Jeanette Taylor, 20th Ward Aldermanic Candidate
Jason Ervin, 28th Ward Alderman
Pastor Marvin Hunter, Grace Memorial Baptist Church
WHY:
To call a Code Blue on an unhealthy hospital industry that prioritizes the bottom line over the health and wellbeing of hospital workers and the communities in which they live. Hospital workers deliver quality care to patients and keep hospitals running every day and yet are paid wages that not only fail to provide workers and their families with economic stability, but that also fail to recognize workers' skill levels and contributions to improved patient outcomes. Hospitals fail to provide workers with affordable access to the very health care services they deliver, and frequently understaff forcing employees to do the work of two or three people.
Hospitals shortchange both workers and the communities in which workers live despite pulling in billions in revenue each year.
While members of the Illinois Hospital Association publicly declare their commitment to community health, their actions show them more concerned with their bottom line.
Hospital workers are coming together and organizing across multiple facilities and diverse job functions to use the power of their united voices to speak out, fight and transform a sick industry that shortchanges entire communities as well as workers.
The hospital industry has failed to invest in the health of its workers, with a majority of workers lacking access to truly affordable and accessible healthcare, despite working in the healthcare industry. The industry has further failed to invest in the well-being of the black and brown communities where most of their workers live—despite those communities experiencing the greatest unmet need for care and repeated calling for medical resources.
With the onset of spring, hospital workers and community allies are declaring their intent to fight not just for fair wages, benefits, respect and the right to a union, but also for real investment in their communities. Warming weather in Chicago's most impoverished neighborhoods means a return to summer shootings, deaths and traumatizing injuries. Workers are calling upon hospitals to be part of the solution—with the violence-deterring power of fair wages and real community investment, especially in the workers who support and care for patients in the city's trauma centers.
# # #