BREAKING: Gov. Pritzker's fair tax proposal welcomed by SEIU Healthcare Illinois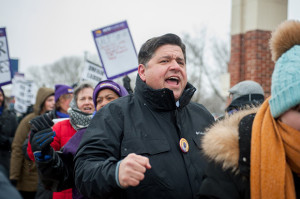 For Immediate Release: March 7, 2019
The following statement was released by SEIU Healthcare Illinois President Greg Kelley regarding the fair tax plan of Gov. JB Pritzker:
"For too long, low wage and middle class working families have carried the burden of funding the essential services of our state through our tax dollars while the wealthy escaped their responsibility to pay their fair share.
"Governor JB Pritzker's fair tax proposal gives relief to families suffering under the regressive tax policies that currently exist, allowing working families to have more money to purchase the necessities that will improve their lives while also stimulating the economy.
"It is important to note that 97 percent of tax payers will receive relief from the governor's proposal, while only those making over $250,000 annually will experience a tax increase.
"Healthcare and child care workers – who provide necessary and vital services in our communities – welcome the governor's effort to bring fairness to working families while also addressing the state's need for additional revenues."
###