Methodist Hospital Update: Workers 'March on the Boss' and Deliver Open Letter to Management Calling for a Fair Contract!
On Thursday, June 28th, the day before our next bargaining session, Methodist Hospital workers marched on the boss to deliver an "open letter" to management calling for a fair contract that respects the hard work, service and commitment of our frontline staff.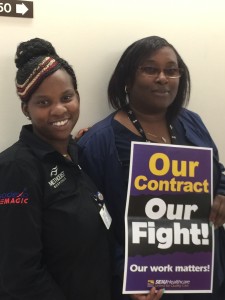 Methodist Hospital workers showed off our strength by remaining unified and signaling that workers are willing to fight for better wages, affordable health insurance, and a real voice on the job!
An Open Letter to CEO Raymond Grady

We the Union Employees of Methodist Hospitals, Inc. are expressing our support of improving the working conditions with a goal of improving quality care and making our hospital an employer of choice.

As workers, we are proud of the important work we do everyday to serve our community and to protect its health. We stand with our Union Bargaining Committee with the current demands at the negotiating table.

We are signing below to request the following:

* Fully Staffing our Floors and Departments

* Providing Upgrades and Raises to keep us above the Market

* Affordable Health Insurance