ICYMI: "SEIU Came Out Strong" in Last Night's Election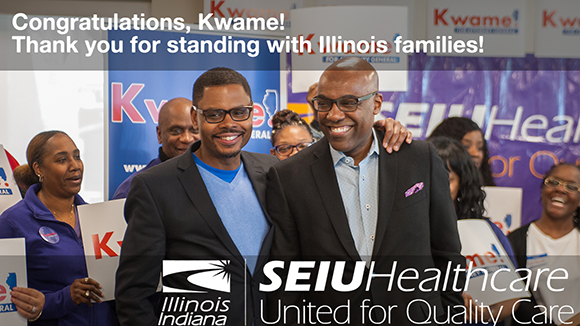 Progressive Candidates and Progressive Issues Win Big
(March 21st, 2018, Chicago) – This year's roster of progressive candidates and progressive issues shaped the outcome of this year's democratic primary and demonstrated conclusively that a forward-looking and bold working families' agenda won big in Illinois.
Up and down the ballot whether they were races fought statewide, or State House and Senate contests, in Cook County, and for Congress the progressive movement showed up at the polls and made a definitive statement.  As WGN's election night coverage noted, "SEIU came out strong." Of the 34 SEIU Healthcare Illinois' endorsements the Union's preferred candidates won 31 races – see the list of winners below.
State Senator Kwame Raoul, who was endorsed by our Union, SEIU Healthcare Illinois and the SEIU State Council, won for Attorney General. SEIU members praised Sen. Raoul stating that "he will fight for [working families] and our core values of economic, racial and immigrant justice for all, not just the powerful few."  Voters chose Raoul knowing he will stand as a last line of defense for working families and the most vulnerable in our society who are easy targets of the regressive Trump agenda.
B. Pritzker won the democratic primary with State Representative Juliana Stratton as his running mate. During his victory speech on election night, Pritzker strongly supported raising Illinois' minimum wage to $15 an hour. He also endorses the Fair Tax, a common sense policy that simply asks that those who earn more income should pay more in taxes to invest in Illinois and protect education and vital services.  Pritzker "walked a day" in a low-income child care worker's shoes and joined our nursing home worker on the strike line.
Our former colleague and SEIU Healthcare Illinois advocate, Ram Villivalam, handedly won his State Senate race in the 8th district by defeating a 20-year incumbent. Ram ran an amazing campaign that lifted up issues affecting working families, such as protecting the state's home healthcare program for seniors and those living with disabilities as well as the child care program. Ram proved his leadership by building a broad-based coalition across his district.
Delia Ramirez's victory in the 4th House district, to replace Rep. Cynthia Soto who decided not to run for re-election, showed that a grassroots champion who rejected machine and special interest politics can still win and win big. Ramirez's leadership on women's issues, fighting for working moms and child care workers in particular, gave voters a clear look into her passion and authenticity.
Lamont Robinson won the 5th House district by defeating Ken Dunkin, who sought to reclaim his former House seat after losing his last election to Juliana Stratton. (Ms. Stratton joined J.B. Pritzker's ticket at the Lieutenant Governor which precluded her for running for re-election in the 5th district).  Dunkin, whose race in 2016 was heavily funded by Gov. Rauner's money, lost by a landslide yet again.
Jesus "Chuy" Garcia easily won his Congressional race in the 4th district to replace Luis Gutiérrez who decided not to seek re-election and to fight for comprehensive immigration reform. Garcia won by a remarkable margin of 66% of the vote.
In the Cook County 1st district race, Brandon Johnson, a public school teacher, Chicago Teachers Union leader, and community activist beat Commissioner Richard Boykin. Johnson's grassroots campaign focused on investing in communities, lifting wages for working families, and protecting vital services.
And although she fell short, Marie Newman built a formidable grassroots coalition and came extremely close to defeating long term incumbent Congressman Dan Lipinski, an extremely conservative "blue dog" democrat who opposed the Affordable Care Act, a woman's right to choose, among other key progressive values. Newman's remarkable race gave her a significant platform on issues she cared about, raised her profile, and paved the way for future advocacy fights for constituents in the district.
Taken together, these election results show that there is a deep hunger for leaders who are willing to fight for a fair economy that benefits everyone, not just the wealthy and special interests that is epitomized by Gov. Rauner.
Last night showed that progressive candidates are willing to fight to raise wages for all workers and protect vital services that support families, children, seniors, and adults with disabilities. It also showcased new leaders from all levels of government and offered new energy and dynamism.
One of the key headlines is that Gov. Rauner, even with all his money and the advantages of incumbency, barely won against Representative Jeanne Ives, 51.4% to 48.6%. And the total number of voters garnered by Rauner, a mere 361,301, was only slightly more than Sen. Daniel Biss' total votes at 337,342 who came in second with 26.6% in the democratic primary.
This is proof that the voters see Rauner as a failed Governor and is a wounded and desperate candidate heading into November.
With President Donald Trump and Governor Bruce Rauner's extreme and irresponsible agendas on the ballot in November, there has never been a starker contrast between the conservative and progressive visions for Illinois and for our country.
Last night's primary results proved that progressives are on the march and should show no fear pushing a bold working families' agenda and advocating for fundamental changes that will set Illinois on a better and more prosperous course.
LIST OF RESULTS
Statewide
Attorney General Kwame Raoul- WON
Illinois Senate
8th district Ram Villivalam- WON
20th district Iris Martinez-WON
27th district Anne Gillespie-WON
Illinois House
3rd district Luis Arroyo-WON
4th district Delia Ramirez (open seat)-WON (48.3% in a 4 person race)
5th district Lamont Robinson-WON (Ken Dunkin came in 3rd)
10th district Melissa Conyears-Ervin-WON
14th district Kelly Cassidy-WON
19th district Robert Martwick-WON
24th district Lisa Hernandez-WON
27th district Justin Slaughter- WON
28th district Bob Rita-WON
29th district Thaddeus Jones-WON
30th district William Davis-WON
31st district Mary Flowers-WON
38th districts David Bonner (challenger)-LOST
76th district Lance Yednock (challenger)-WON
98th district Natalie Manley-WON
115th district Marsha Griffin (challenger)-WON
Congress
3rd district Marie Newman- LOST
4th district Jesus "Chuy" Garcia-WON
Cook County
President- Toni Preckwinkle- WON
Cook County Clerk-Karen Yarbrough – WON (uncontested)
1st district Brandon Johnson (challenger)- WON
2nd district Dennis Deer-WON
3rd district Bill Lowry-WON
4th district Stanley Moore-WON
5th district Deborah Sims- WON
6th district Donna Miller-WON
8th district Louis Arroyo-WON
12th district Bridget Degnen-WON
13th district Larry Suffredin-WON
15th district Kevin Morrison-LOST
–END—