Class-Action Lawsuit Filed as Rauner Administration Illegally Denies Low-Income Caregivers 48-Cent Raise Included in Bipartisan Budget Agreement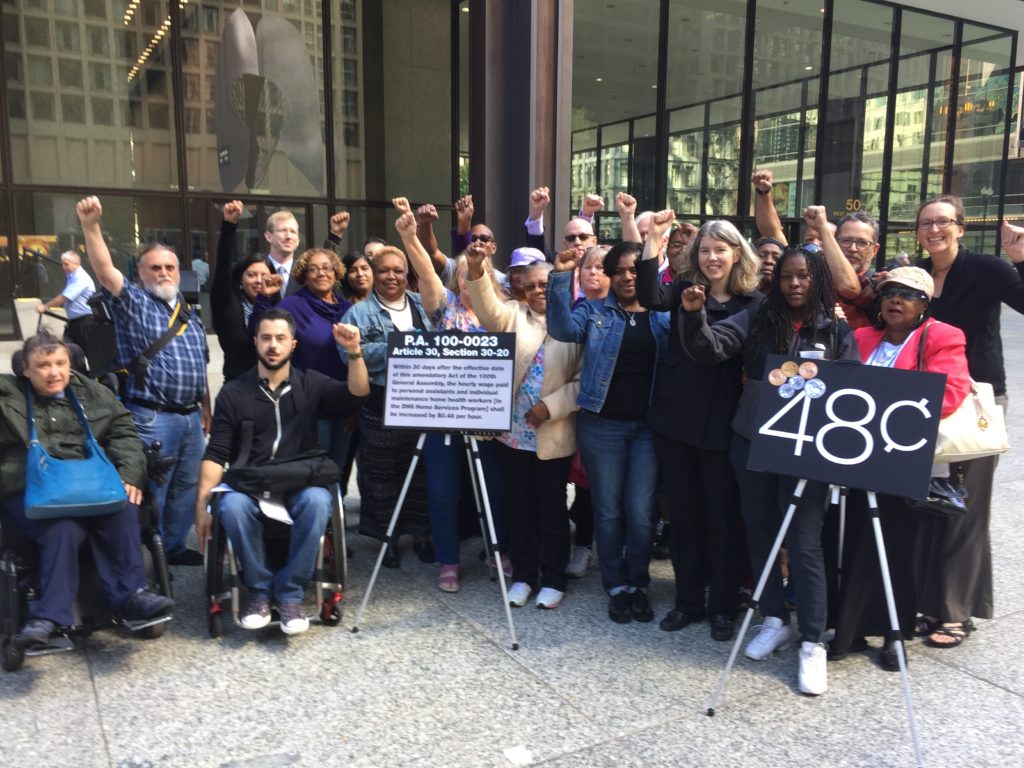 FOR IMMEDIATE RELEASE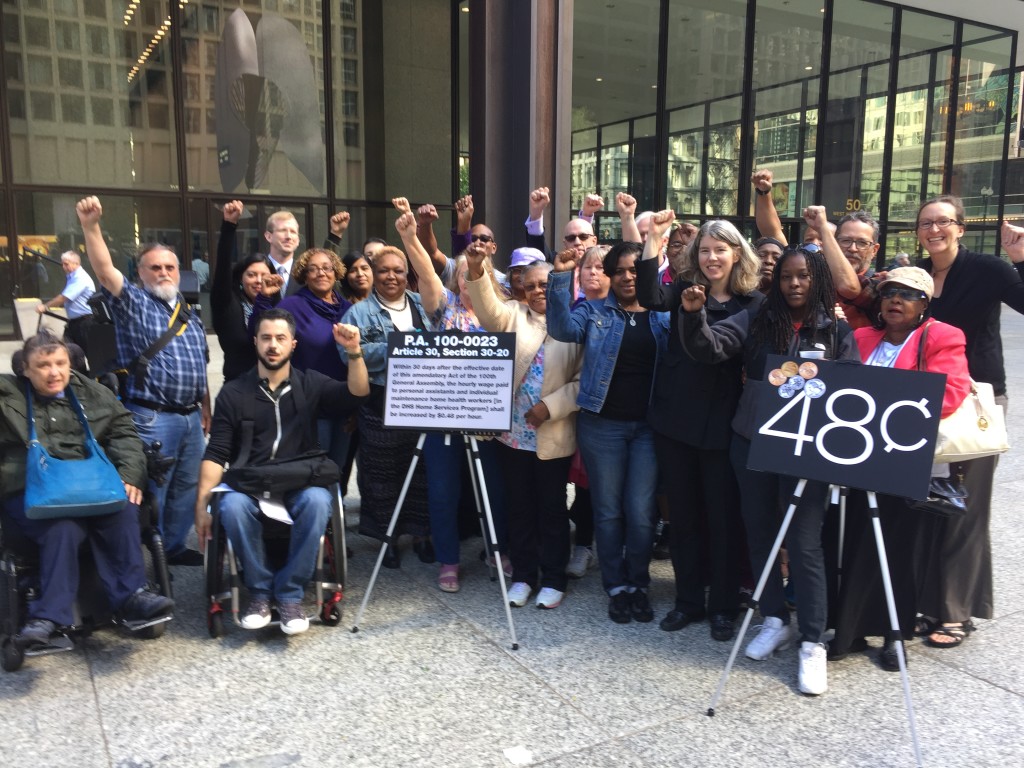 Chicago – Today, State Rep. Greg Harris joined home care workers and people with disabilities in the Home Services Program to announce the filing of a class-action lawsuit on behalf of 28,000 low-income caregivers across Illinois. The suit seeks to compel the Rauner administration to follow the law and release a 48-cent raise that was included in this summer's bipartisan budget compromise*.
"As the chief sponsor of the budget bill and lead negotiator for the House of Representatives, I know EXACTLY why this language was included," said Representative Harris. "It's because we really care about and value the people who are doing some of the hardest jobs in our state, serving people with disabilities and enabling them to live in our communities with dignity, while saving tens of millions of taxpayer dollars. We did not make this optional to give out these raises, we made it clear that this is the law."
Plaintiffs named in the suit include workers who were denied the 48-cent raise since Aug. 5, its effective date per statute. Personal Assistants, who are the overwhelming majority of the caregivers entitled to the raise, earn only $13 an hour and have not received a wage increase since 2014.
"The refusal of the administration to pay this 48 cents is another slap in the face to our workforce, which is constituted of the lowest-paid state workers," said plaintiff and caregiver Alantris Muhammad from Chicago Heights, who has provided services for an individual with a traumatic brain injury for the last 11 years. "Forty-eight cents may not mean anything to a billionaire like Bruce Rauner, but it means a lot to workers like me who have no pension, no vacation, no 401k, and no sick time."
"Our low pay is hurting the people we care for," said Ginger Grant, another plaintiff and caregiver from Charleston who has been in the healthcare industry for more than 40 years. "When we have to leave these jobs or work multiple jobs to get by, our consumers have to find someone else to care for them."
John Abatte, a disability advocate with Access Living, echoed that sentiment: "We are appalled that Governor Rauner refuses to activate and implement this raise. The refusal to integrate this raise is another move by the Governor's administration that threatens the independence of people with disabilities and the livelihood of in-home care workers, who already make a low salary. We call on Governor Rauner to implement the $.48 raise."
The Rauner administration is claiming that they cannot provide the agreed-upon raise because of the collective bargaining agreement with SEIU Healthcare Illinois. The State and SEIU Healthcare have been in negotiations for more than two years, with the Rauner administration unwilling to offer any fair proposals. Regardless, SEIU Healthcare Illinois fulfilled this requirement in August when the union emphatically agreed to the raises in bargaining.
"The law is clear: the State is required to implement statutory minimum labor standards. The State is then required to bargain with the union for any increases ABOVE the minimum standard required by statute, and this $.48 increase is now the statutory minimum wage increase," said Terri Harkin, Vice President with SEIU Healthcare Illinois, the union representing the 28,000 caregivers impacted. "Neither the Labor Act nor the SEIU collective bargaining agreement presents an obstacle to the immediate implementation of the raise required by statute."
"Moreover, SEIU has unequivocally given its consent for the state to implement the $0.48 raise required by statute. In fact it has demanded the state to do so. Therefore, the state's position that its agreements with SEIU prevent implementation of the raise are both wrong and disingenuous," Harkin added. "By refusing to grant a raise required by law that the union has agreed to, Rauner is in fact taking an illegal action that is contrary to good-faith bargaining with the home care workers' union."
*P.A. 100-0023, Article 30, Section 30-20:"Within 30 days after the effective date of this amendatory Act of the 100th General Assembly, the hourly wage paid to personal assistants and individual maintenance home health workers [in the DHS Home Services Program] shall be increased by $0.48 per hour"
###