Faith Leaders Pray for Gov. Rauner, Leaders to Stand Up to GOP Healthcare Overhaul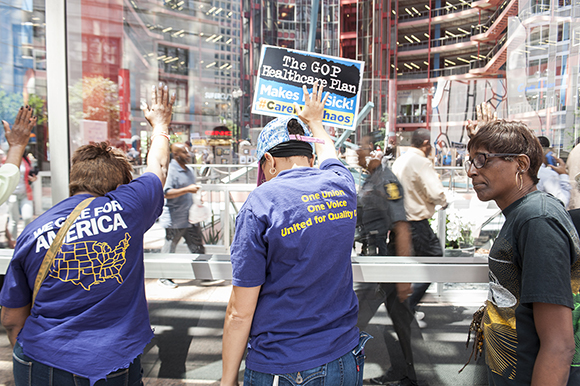 Call on Elected Officials to Hear the Cries of the People and Commit to a new Illinois Healthcare Covenant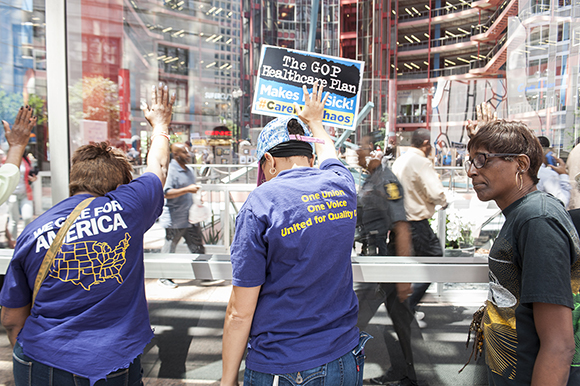 More photos from the event available via this Facebook link: https://goo.gl/7vMfSN
CHICAGO (July 18, 2017)—Religious leaders from major faith traditions today called on legislators in Congress to put a moral face on their approach to healthcare rather than the damaging efforts currently taken to destroy the Affordable Care Act (ACA).
Last night, Senate Majority Leader Mitch McConnel (R-KY.) announced his caucus' intention to fully repeal the ACA effective two years from now.  The plan would also drastically cut Medicaid. The non-partisan Congressional Budget Office estimates a full repeal of the ACA will cause 32 million Americans – particularly seniors, children and people with disabilities – to lose health insurance.
The interdenominational prayer service — followed by a prayer procession to the James R. Thompson Center — also called on Gov. Bruce Rauner to speak out against Republican efforts.
"We are called to our pulpits to speak truth to power, to be a voice for the voiceless, to call the wayward back to the straight path," said Rev. C.J. Hawking, executive director of Arise Chicago and pastor of the Euclid Avenue United Methodist Church, who emceed the event. "The effort in Congress to derail healthcare for millions of Americans is unconscionable. It is immoral. We, as Christians, Muslims, Jews and other faith traditions, will stand in the gap and send up prayers and use our feet to make our voices heard."
The audience listened intently as Shirley Perez told a heart-wrenching story about her efforts to maintain care for her special needs child.
"When a lot of people think about this healthcare bill, they only think about going to the hospital or getting care for a pre-existing condition. For my daughter it is so much more, because she has a seizure disorder and is developmentally and intellectually disabled. She needs regular medical care, but she also needs long-term support and services. Thanks to Medicaid she has a medical home, she can get the medication and care she needs, and she can live her life how she wants in her own home. The current health care proposal will be detrimental to my daughter, to families, and to this whole country," she said.
Among the faith leaders giving a prayer were Rabbi Brant Rosen of Tzedek Chicago, Father Thulani Magwaza, associate pastor at St. Sabina Catholic Church, Minister Jeffrey Muhammad of Mosque Maryam and Pastor Catherine Davis of the Church of God in Christ.
The leaders issued an Illinois Healthcare Covenant calling on legislators to "recommit to ensuring a system of care that is based on wellness; to protecting Medicaid … and to putting the immediate needs of our neighbors first, in the truest image of our all-loving Lord."
At the Thompson Center, faith leaders laid hands on the building while saying prayers as the crowd behind them extended their hands in prayer toward the building.
Instead of seeking to eliminate the Affordable Care Act, we believe that care should be strengthened and expanded to ensure that the most vulnerable in our midst are treated with the dignity and love that our faiths command, they said.
A broad coalition of healthcare, labor and grassroots groups organized the event, including: Trinity United Church of Christ; Southland Ministerial Alliance; St. Sabina Catholic Church; Protect Our Care Illinois; ACLU Illinois; Indivisible 123GO; ARISE Chicago; ATU Local 308; CAPS Inc; Chicago Teachers Union; Chicago Women Taking Action; Rainbow PUSH; Roseland Ceasefire; Chicago Coalition for the Homeless; SEIU Healthcare Illinois & Indiana; Citizen Action/Illinois; Indivisible Illinois; Indivisible Chicago; Healthy Illinois; Friends Who March; Chicago Federation of Labor; Abundant Living; Flesh Becoming Word; Kingdom Crusaders; International Christian Assembly; Lights of Zion; Nehemiah Baptist Church; Joy Fellowship; C.O.G.I.C. Praise Tabernacle Deliverance Church; Victory Christian Assembly; Tzedek Chicago; Greater Roseland Chamber of Commerce; Women's March Chicago.
Statements issued by religious leaders who participated:
Apostle Carl White Jr., Victory Christian Assembly
"As a man of faith, I am compelled to speak out for the poor, those who are disadvantaged and even those of means who need a voice to challenge the powerful. God has positioned us that each time Congress has tried to kill the Affordable Care Act the voices of the people rose up. I will continue to add my voice wherever there is a need for fairness and justice to prevail. I call on our elected officials to put compassion before profits in their deliberations around healthcare."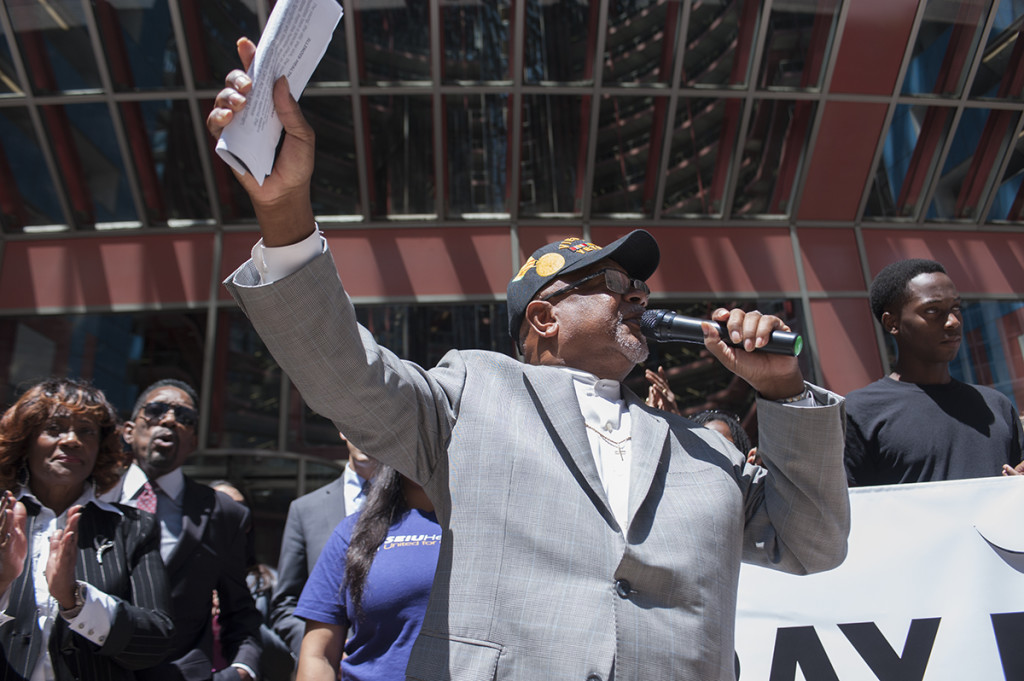 Rabbi Bryant Rosen, Tzedek Chicago
"Health care is a basic human right and providing health care is a sacred obligation. That is why as a Jew and a person of conscience I cannot remain silent when our government seeks to deny health care coverage to tens of millions of Americans. The pursuit of corporate profit at the expense of human lives is a sacrilege — and we are here to let our lawmakers know that the faith community will not let this stand."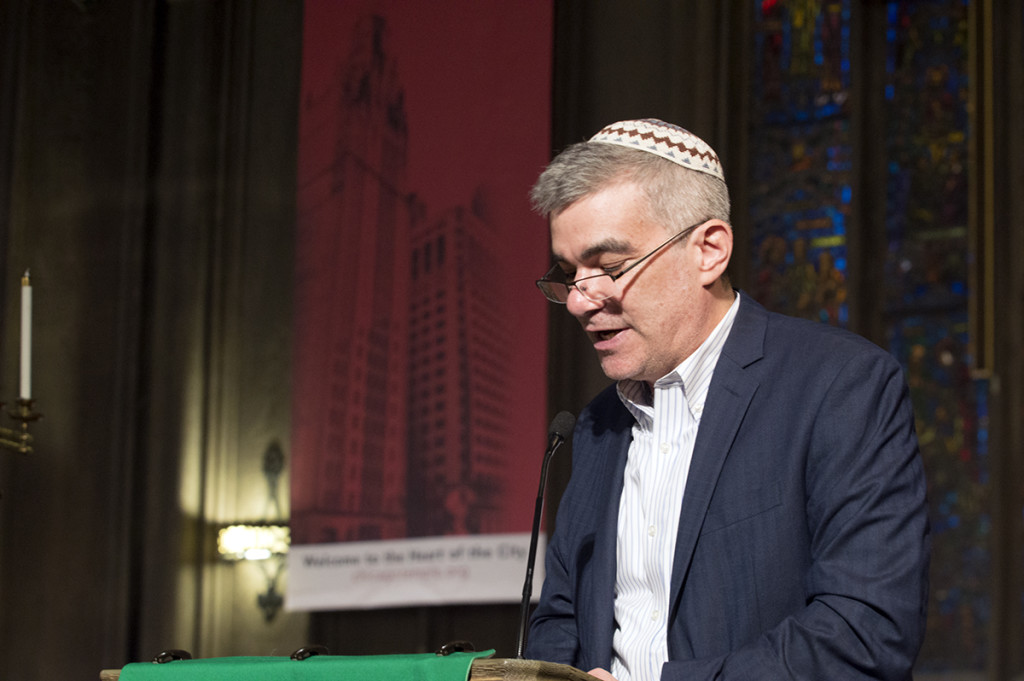 Father Michael Pfleger, St. Sabina Church (statement sent by a representative):
"A famous quote by Dr. Martin Luther King Jr. described injustice in health care as the most shocking and inhumane form of inequality. Today, we call on representatives in the U.S. Congress to cease and desist from this shocking and inhumane approach to health care. The approach of the Affordable Care Act is to allow access to healthcare to as many people as possible. The motivation for dismantling the Affordable Care Act is to create obstacles for people to have affordable health care and, quite simply, racist."
Minister Jeffrey Muhammad, Mosque Maryam (statement sent by a representative):
"In the scriptures, both Bile and Holy Qur'an, Allah (God) speaks of the healing that is in the plants around us that He gives freely. There is healing even in the honey produced by the bee. Yet, representatives in Congress want to pass laws that make it difficult for people to get healthcare, particularly the most vulnerable in our communities – the elderly, children and people who are disabled. This is a sign of leadership that is in error."