6 Ways Missouri Workers are Already Fighting Back in 2017:
1. St. Louis workers won BIG this week
The Missouri Supreme Court sided with Missouri's working families and ruled to raise the minimum wage in St. Louis from $7.65 to $10 immediately, followed by an increase to $11 next year! Read more about it here.
2. SLUH workers are getting the raises they deserve
In January, many workers at SLUH did not receive the raises we negotiated in our latest contract. Together, SLUH workers fought back through our union and on February 24, the workers who are impacted will see their back pay and raise reflected in their paychecks!
3. Candidates join the fight with SEIU Healthcare Missouri
We got to knockin' and made the rounds in St. Louis canvassing with mayoral candidate Tishaura Jones and 15th Ward Alderwoman Megan Green, both endorsed by SEIU Healthcare. Election Day in St. Louis is coming up soon — Tuesday March 7.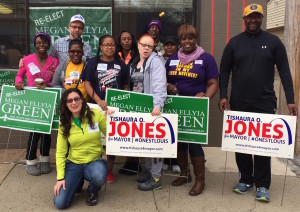 4. Members at Menorah & Research Hospital in KC are gearing-up for negotiations
The hard working members of Menorah and Research Hospitals in Kansas City are gearing up for the next round of negotiations over wages and benefits with the Hospital Corporation of America.
This agreement will set the tone for the next several years, and our ability to win improved wages, staffing, and healthcare benefits will greatly impact our families and patient care at our facilities. The HCA bargaining team has started training and crafting proposals to present at the negotiations table in the coming weeks.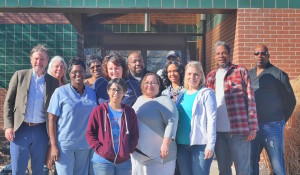 5. SEIU MO Healthcare workers unite to help stop former Secretary of Labor nominee
St. Louis SEIU members joined hundreds of fast food workers at Hardee's corporate headquarters in February to demand that Donald Trump's Secretary of Labor nominee, Andrew Puzder, either withdraw or be rejected by the Senate.
Puzder, CEO of Hardee's and Carl's Jr., and his fast food chains have a track record of rampant wage theft, sexual harassment, tax avoidance, and sexism, all of which workers pointed out should exclude him from becoming Secretary of Labor. After growing protests against the nominee, he was forced to withdraw from consideration, demonstrating the power of collective action taken by thousands of workers nationwide.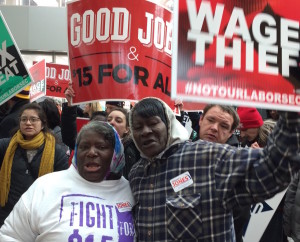 6.  Missouri Healthcare Workers Step Up to Protect the ACA
While Donald Trump promises a repeal of the Affordable Care Act, every day citizens all over the country are speaking out and voicing concerns. SEIU nursing home, hospital, and home care workers have joined in, demanding that federal officials unveil a replacement plan that covers as many people as the ACA and is more affordable.