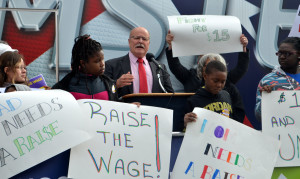 Endorsed Candidates
President: Hillary Clinton (D)
Governor: John Gregg (D)
We encourage our members to look to the Indiana AFL-CIO endorsements for guidance in other races, including U.S. Senate, state legislative districts, and State Superintendent of Schools.
Indiana Voter ID Law: Know Your Rights!
You must bring a government-issued photo ID with you to vote. To be eligible to vote, your ID must:
Include a photo of you.
Conform with your name on the voter registration record. Conform does NOT mean identical.
Be issued by the State of Indiana or the U.S. Government.
Have an expiration date and still be current OR have expired after November 4, 2014.

Certain military IDs with no expiration date are acceptable.
In most cases, an Indiana driver license, Indiana state ID card, military ID, or U.S. passport are acceptable.
If you do not have your photo ID or run into other problems, you should request a provisional ballot. You will have until noon on November 18 to provide documentation and/or your photo ID to support your ballot.
If you have a problem at the polls, call the national Election Protection hotline at 866-OUR-VOTE (866-687-8683).