Press Release: SEIU Healthcare Illinois Urges Chicago City Council To Reject Gov. Rauner's 'Upside Down' Agenda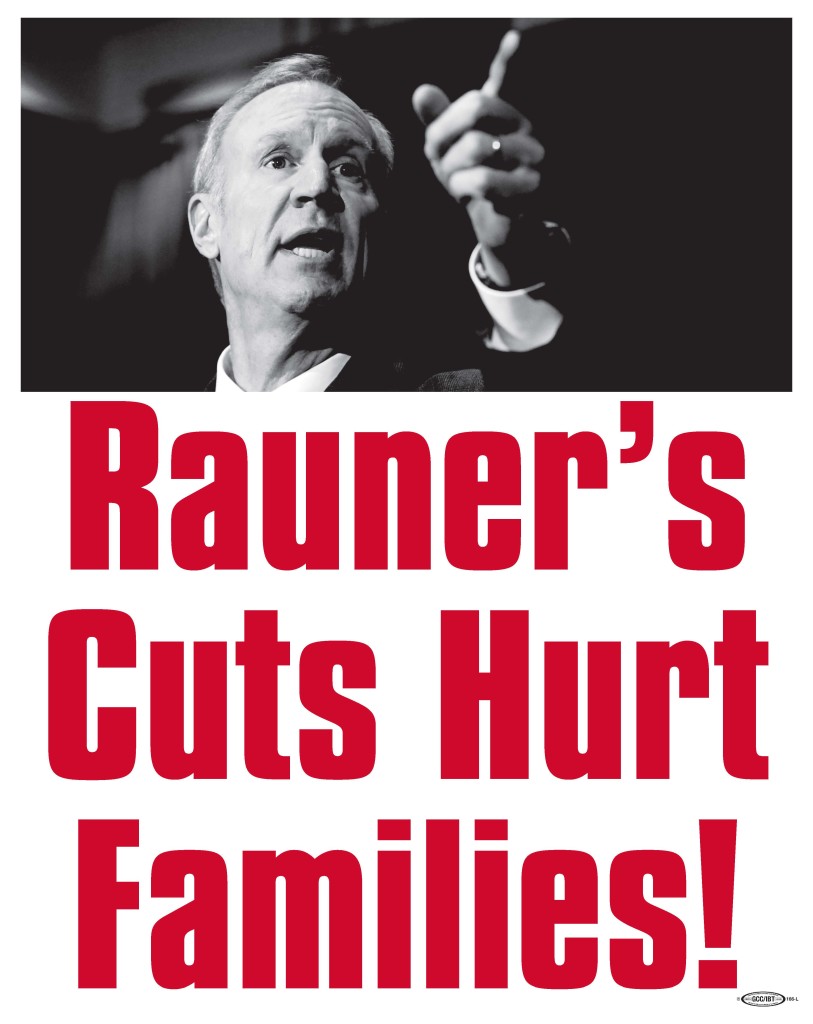 FOR IMMEDIATE RELEASE: May 6, 2015

 Contact: James Muhammad, James.Muhammad@seiuhcil.org
Working Families Say Gov. Rauner's Plan Turns Back On Most Needy In the State; Drive's Up Costs To Taxpayers
(CHICAGO) — Members of SEIU Healthcare Illinois (SEIU HCII), a union that represents 90,000 home care, child care, nursing home and hospital workers, called on the Chicago City Council to stand with working families and reject Gov. Bruce Rauner's call for drastic budget cuts to essential services.
SEIU Healthcare's statement came in response to Gov. Rauner's address to city lawmakers, which has been described as a plan that benefits the rich and corporate CEOs while leaving taxpayers to foot the bill for higher costs to care for those impacted by needless cuts.
Instead of cuts, Gov. Rauner should be addressing revenue remedies that would require his wealthy friends to pay their fair share, the Union said.
Keith Kelleher, President of SEIU Healthcare Illinois Indiana, issued the following statement in response to Gov. Bruce Rauner's speech today to the Chicago City Council:
Governor Bruce Rauner's so-called "Turnaround" agenda, which he formally introduced to the Chicago City Council today, will not turn our state around. It will turn Illinois upside down.
While he purports to be concerned for taxpayers, Gov. Rauner wants to impose devastating cuts to essential programs that assist the most vulnerable families and communities in our state, while at the same time eliminating tens of thousands of jobs.
Gov. Rauner's plan turns a blind eye to the needs of thousands of seniors and people with disabilities who desire to live independently in their homes with the help of a home care provider.  His plan will eliminate affordable child care that allows mostly single parents to work and a safe place for their children. His Medicaid cuts will send tremors through the hearts of residents of nursing homes and others who depend on the program.
In the long run, the governor's "upside down" agenda will drive up costs to taxpayers who will foot the bill for costly emergency services for these vulnerable families and communities who will be left to fend for themselves.
The governor presents his agenda while neglecting to address the need for corporate CEOs, banks and the wealthy to pay their fair share to generate revenues or to close loopholes.
We strongly urge our City Council to reject the governor's irresponsible agenda to turn Illinois' back on those who need help the most.
Instead, we call upon the City Council to press the Governor as to why working families should make all the sacrifices.
Since Gov. Rauner has called for shared sacrifice, what sacrifice are his wealthy friends and corporate CEOs making to fill the holes in our state budget?
###