We Rise: Thousands of Families, Workers Mobilize Across the Country to Reclaim Stake in Government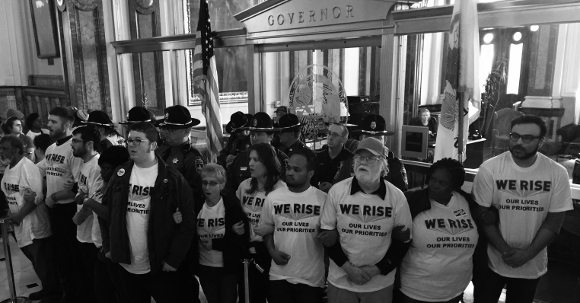 Over 1,500 Illinoisans Take Stand Against Rauner's Budget Cuts, Call for More Revenue
For Immediate Release: March 11, 2015
Contact: James Muhammad, james.muhammad@seiuhcil.org
Springfield ABC: 1,500 Protesters Fight Gov. Rauner's Extreme Budget Cuts for "WE RISE" Actions

Springfield NBC 17: "WE RISE!" Protests Swarm State Capitol to Fight Gov. Rauner's Budget Cuts

Springfield CBS 3 6pm: Protesters Fight Gov. Rauner's Cuts; Sen. Manar Says Lawmakers Need "Specifics"

Springfield CBS 3 5pm: "WE RISE" Protests Swarm State Capitol to Fight Gov. Rauner's Budget Cuts

SPRINGFIELD — Today, over 1,500 Illinois residents from community, faith and labor organizations occupied Illinois' state capitol to demand that Governor Rauner and legislators stop trying to balance the budget on the backs of working families.
A large group of demonstrators stood up in the House gallery at the start of the legislative session and chanted for the legislators to balance the budget by raising revenue from big corporations, LaSalle Street financial firms, and the 1%. Police officers were unable to remove the demonstrates from the House gallery because a second group of demonstrators linked arms and blocked the exit daring officers to arrest them.
Another 18 people linked arms outside Governor Rauner's second floor office to protest proposed cuts to child care, even as a group of children played in front of them. A lack of adequate revenue for the current fiscal year will leave many families without options. Illinois' Child Care Assistance Program (CCAP) has completely run out of money and needs a $300 million emergency funding bill to save the vital program that supports low-wage parents and allows them to work and go back to school. Fast food workers also delivered a petition with over 7,000 names calling on Governor Rauner to find funding for this program.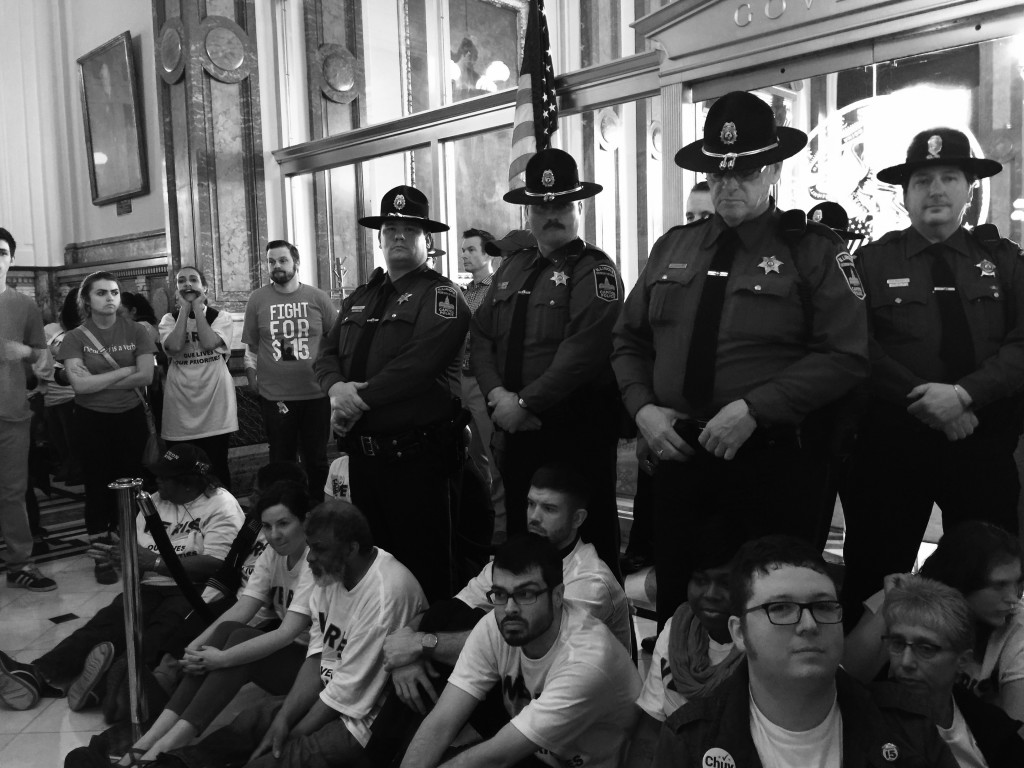 "The Bible says, 'to whom much is given, much is expected'. Our elected officials must defend the programs and services that save lives in our communities, and they should resolve our budget crisis by requiring those who can afford to pay more – like corporations and the wealthy – to do so," said Rev. Charles Straight of IRON. "The members of my congregation in Dolton, along with regular people all over the state, have never recovered from the financial crash of 2008. They are struggling to make ends meet. Governor Rauner's budget cuts will devastate working families and our communities."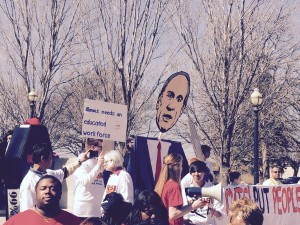 Beverly Hill, a child care provider in Harvey, Ill., called Gov. Rauner's assault on child care services shameful."How can the Governor claim to be working for 'the next generation', as he often says, when he is cutting a lifeline from underneath them? As a child care provider, I provide a safe, nurturing environment with enriching activities that prepare children to succeed in school and in life. The care I provide makes it possible for their parents to work or attend school. I'm here to tell Gov. Rauner to close the loopholes on corporations and the wealthy so they can finally pay their fair share to generate the revenues where we can invest in our families."
"This about demonstrating our collective power and telling Springfield politicians they need to put people first," said Action Now member Adeline Bracey. "Around elections politicians claim to care about voters but as soon as they are in office they look out for themselves. We simply won't put up with it anymore."
The day of action concluded with a funeral for the 99% outside of the Governor's mansion.
"We know that if we sit by and doing nothing it means the death of the middle class, the death of the safety net for our most vulnerable, it means the death of the 99%," said Sonny Garcia, a resident of Bloomington and member of Illinois People's Action.
"We're gathered here today because Bruce Rauner is balancing the budget on our backs. We're here to say, 'Enough is enough!' We are calling for the rich to pay their fair share – such as a tax on LaSalle Street bankers, a millionaires' tax a 'fair income tax', and to close corporate tax loopholes," said Eugene Lim of ONE Northside in Chicago.
Demonstrators joined thousands of families and workers with National People's Action, The Center for Popular Democracy and USAction who held mobilizations in 18 states across the country sending a clear message: Our families are taking our government back.
Key social media channels with content from today's events:
#WeRise #WeRiseIL #NoCuts #twill