Working Families Rally Behind Jesus "Chuy" Garcia's Progressive Agenda in Stunning Comeback Election to Force Runoff with Mayor Emanuel!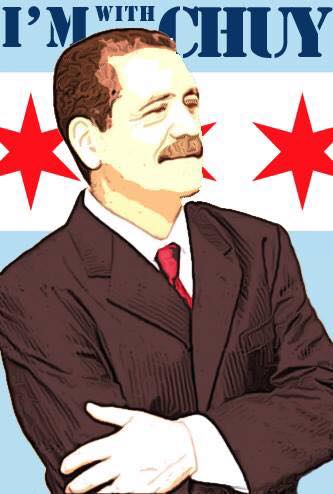 For Immediate Release: February 24th, 2015
Contact: Catherine Murrell (312) 523-3882, Catherine.Murrell@seiuhcil.org
James Muhammad, (773) 908-1825, James.Muhammad@seiuhcil.org
SEIU Healthcare Illinois Issues Statement:  
Working Families Rally Behind Jesus "Chuy" Garcia's Progressive Agenda in Stunning Comeback Election to Force Runoff with Mayor Emanuel! 
Chicago's Voters Shun Mayor Emanuel's Corporate Agenda that Benefits the Richest 1%
 (CHICAGO) – Working families throughout Chicago were ecstatic and celebrated the stunning come-from-behind success from longtime progressive champion Jesus "Chuy" Garcia to force a runoff against Mayor Rahm Emanuel.
In the closing weeks of the election, Chuy Garcia's progressive vision galvanized working families and offered voters a true alternative to Emanuel who suffered an embarrassing setback tonight.
Voters also sent a strong message in aldermanic races, with the large number headed into runoff signaling a disgust with politics as usual—in favor of elected officials committed to the needs of working families.
In addition to the mayoral and aldermanic contests, voters overwhelmingly supported a referendum for an elected school board which Emanuel controls.  Emanuel stacked the school board with his allies who enacted his policies to weaken public education, press his charter school agenda, and who rubber-stamped Emanuel's plan to close 53 neighborhood schools that serve communities of color.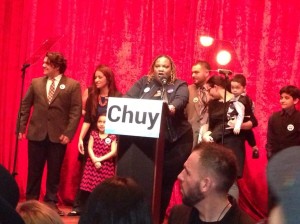 April Verrett, Executive Vice-President of SEIU Healthcare Illinois, released the following statement:
"We celebrate the power of grassroots organizing and the stunning success of mobilizing working families to get out and vote and to take charge of our collective futures in Chicago!
"Tonight's election numbers reveal one clear result: Chicago's voters shunned Mayor Emanuel and soundly rejected his corporate agenda that benefits the richest 1%.
"Despite his over $30 million campaign war chest, and the backing of the city's wealthy special interests, Mayor Emanuel couldn't buy his re-election tonight.  He will now have to face the voters of Chicago against Jesus "Chuy" Garcia, a longtime progressive champion for working families whose leadership stretches back decades to when Garcia was a key ally to Mayor Harold Washington.
"Let's not forgot what happened in this election.  When Karen Lewis was forced to give up her run for Mayor for health reasons, the media and political establishment declared the race over.  But Chuy Garcia's come-from-behind victory tonight to force a runoff with Mayor Emanuel must go down in the history books.
"Chuy Garcia fought to ensure that Chicago's mayoral contest was an election — not a coronation. And because of Chuy's tenacity, leadership, and grit, Chicago's working families now have a real alternative to Mayor Emanuel's agenda. We thank Chuy Garcia for making sure that the issues and the voices of working families were heard in this election.
"Mayor Emanuel's attack ads and misleading campaign commercials simply couldn't change the reality that voters see through Emanuel's smoke and mirrors and understand the harm inflicted upon our communities by his failed leadership.
"Chicago's voters rejected the cynicism and ideology shared by Rahm Emanuel shares and his buddy Governor Bruce Rauner—characterized by a reliance upon trickle-down economics and the belief that government should only serve the rich and the powerful.
"Instead, working families embraced a new politics and supported an agenda that empowers our communities and provides real opportunity, prosperity, and fairness to everyone in Chicago – not just the wealthy few.
"The desire for real, meaningful change—and for elected leadership that puts the needs of working families first—was clear not just in the mayoral race, but also in the historic number of aldermanic races heading into runoff.
"We must now finish the job and organize our communities to elect Jesus 'Chuy' Garcia the next Mayor of Chicago, support progressive candidates in the City Council, make an elected school board a reality and enact a bold agenda that invests in our communities and unifies our great city once more."
###