Home Care Workers Stand with Fast Food, Airport, and Convenience Store Workers for $15 as Movement Continues to Grow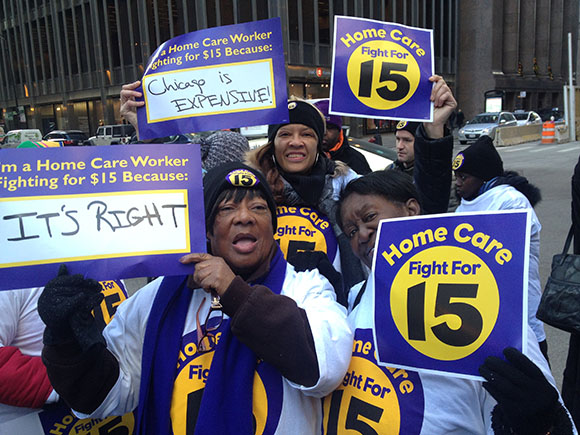 Movement for higher pay and a union in fast-growing home care industry spreads throughout country
(Chicago) – On Thursday, December 4, home care workers in Chicago called for $15 and a union alongside fast food workers as the Home Care Fight for $15 doubled in size and thousands of fast-food strikers walked off the job in 190 cities from coast to coast. Two years after New York City fast-food workers sparked a nationwide movement for higher pay and union rights, the movement continues to spread to new cities and industries.
Home care workers in Chicago protested Thursday alongside their clients, as the movement of workers who care for the elderly and people with disabilities doubles in reach since its launch in September.
"Just like fast food and convenience store workers, home care workers can't wait for higher wages," said Chicago home care worker Alantris Muhammad. "The gas and electric companies and won't wait for payments, and neither can we. This movement continues to grow, with more working people adding their voices everyday – the time is now for $15 an hour."
"I'm here because staying in my home and my community depends on home care workers," explained Susan Aarup, a home care consumer. "If we don't make home care jobs good jobs, there won't be enough home care workers for all the people who need them now and in the future. My home care workers support my dignity and independence every day, and I support a $15 an hour wage for them – it's a win-win."

As baby boomers age, home care is America's fastest-growing occupation. Already, there are 2.5 million home care workers across the country—not including many more who work in the informal economy. The median wage of home care workers is just $9.57 per hour, and unpredictable, part-time scheduling reduce those wages further. The result is a median annual income of just $17,000 a year.
In Illinois, home care workers made history September 4, 2014, joining fast food protests for the first time. Since then, workers have traveled to St. Louis, MO, for a first of its kind Home Care Rising Summit that united workers, seniors, people with disabilities, and allies around the call for a stronger home care system across the United States.
Home care workers registered and mobilized Chicagoland voters throughout October ahead of critical mid-term elections around issues like raising the minimum wage and protecting and expanding access to home care services during a Care Canvass.
US Representative Jan Schakowsky also met with Chicago home care workers in October, pledging her support for the Home Care Fight for $15 and committing to stand with workers until they win.
Across the country, airport baggage handlers, skycaps, wheelchair attendants and aircraft cleaners are joining together with fast-food workers and home care workers as the Fight for $15 reaches a new low-wage industry in the service-sector. Also Thursday, fast-food workers went on strike for the first time in Jackson, Miss., Knoxville, Tenn., and Buffalo, NY.
The strikes will come one week after Walmart workers led nationwide strikes on and leading up to Black Friday to protest the company's illegal threats against workers calling for $15 an hour and full-time work. The growing Fight for $15 has been credited with elevating the debate around inequality in the U.S.  Slate called the movement a "stunning success" and wrote that, "dedicated fast-food workers have managed to completely rewire how the public and politicians think about wages." What seemed like a far-fetched goal—$15 an hour—is now a reality in SeaTac and Seattle, where Bloomberg News said the city adopted "the rallying cry of fast-food workers" and where local low-wage airport workers played a leading role in winning the historic wage increase. In November, San Francisco became the third city in the U.S. to adopt a $15 minimum wage, and since the first strike in 2012, 7.6 million low-wage workers across the country have gotten raises through local ballot measures, city and state legislation and contract negotiations. Just this week, Chicago's City Council voted for an incremental minimum wage increase to $13 an hour.
"The fast-food giants have seemed clumsy, and wrong-footed by the surge of protest," according to the New Yorker, responding to the workers by telling them to get a second job, sing away their stress and apply for public assistance. But fast-food workers have responded by turning up their movement. At their first nationwide convention in Chicago last summer, they vowed to do whatever it takes to win $15 and union rights, and in September, nearly 500 were arrested during strikes that hit 150 cities. Now, inspired by the bold national actions of fast-food workers, home care and airport workers are joining together for higher pay and union rights.
The Fight for $15 is drawing support from key political figures. President Obama praised the fast-food workers, saying in a Labor Day speech that they are, "organizing to lift wages so they can provide for their families with pride and dignity." And Hillary Clinton applauded them in a speech to leading Democrats, calling the fast-food workers' fight for higher pay, "a movement that is not waiting for Washington with its gridlock and grandstanding." The urgent need for solutions to America's low-wage crisis is already emerging as a key issue in the run-up to the 2016 election. In the New York Times, David Leonhardt wrote, "[a]s the 2016 presidential campaign begins to stir, the central question will be how both parties respond to the great wage slowdown."
###