MetroSouth Medical Center Employees Vote YES for First Contract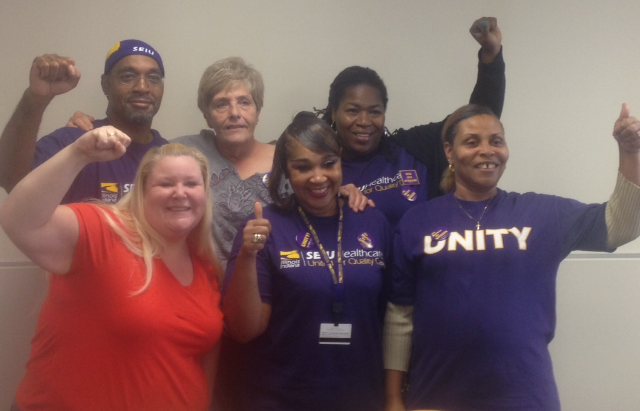 MetroSouth Medical Center's service and maintenance workers made history last week, ratifying their first-ever union contract.
MetroSouth Medical Center is owned and operated by Community Health Systems (CHS), one of the largest for profit healthcare systems in the country. The company owns, operates, or leases 135 hospitals in 29 states, including eight in Illinois.
Just over a year ago, workers succeeded in organizing their union despite management's attempts to squash their efforts. Employees stood strong and brought that same determination throughout the campaign for a first contract.
"We now have the tools and the rules to have a constructive workplace environment," said Sandra Summage, Secretarial Partner in SICU/MICU.
Contract language includes across-the-board raises, equity pay increases for 41 employees, subcontracting language, mandatory position postings, and low-census language.
"This contract moves us forward," explained Nancy Guide, a PCP in MedSurg. "We count too!"
"I'm very happy about our first contract, and am looking forward to negotiating our next one in two years," said Brenda Shannon, Lead Barista in the Food and Nutrition Department. "It was a great leaning experience!"
This victory marks the first SEIU Healthcare contract for CHS hospital workers in Illinois. Employees join the 4,200 other CHS-affiliated workers in California, Ohio, Oregon, Pennsylvania, and Washington who are already united in SEIU Healthcare.