Guest Post: Childcare Workers are Low-Wage Workers!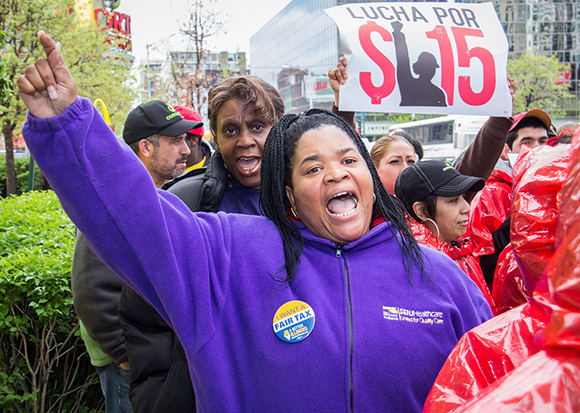 The following is a guest post from Y Not Our Kids, the Tumblr site that chronicles our YMCA Head Start members' ongoing fight for a fair contract at the YMCA of Metro Chicago. You can learn more about our fight at ynotourkids.tumblr.com.
——-
Low-wage workers in 150 cities went on strike today to fight for the idea that workers deserve to make a living wage. Most of those strikers were fast food workers, but at the YMCA, the people who educate our young children struggle to make ends meet, just like the people who work at McDonald's or WalMart.
We joined the picket line at Rock N' Roll McDonald's before traveling to BMO Harris Bank, where YMCA of Metro Chicago board chairman Peter McNitt is also Vice Chair. Several demonstrators from the Fight for Fifteen strike joined us in solidarity, and although security blocked us from seeing McNitt and tried to confiscate our literature, we succeeded in educating people in the lobby and the neighborhood about our ongoing contract fight.
Our press release about today's action is below, along with more photos of the event. Great job to everyone who made this action a success!
Media Advisory for Immediate Release: Thursday, May 14, 2014
YMCA teachers and staff join massive low-wage worker strikes; "This is our fight too"
CHICAGO—As fast food and retail workers in 150 cities take to the streets on Thursday to fight for decent wages and fair treatment, YMCA Head Start teachers and staff who have been fighting for a fair contract for more than a year will confront members of the YMCA board and management to make the same demands.
Since voting to form their union in November of 2012, long-serving teachers and staff at the YMCA have fought for adequate supplies, fair wages, and affordable health care at the bargaining table. But YMCA management has dug in its heels, refusing wage increases and even proposing to raise the cost of a health care plan that less than half of its employees could afford in the first place.
Teachers, staff, and allies will start the day picketing in solidarity with fast food workers at the massive Fight for Fifteen rally at Rock and Roll McDonalds at 11am, then proceed to BMO Harris Bank, where YMCA board chairman Peter McNitt serves as Vice Chair. A delegation of workers will enter the bank to confront McNitt about the YMCA's behavior at the bargaining table, while the rest of the group remains outside to educate passersby about the fight for fair wages at the YMCA and beyond.
"Nobody who works a full day should have to live in poverty, whether they're stocking shelves at WalMart, flipping burgers at McDonalds, or caring for your children at the YMCA," said teacher Jaqueline Maxie. Maxie has been with the YMCA since the nineties, but still makes only $10.02 per hour—far short of the $15 per hour being demanded by the Fight for Fifteen strikers. In fact, 76% of the workers involved in the contract fight make less than $15 per hour, while Dick Malone, CEO of the YMCA of Metro Chicago, makes more than a half million dollars per year.
"The fight for respect and fair wages is our fight, too," Maxie said.
When: Thursday, May 15, 1:15 p.m
Where: Meeting at the corner of LaSalle and Monroe, then marching to BMO Harris Bank at 111 W. Monroe
What: YMCA parents, staff, teachers, and allies will unite with underpaid fast food and retail workers engaging in a nationwide day of action before splitting off to take their message to their employers.