YMCA workers rally for affordable health care and a fair contract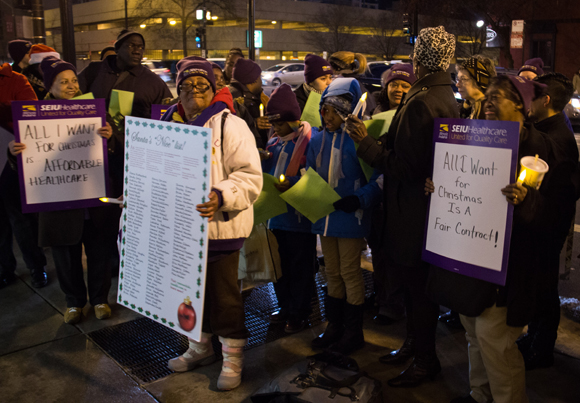 On December 19th, YMCA early learning teachers, staff, parents, kids, and allies gathered at the YMCA of Metro Chicago's headquarters at 800 N. Dearborn to demand decent health care, respect on the job, and good-faith bargaining.
YMCA members voted to form a union more than a year ago, but YMCA management has dug in their heels, refusing to consider the union health plan that would cost the YMCA and its workers less money.
Aurora Cavazos has taught at the North Lawndale YMCA for four years, and has been in the child care industry for 17 years. Even though she has a master's degree, she has problems making ends meet on what the YMCA pays her.
"There is no way that I can afford the YMCA health care plan on a YMCA salary," said Aurora. "$69 every two weeks just doesn't make sense for a person who makes only $23,000 per year. So, when I get sick, my only option is to sit at County Hospital all day long, waiting to be seen by a doctor. I'm lucky enough to work full-time, but more than 82% of the YMCA's workforce only works part-time. I don't get enough paid time off, but part time workers don't get any at all."
See video from the event below, including Aurora's testimony and some spirited Christmas caroling, and visit ynotourkids.tumblr.com to add your voice to the fight! Visit Catalyst for some of the great press coverage our action received.